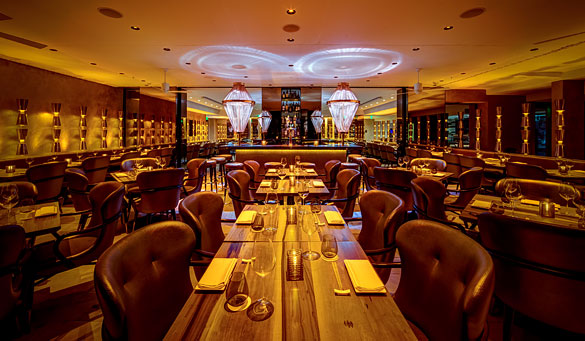 As the multi-million dollar renovation of the Shelborne Wyndham Grand Hotel nears completion, Iron Chef Masaharu Morimoto celebrates the grand opening of Morimoto South Beach, the signature restaurant of the oceanfront resort. The 180-seat dining room encompasses both an indoor and outdoor serving area customized by Tokyo's Glamorous Group who took direction from the celebrity chef and crafted a space that celebrates his vision. This eponymous eatery joins successful endeavors in Philadelphia and New York – which received a number of prestigious awards. Morimoto went on to open in Napa Valley, Waikiki, Mexico and Maui and operates a smaller, members-only restaurant at the Boca Raton Resort & Club.
Taking advantage of the Shelborne's impressive space, elaborate crystal chandeliers cast a warm glow over the grandest of sushi bars which the chef wanted to be the focal point of the restaurant. "I wanted it to be a stage," said Morimoto, "so you can watch (the sushi chefs') skills." While the beautifully presented food dazzles, it is difficult to tear your eyes away from the pool and beachfront just beyond the bar as the design team maximizes the Shelborne's amazing ocean view. Morimoto South Beach is the realization of a dream for the popular TV personality; an elegant eatery with a fun South Beach vibe.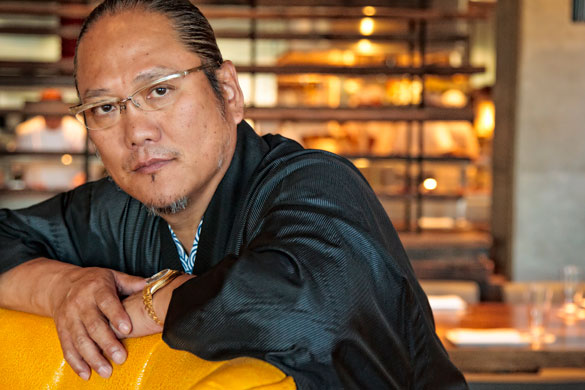 Showcasing dishes unique to the area, the menu at Morimoto features locally grown fruit and vegetables and a variety of fresh Florida seafood to augment the prime cuts of sushi-grade fish imported from around the world. Known for his Tuna Pizza and Toro Tartare, the kitchen executes Hamachi Tacos and Miami-inspired Ceviches with equal aplomb. Partnering with innovative Executive Pastry Chef Manabu Inoue, the restaurant serves a Salted Caramel Chocolate Tart and Coconut Mango Pudding that are deliciously decadent.
Guests can sit in comfortable banquettes or opt for central tables placed indoors or out on the terrace. A private VIP Table can be reserved for special occasions when Morimoto is in town. He plans to divide his time between New York City and Miami to oversee the execution of the restaurant as well as all the food and beverage at the hotel. For the moment, perhaps the best seats in the house are front and center at the sushi bar where the chefs wield razor sharp knives to dazzling effect.
Morimoto South Beach at the Shelborne Wyndham Grand, 1801 Collins Avenue, Miami Beach. Open Sunday through Thursday 6pm to midnight and Friday & Saturday until 1am.