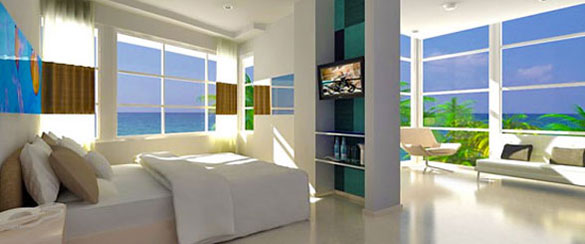 The Clevelander is a South Beach institution which is best known for its unrelenting Spring-Break-pool-party style. If you haven't made your own memories dancing the night away under the stars here, there's a good chance someone you know has.
The hotel is most recognizable for its neon-and-glass-blocked bars and amoeba-shaped pool, which attracts laid-back partiers night and day with live entertainment, a very popular happy hour and plenty of dancing until the wee hours of the morning.
The outdoor party extends into the lobby—a sports bar lined with a wall of TVs—which also serves as the on-site restaurant (inside and al fresco dining options are available). Although the Clevelander isn't a five-star dining establishment, the food selection is varied offering a large and reasonably priced menu, which includes signature burgers, sandwiches, pizza, soups, salads, steak, pasta and even lobster.
The hotel has 60 guest rooms, including 10 oceanfront rooms, "ROCKSTAR Suites," an an oceanfront studio equipped with a full kitchen and Jacuzzi bath, and two rooftop decks with ocean-front and city views. All rooms come standard with a generously-sized private bath, ice-cold air conditioning and cable TV.
A complete new wing has been added to the Clevelander at the rear of the pool area that has its own separate entrance on 10th Street and contains new hotel rooms and a ground-level bar area.
The in-room amenities aren't as posh as some other of the surrounding hotels, but they are unique in their own right. They include plenty of fresh towels and earplugs (a necessity in case you crash before everyone else).
It should be noted that because of the up-all-night-party attitude no one under the legal drinking age is allowed to register or to stay at the hotel. Considering its convenient oceanfront location, this is one of the get-the-most-party-for-your-buck hotels in South Beach. You are just steps from the ocean and there is always something to do without having to look for the party.
While this may not be the most "local" spot on the beach, it is by all means friendly and attracts a fun-loving crowd of twenty- and thirty-somethings. But if your idea of a vacation doesn't involve rowdy drinking games and wet T-shirt contests, you might want to think about staying somewhere else.
1020 Ocean Drive, Miami Beach, FL 33139
• Center of Ocean Drive action
• 7 blocks to Lincoln Road
• 9 blocks to Convention Center