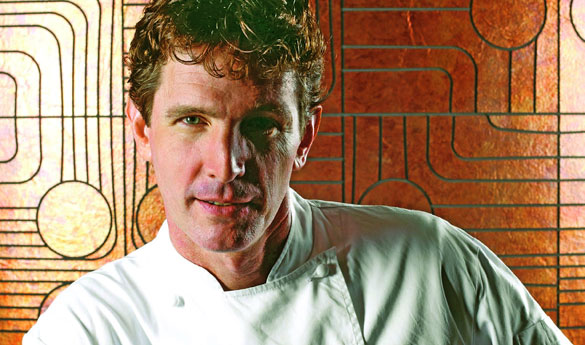 South Florida foodies can't help but cheer the trajectory of native son Kris Wessel who has spent a lifetime in pursuit of flawless Florida flavors. Starting out with a bang straight out of Florida International University's Hotel Restaurant Management Program, the young chef toured Europe to stage at Michelin-starred restaurants in Austria, Spain, France and Italy. Back home in Miami, Wessel enjoyed great success at Mark Militello's Mark's Place before taking off on his own to launch a European-style sandwich shop on Lincoln Road Mall, a Louisiana-themed bistro on Espanola Way and a Medeterranean eatery in the tony shops at Bal Harbour Mall.
What followed that whirlwind of award-winning cooking and critical acclaim is something of a Miami legend because one of the city's most successful chefs decided to roll up his sleeves and renovate a downtrodden motel on the Miami River where the only street traffic wore tight skirts and cheap shoes. Undaunted by the neighborhood, the chef opened Red Light Little River, named in homage to the notorious nightshift. The tiny storefront dining room gave way to a charming waterfront slip where manatees drifted by and the atmosphere only hinted at the magic stirring up in the kitchen. Using local produce and fish he selected from the drift boats, Chef Wessel brought a unique blend of Creole flavors to his randy roadhouse and the rave reviews soon followed. Even after the New York Times called the restaurant one of the Top Five Dining Destinations in Miami, when the adjacent motel was snapped up by real estate speculators, Red Light was forced to close.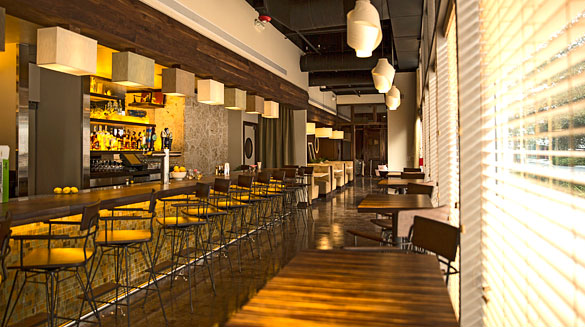 If Miami is a city that loves second acts, Kris Wessel's resilience in this fickle culinary cauldron is worthy of something much stronger than love. His fans and followers feel an intense loyalty to the chef who brought Florida Cookery to the James Royal Palm Hotel and now launches Oolite next to the New World Symphony Hall on South Beach. "Oolite?" we asked when South Beach Magazine took some of the busy chef's time away from making his finishing touches. Oolite – the bedrock upon which South Florida is built. It is the tide worn limestone that is the essence of everything that makes up this quirky peninsula.
Sounds like the perfect choice …
We notice you're getting more active on social media. How has your participation affected your relationships with area diners & local foodies?
I look at social media as a chat in the backyard, or at the bar with a friend who wants to try a new dish with a cold beer. I don't overreach, I don't advertise or blatantly promote. I try to always engage or have a conversation. I get pumped about things, a fish, mango, spiny lobsters, music, so there is that. Social media has brought the conversation of my family, friends, fans and foodies to my phone every minute; so I would say we are closer in our relationships.
While having a great team makes it possible to be a successful chef, is it tough to find a balance between the discipline of running a successful kitchen and the temptations of a fun location like South Beach for you and your team?
Well I'm human and healthy all right (laughs) and South Beach has some amazing specimens. But I have a girlfriend; an incredible woman who began her own business from nothing into a huge success, beautiful, imaginative and strong. Then there are my daughters Natasha and Anise and I have to set an example, from my heart, for them. Then there is my partner who has invested millions of dollars in Oolite, (laughs) so I better be sure my focus is on the kitchen and the revenue platforms.
When you have time to go out, where do you like to dine in South Florida?
I like to eat simple and usually ethnic so anything Asian hits the spot. I also like to eat healthy so I will go to small cafes and juice bars. Big dining spots are fun too sometimes. I was at Cypress Room a few months ago and really liked it.
When you are cooking at home for yourself, friends and family, what is your go-to dish?
Salads with lots of vinegar, my daughters love, pure proteins of steak and onions or fish with white wine and grapes. If I have time I will cook dishes from my mother's native land and my high school cooking career in New Orleans, turtle soup, gumbo, jambalaya!
What are the dishes you remember from your childhood or your experiences as a young chef and how do these flavors influence your menu today?
That's easy: my time in the kitchen with my Grandmother Esther at her house in Miami Beach is probably the most defining of my childhood experiences particular to food. Grandmother Esther pretty much ran the family gathering meals and holidays too. The showcase dish I will always remember is the whole red snapper. The ambrosia filling the house of the stuffed whole fish, olive oil, garlic and white wine roasting in the oven is with me to this day. It was a copy of a cookbook, used faithfully by my Grandmother Esther that gave me the inspiration for the Florida Cookery concept. Later, after I graduated from FIU with my degree in Hospitality Management, I toured Europe and talked my way into Michelin-starred restaurants in France and Austria. I apprenticed in those kitchens; a valuable experience. The impactful influence of those childhood experiences taught me that everyday food can create magic and the magic of high dining experiences is created from everyday foods. I remember to balance my menus with that simple lesson.
How has cooking in Florida changed and or inspired you as a chef? Do you find your menu is influenced by the great produce available in Florida?
Yes, yes, and of course! Florida and the region have influenced me tremendously. While at Elia (Bal Harbour), I created a complex, branded regional cuisine that melded into Elia's leadership's original concept. I set the tone to take a lead in local and regional cooking, first with Red Light and then Florida Cookery. Oolite is Kris Wessel's Florida Regional 3.0. The menu is a map of Florida foods and culture. Local and regional flavor combinations in nutritious and healthy recipes are Oolite's distinction.
Finally, tell us something you want diners to know about the menu at Oolite – perhaps your favorite recipe, an unexpected entree, or the inspiration behind some of the dishes on the menu …
The Oolite menu aspires to the way we will all one day eat; a labor of love and a concept that I spent a great deal of time to create. It continues to evolve and refine. But I would say eating from Oolite's menu is nutritious, satisfying and flavorful. The protein balance and proportion is healthy for you. We don't use any processed sugars and we are gluten free. I love every dish on Oolite's menu … (laughs) …
Oolite is located at 1661 Pennsylvania Avenue, Miami Beach (305) 907-5535 and serves lunch daily from 12pm- 3pm and dinner Monday – Thursday from 6pm – 11pm, Friday & Saturday from 6pm – Midnight.
More about Oolite Restaurant & Bar
Image credit: Masha