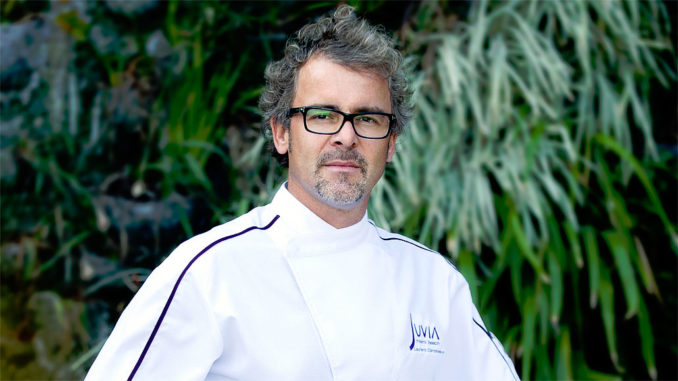 One of South Beach's most breathtaking restaurants, Juvia serves as a perfect vantage point for adventurous diners seeking an amazing view of the city from atop the Herzog & De Meuron building located at 1111 Lincoln Road Mall. Driven by the changes in the light, the wind and the weather, the restaurant is never the same place twice, but through the efforts of a diverse culinary team led by Executive Chefs Laurent Cantineaux and Sunny Oh, the kitchen keeps pace with the enormous energy of this successful culinary venture.
Chef Laurent Cantineaux, a protégé of celebrated Chef Daniel Boulud, began his culinary journey as a pastry chef and spent the past 25 years crafting memorable meals at award-winning restaurants on four different continents. A native of Paris, the chef is known for innovative cuisine crafted with precise French techniques. Overseeing operations at properties in St. Barth and Caracas Venezuela in addition to his cooking responsibilities at Juvia gives this multi-faceted chef a chance to showcase his signature style with Florida's finest produce and to experiment with bold South American flavors.
Miami Restaurants Magazine caught up with the jet-setting chef to talk a bit about the life of a successful restaurateur living and working in South Florida…
Please share your impressions living and working as a chef in Miami.
Miami became the capital of Latin America! When you're like me, who spent almost fifteen years in Venezuela and the French Caribbean, Miami is a wonderful city to work and live. There is a cross roads of cultures and people, the weather, the ocean and the sun light make it very easy to fall in love with Miami. I'm also traveling to St. Barth often, so having an airport right in my city is so convenient!
Is it hard to find a balance between the discipline of running a successful kitchen and the temptations of a fun location like South Beach?
Not at all…. if you're well organized! The temptations here in Miami are more about the nature… like the beach, which is always here to enjoy: no schedule to respect! I felt much more frustrated living in NYC with all the shows, exhibitions, etc.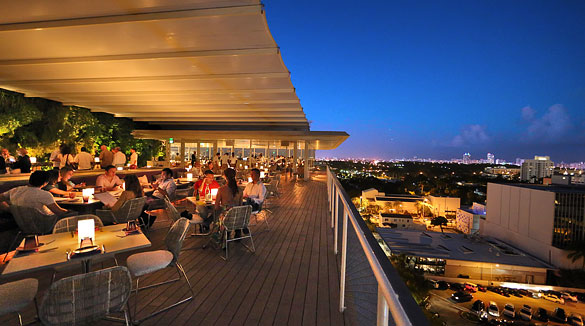 When you're not at work, where do you like to dine in South Florida?
In South Beach, I like Hakkasan. I also love Spris for a casual wood oven pizza!
When you are cooking at home (for yourself or your friends & family), what's your go-to dish?
Grilled black angus rib eye, homemade sweet potato gratin with cinnamon and heavy cream. That's my style.
What are the dishes you remember most from your childhood (or your experiences as a young chef) and how do those flavors influence your menu at Juvia?
The Aligot mashed potato from the heart of France. My Mom use to make it when she could get the specific cheese you add to the mash… We have that dish at Juvia to combine with the grilled meat!
How has cooking in Florida changed (&/or inspired) you as a chef?
Norman Van Aken and Nobu Miami (until last year, I've never had the chance to dine at Nobu's NYC restaurants). Nobu Miami, beside the classics dishes, has its own twist because of the Latin influences!
Do you find your menu is influenced by the great produce available in Florida?
Yes, of course! Like the rock shrimps!
What's one thing you want diners to know about the menu at Juvia – perhaps your favorite dish, an unexpected entree or the inspiration behind one of the dishes you decided to include on the menu?
I think it is important for the customer to understand Juvia and to try several dishes from every area of the menu. You'll get the array of influences – Japanese, French, Peruvian…
Juvia Miami
1111 Lincoln Road
Miami Beach, FL
More about Juvia Miami