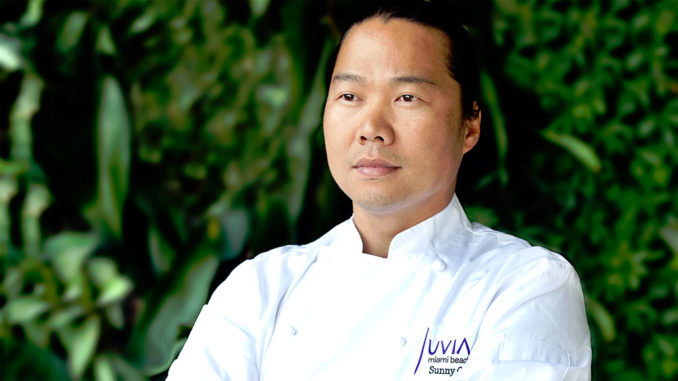 Juvia's Executive Chef Sunny Oh was born in Seoul, Korea, but grew up right here in sunny South Florida where he enjoyed all the richness of life by the sea. As a small boy his passion for fishing translated to an appreciation for the bounty of our local waters and after 10 years of slicing and dicing the freshest catch at Nobu Restaurant, he went on to join Chef Laurent Cantineaux to craft Juvia Restaurant's innovative menu.
Chef Oh prides himself on the unique raw, marinated and cooked seafood dishes that are an important part of Juvia's culinary focus. His determination to source the finest and freshest ingredients stems from a lifelong relationship with the city's best purveyors and a drive to showcase his creative point of view. Miami Restaurants Magazine caught up with Chef Sunny Oh to learn more about what life is like high atop the Herzog & De Meuron building at 1111 Lincoln Road Mall.
Please share your impressions living and working as a chef in Miami.
I have lived in South Florida for over 20 years. I have seen Miami become a city no one expected. Miami is an amazing place that offers a diversity of cultures that at first, can be a bit shocking to outsiders – but once you get used to it, it's hard to be anywhere else. The industry people of Miami have matured. It seems like 20 years ago, the quality of workers were transient. But now Miami has built a solid selection of quality of restaurants, and it's drawing the attention of the world.
Is it tough to find a balance between the discipline of running a successful kitchen and the temptations of a fun location like South Beach?
Because I've been in Miami for so long, the temptations don't get to me anymore. The young people that come to Miami from all over the country (and the world) are sucked into this life of partying and debauchery. I always tell them, "have a good time, but just make it to the other side." Running a successful kitchen is a day to day struggle, but our staff is dedicated and committed.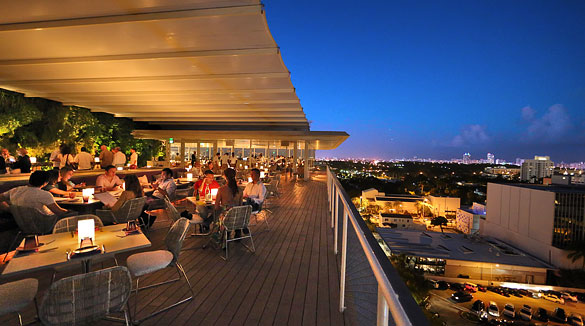 When you're not at work, where do you like to dine in South Florida?
When I'm not working, I usually dine at my go-to local spots. However, I do enjoy trying new restaurants. As for my regular spots, it's all about comfort food. I go to Myung Ga Korean in Weston, and I'm always on the lookout for another great Dim Sum place.
When you are cooking at home (for yourself or your friends & family), what's your go-to dish?
My go-to dish has always been my Korean short ribs. We have them at Juvia. It's been a hit with everyone over the years.
What are the dishes you remember most from your childhood (or your experiences as a young chef) and how do those flavors influence your menu at Juvia?
I grew up in South Florida when there was a low population of Asians. I really connected with my mother's cooking – I used to watch her cook and sing. My non-Asian friends would come over and watch in fascination and curiosity. The Korean flavors – the chilis, the sesame and soy. As a child I remember having to drive with my family 100 miles to Homestead to go to this Chinese market to get soy sauce and rice and Asian ingredients. It's funny now when I think about it. It wasn't so long ago. People in NYC and Cali had it easy. The Korean palate is what I am: these intense flavors contrasted with simplicity. I have learned many styles of cooking, but my base is Korean.
How has cooking in Florida changed (&/or inspired) you as a chef?
I spent so many years in this industry and have watched it evolve and grow. I've learned so much and realized that the family tree of chefs is not as broad as people would like to believe. The food of Florida has matured. It's still growing – more and more chefs are coming to South Florida and adding their own unique ideas. It's really created something very special.
Do you find your menu is influenced by the great produce available in Florida?
Yes, we use the best products for our recipes. We like to take what's indigenous to Florida and blend those flavors, textures, ingredients, etc. with other Asian and Peruvian ingredients. That is why our menu speaks to the people of Miami. There's something for everyone.
What's one thing you want diners to know about the menu at Juvia – perhaps your favorite dish, an unexpected entree or the inspiration behind one of the dishes you decided to include on the menu?
Our food is who we are. We are making dishes that use the best ingredients coupled with the best techniques to produce a familiar and satisfying dish. It's an ever evolving dance between our guests and us, the chefs. The ceviche is a dish I am truly proud of. We use Japanese techniques to catch, clean and fillet the fluke, and also to clean and cook the Spanish octopus. Then there's the painstaking process of making the fish stock for the leche de tigre. In the end, the dish seems simple, but there was so much that went into it, and the flavors are just explosive. That is what truly defines the ideas of JUVIA.
Juvia Restaurant
1111 Lincoln Road
Miami Beach
(305) 763-8272
More about Juvia Miami