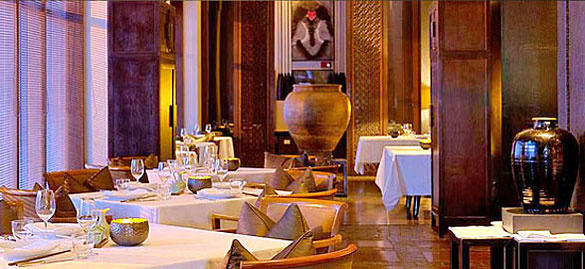 The Restaurant at the Setai and the new, somewhat less expensive Grill have a lot to live up to. When Miamians heard this new 5 star "High Roller" hotel would be charging up to $900 a night for a deluxe room, many were surprised the reservations book would get much traffic.
Naturally, we underestimated the appeal of the thoughtfully designed spaces, the carefully crafted cuisine and the upwardly mobile tastes of the clientele. Almost 15,000 square feet of the main floor have been dedicated to David Werly's haute, East-meets-West cuisine. A team of international chefs from Thailand, China, India and Europe work seamlessly to create a menu that reaches from stone-over pizza to Tasmanian trout.
The main dining room features an exhibition kitchen for those who wish to watch the Olympians craft the "trans-ethnic" dishes. Weather permitting, dine in the romantic sunken garden area surrounded by quiet ponds and tropical blooms. Foodies will swoon for the Wagyu beef and the tandoor-roasted prawns complimented with over 450 wines.
If the pricey entrees prove too daunting, there are plenty of opportunities to sample the kitchen's craftsmanship at the Grill or the more casual outdoor cafe. Guests impressed with the best can sip champagne and sample caviar and tapas at the spectacular Crustacean Bar or dine alfresco at the 90 foot Mediterranean-style Beach Bar.
Whichever area you choose, take the time to wander through this thoughtfully designed, quintessentially Miami Beach hotel. Things have gotten a lot more glamorous now that the Setai has upped the ante on South Beach Style.
2001 Collins Avenue
Miami Beach, FL 33139
(305) 520-6400
Price: $$$$
Attire: Casual