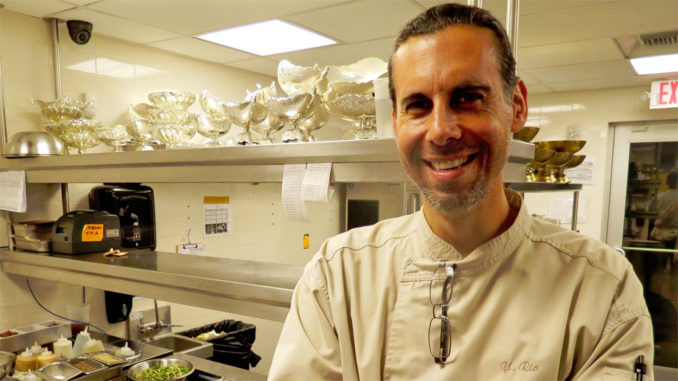 Acclaimed restaurateur and chef Yann Rio brings a wealth of experience at some of the most prestigious European restaurants to his latest venture, French 27 on South Beach. Before relocating to Miami, Rio worked alongside France's top chefs at two Michelin-starred Parisian restaurants, Hôtel de Crillon, Le Pré Catelan. He went on to launch his own restaurants Le Sequoia, Naturella, and O Flore in Montpellier. Recognized for the excellence of his cuisine as well as the running of his restaurants, he received the national Maitre Restaurateur Award in 2008.
Rio's first Miami venture was a labor of love named for a favorite Frank Sinatra song, Nothing But the Best. Located in the Brickell/Roads area, the romantic eatery received accolades from area foodies and critics. The innovative chef updated traditional French fare with lighter ingredients so Miami's health-conscious diners would feel more inclined to feast on a favorite dish prepared with yogurt instead of butter and heavy cream. Rio's passion for design inspired him to oversee every aspect of the restaurant's interior from the rich lacquered furnishings to the art on the walls.
Currently launching French 27 in South Beach's residential SoFi District (South of Fifth Street), Chef Rio took a few moments to share his impressions about life and work in South Florida with South Beach Magazine. Emphasizing the freshest ingredients, the menu showcases the cuisine of the 27 different regions of France as well as the country's diverse regional wines. Working alongside Alsatian Chef Andreas Trilk, Chef Rio hopes to impress South Beach diners with his modern French fare and pristine local and imported produce.
Please share your impressions living and working as a chef in Miami. How do you make it work?
It was very difficult at first for me. The culture here is so different so I wasn't sure what people wanted and expected from their food. I had to really learn and study what makes Miami's culinary scene so unique.
What is your favorite thing about being a chef in Miami right now?
I love being able to incorporate different cultures while being a chef here. I also have loved to be able to learn the different strategies that make a restaurant successful. It differs so much from France and it has been great to see and learn.
If you hadn't decided to become a chef, what would you be doing?
I would have been a designer. Design is my second love and talent. I have designed all my restaurants and also I put my love for design into the plate presentation.
When you're not at work, tell us where you like to eat and drink around town?
Zuma, they have great food and produce. I also love Milos, they have great products and the food is also amazing.
What do you think the Miami food scene needs most and what would you like to see go away?
I think Miami needs more contemporary dining establishments. Places that guests can receive real and authentic food and really experience what makes a certain culture so special. I would like to see all the trendy and fashionable restaurants go away, for example places that now are small, everything "organic." We need real establishments, not just places following the trend in the foodie industry at the moment.
When you are cooking at home for friends and family, what is your go-to dish?
Mussels, a simple delicious dish has always been a favorite of mine.
What are the dishes you remember most from your childhood or your experiences as a young chef, and how do those flavors influence your menu at the restaurant?
I remember most learning about the different foods as a young chef. I was able to take each cuisine and use those influences in my new dishes.
How has cooking in Florida changed or inspired you? Do you find your menu influenced by the produce available in Florida?
Florida has challenged me as a chef and it's changed the way I look at produce. If it is difficult to find the best of the best products, I make sure our entire menu always reflects the best ingredients.
What's the one thing you want diners to know about the menu at your restaurant – perhaps your favorite dish, an unexpected entree or the inspiration behind one of the dishes you decided to include on your menu?
I want people to know that without a doubt we offer our guests the best products possible. Everything is fresh and ordered every day to ensure the quality that people are receiving. Nothing is frozen and that is so important for the quality of our food. We order in small quantities but this ensures that we serve the best and nothing less.
French 27 is located at 850 Commerce Street in South Beach. 305.764.3948. Serving Sunday through Thursday 5:30pm – 11pm and Friday & Saturday until Midnight.