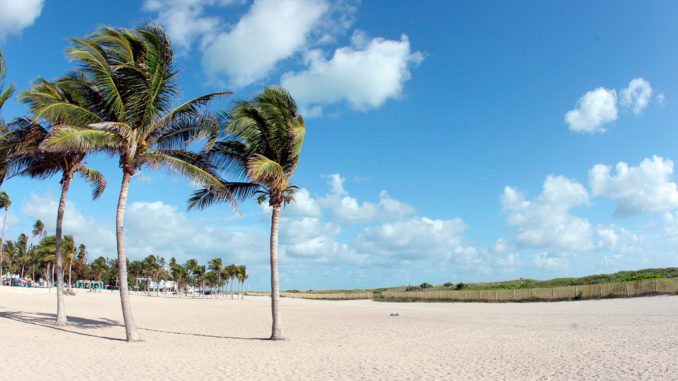 This tranquil park features a man-made lagoon, which is flushed naturally by the tides of Biscayne Bay. Its safe, warm waters make it a perfect place for quiet afternoons in the South Florida sun—not to mention the gorgeous, tropical hardwood forest surroundings. On the left as you drive towards the beach you'll see a wooded pathway, ideal for a well-shaded walk or bike ride. This dense area of mangrove trees, partially in the ocean, is called a hammock (hence, the name of the park). If you walk the loop around the lagoon you can enjoy the view of downtown Miami and Miami Beach across Biscayne Bay.
Matheson Hammock Park Beach is family-friendly and has a marina, restaurant, snack bar, picnic pavilions and nature trails. Lifeguards are on duty 8:30a.m. to 5 p.m. weekdays, 8:30 a.m. to 6 p.m. weekends, and swimming is only permitted when they are on duty.
You will be happy to find several picnic tables on the grassy area adjacent to the beach, and the great thing about this picnic area is it sits on the bay next to the inlet for the Marina, so it allows for some great boat watching. A concession stand is open from 11a.m. – 3 p.m. at one of the coral rock buildings on the beach. The menu is limited ? hot dogs, hamburgers, chips, and sodas ? so if you are a health nut you better bring your own snacks. Or better yet, make reservations at the Red Fish Grill (they serve fresh seafood, pasta, chicken and steak, nightly, except Mondays) and come back a second day.
If you plan on doing a little fishing be sure and stop in to the marina. Bait can be purchased here (shrimp and squid) to fish under the bridge for snapper, mullet, or snook. If you forget your fishing gear, a small rod and reel can be purchased at the marina for $25. For more information about the marina call (305) 669-3020. Fishing licenses are required for persons from outside Florida who are between the ages of 16 and 65. For more information regarding fishing licenses call 1-888-FISH-FLO.
Find more info on Miami's best beaches here.