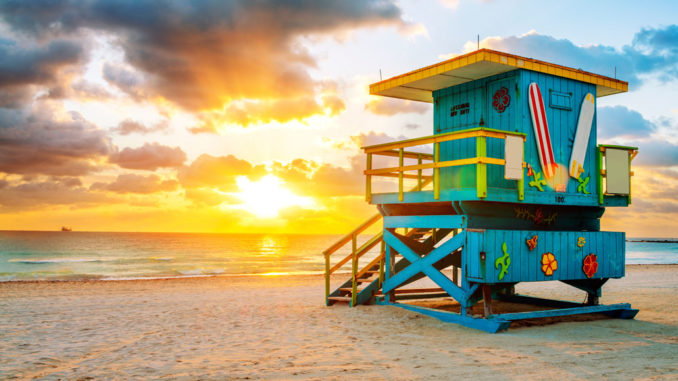 Miami is all about beautiful Beaches, and South Florida has miles and miles of golden coastline ready for you to explore. Perhaps the most important thing to know is that every mile of beach running along the Atlantic coast is open to the public, so finding the perfect spot to spend the day enjoying the scene is merely a factor of what suits your mood. Some beaches are busy and some feel isolated. Some beaches are clothing optional and some are not. Some beaches blaze beneath the midday sun and some have swaying palms offering a shady oasis. In fact, the only thing all of our beaches have in common is their boundless natural beauty.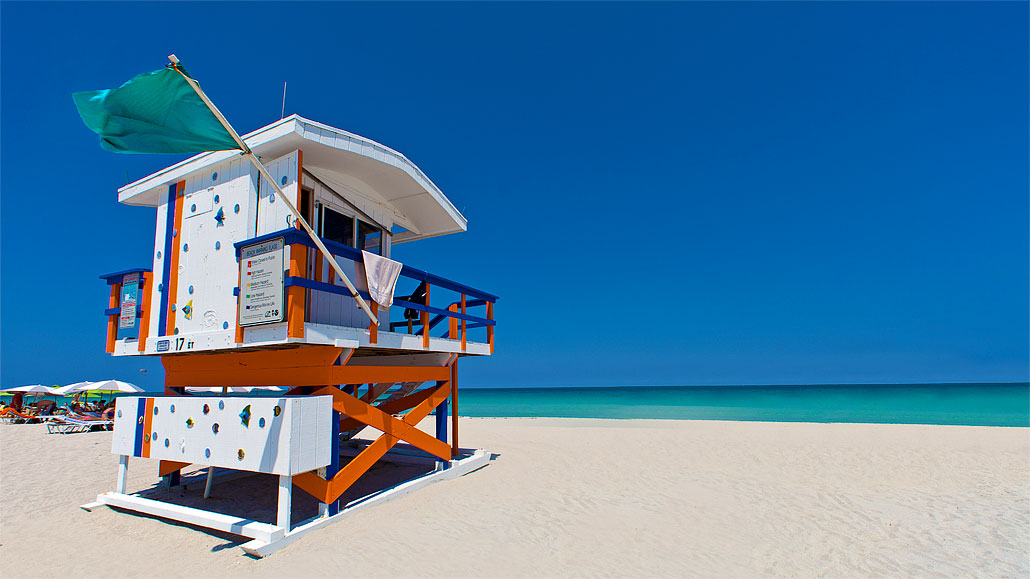 Miami's Beaches are lined with colorful enclosures where trained lifeguards keep watch on the safety of the scene. Smart swimmers always remain under the watchful eye of the lifeguards to be certain they can get help whenever necessary. While it is easy to believe nothing can go wrong by the sea, area waters may have unseen dangers like stinging jellyfish or a strong current. Every lifeguard stand has a system of warning flags to help communicate the current conditions from strong winds and tides to dangerous marine life. When planning a day at the beach, consult a local website (http://beach.fiu.edu/) to determine marine conditions during your visit. Even if you do not see a flag, never assume conditions are entirely safe.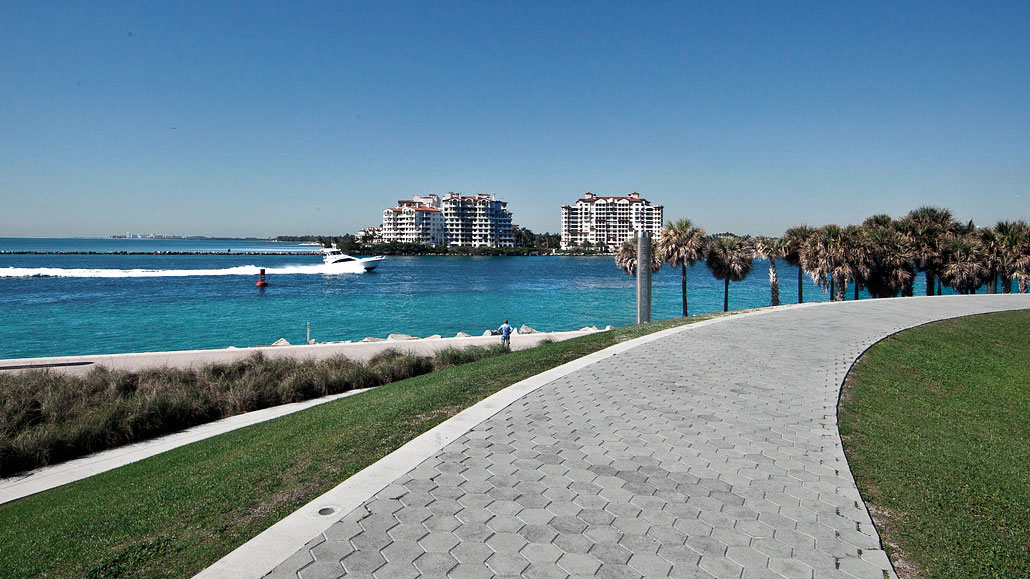 While the entire coast remains accessible to the public, there are also designated public parks along the shore with picnic areas, barbeque facilities and restrooms. At the edge of the sand you will find open air showers and water fountains for a quick rinse before heading off the beach. South Beach waterfront parks include South Pointe Park, Lummus Park and Collins Park, Mid-Beach parks include Indian Beach Park and 53rd Street Park and North Beach has North Shore Open Space Park which includes a wooded area, a dog park and popular picnic facilities. The largest public beach park is Haulover Park near Sunny Isles Beach that is covered in greater depth below.
South Beach
1 Ocean Drive – 2300 Collins Avenue, Miami Beach
South Beach is the southernmost point of the island of Miami Beach directly facing the Atlantic Ocean. Beaches along this stretch of the city are all open to the public and are accessible from the street or via a paved beachfront walkway that runs along the edge of the sand all the way up the coast. Public parking is readily available at meters along the street and at enclosed parking garages at 7, 13, and 16 Streets and at an open parking lot facing 21 Street beach. All areas of the city require paid parking to avoid getting a ticket or a tow. Licensed vendors along the shore rent lounge chairs and umbrellas and many beachfront shops sell inexpensive mats, towels, folding chairs and coolers to create your own oasis. The city is lined with bike rental kiosks that make it easy to explore the paved Beachwalk and Baywalk on wheels.
Twelfth Street Beach in South Beach is often referred to as the "Gay beach" and is right across the street from the Palace Bar where you'll see flamboyant drag shows on Sunday afternoons.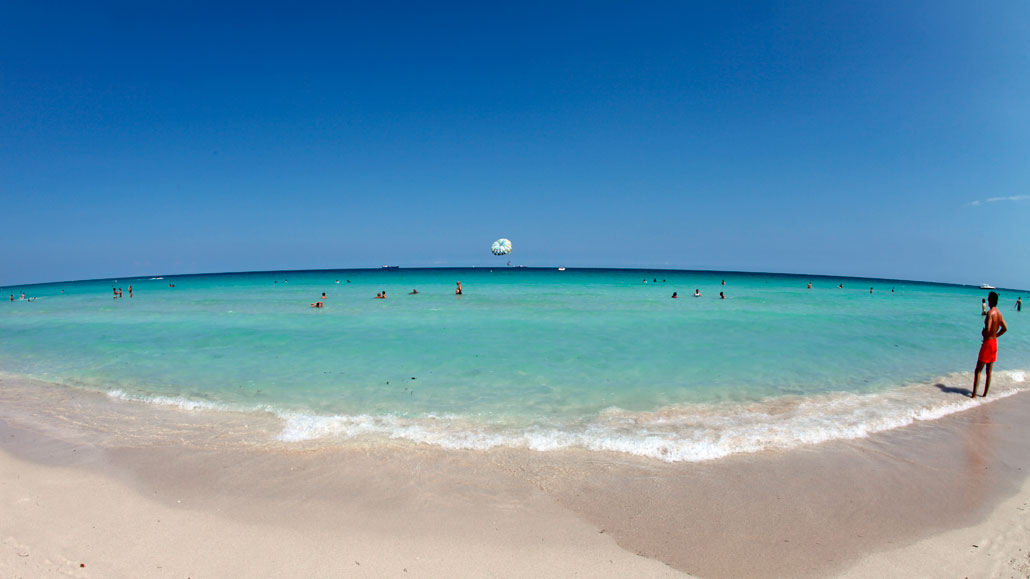 Miami Beach
2300 – 8600 Collins Avenue, Miami Beach
Moving up the coast of Miami Beach, many visitors are dazzled by the number of lavish beachfront resorts. While it may be challenging to see the shoreline from the street, there are ample public parking lots all along Collins Avenue (A1A) where guests may safely park and access any beach via an elevated beachside boardwalk. Most hotels have beach attendants who set up lounge chairs and umbrellas for guests and are available for food and drink service throughout the day. In most cases the general public can pay to enjoy a hotel beach chair but it is best to inquire about access and cost. Nearly every hotel has a poolside bar and grill that is open to the public. The City of Miami Beach patrols and cleans the seaside every day and also maintains beachfront concessions and playgrounds along the shore. It is legal to walk around all of Miami Beach whether a hotel attendant services the area or not. A paved beachwalk runs from 63 to 79 Street beaches that is open to bikes, skates and well-behaved dogs.
Haulover Park
10300 – 15700 Collins Avenue, North Miami Beach
One of Miami Beach's best public beachfront destinations is Haulover Park which spans 99-acres from the City of Bal Harbour up to Sunny Isles Beach. Bounded by the Atlantic Ocean and Biscayne Bay, the waterfront recreation area has six tennis courts, a nine-hole golf course, a public marina for chartering boats and deep sea fishing plus ample room to picnic, fly a kite or simply relax. The southern part of the beachfront is popular with local families and travelers and the northern stretch of sand is clearly marked by the South Florida Free Beaches organization that maintains a legally designated clothing optional beach. The beach is clean, safe and monitored by lifeguards who ensure public safety and also by members of the naturist organization who maintain a code of conduct that is "pro nude and anti lewd."
Crandon Park at Key Biscayne
6747 Crandon Boulevard, Key Biscayne
Ideal for visitors to Downtown Miami and the Port of Miami, Key Biscayne is a 5-mile barrier island that connects to the city via a toll road called the Rickenbacker Causeway. Frequented by sun worshippers visiting Crandon Park, Bill Baggs Cape Florida State Park and the windsurfer's favorite Hobie Beach, this area of Miami is known for shallow waters and calm seas which makes it ideal for children and inexperienced swimmers. Bill Baggs Park offers bike rental, nature trails, fishing, swimming and a historic lighthouse to explore. Crandon Park has public beaches, a skate park, a playground, a golf course and a world-famous tennis center that hosts the annual Sony Ericsson Tournament in March though the facilities are open to the public the rest of the year.