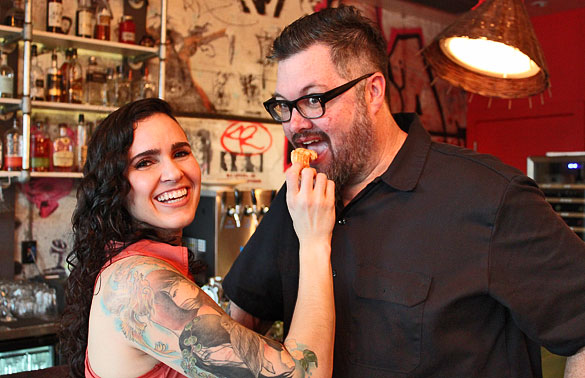 South Beach Magazine interviews some of Miami's Top Chefs, but we've never met a husband and wife culinary team quite like Chefs Jenny and Richard Hales who live, love and work together at their restaurants Sakaya Kitchen and Blackbrick in Downtown Miami. While Richard is a familiar face on South Florida's popular food truck circuit, manning the grill in his Dim Ssam a Go Go truck, his wife Jenny handles the administrative functions, makes the school run with their two daughters and then bakes some amazingly decadent desserts for each of their wildly successful eateries.
Sakaya Kitchen first opened in the Shops at Midtown in 2009, serving Richard's innovative riffs on Korean street food. When local diners responded favorably to his sweet and spicy fare, he immediately launched the city's first Asian food truck to take the best of his Midtown kitchen on the road. Inspired by the success of the brand, Hales then opened a second location of Sakaya Kitchen in downtown Miami. Offering a roster of casual Asian fare, the most popular Sakaya dishes include short rib topped tater tots, spicy Korean fried chicken wings and the chef's signature crackling herb roasted duck sandwich.
Not content to rest on his laurels, Chef Hales spent most of 2013 researching the menu for Blackbrick, a hip Midtown Chinese restaurant that took flight in December and landed on Bon Apetit Magazine's Best New Restaurants List by August 2014. While a nomination by one of the most prestigious food magazines is no small feat, consider that the Hales were the only chefs in Florida to make the cut! In his stunning review of the restaurant, Bon Apetit's arbiter of America's Best noted, "The graffitied interior (complete with hanging portraits of Chuck Norris, Keith Richards, and Bruce Lee) is playful and laid-back, but the real draw is the drop-dead, seriously delicious food."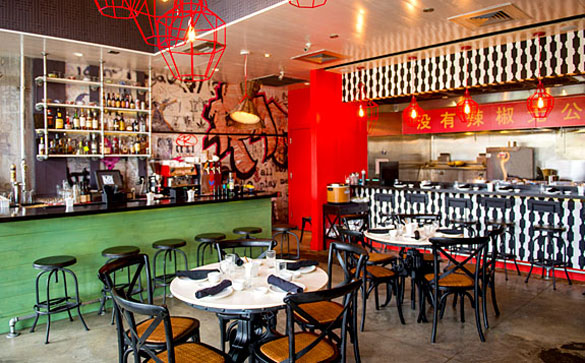 Making the year's Top 50 Restaurants list brought the spotlight upon Jenny Hales' culinary talents as Bon Apetit dedicated a portion of the review to their Love of "Wife Hales" who's homemade waffle fortune cookies and sweet confections bring each meal at Blackbrick to a delightful close. While Chef Richard tinkers with an ever-changing selection of dim sum and spicy bites, Jenny's creamy trifles, crunchy almond cookies and char siu pork filled Parker House rolls really seal the deal. With a background in finance and commercial real estate, Mrs. Hales passion for baking (and Richard) ultimately lead her away from a desk and into an apron alongside her husband.
South Beach Magazine caught up with this dynamic culinary duo to discuss how they make it work.
South Beach Magazine: Congratulations on being our very first husband and wife chefs profiled! Tell us what it is like living and working as chefs in Miami.
Richard Hales: It is a great time to be a chef and restaurant owner in Miami with the industry exploding like it is. We are in constant contact with each other throughout the day either by text or in person. Our first wake-up call is at 7am by our oldest daughter Lily and that starts the day whether we like it or not. I check the bank accounts and start sending emails even before I get out of bed while Jenny gets the girls ready for school. The day is filled with bouncing from one restaurant to the other, meetings, tastings, menus, catering calls, staff issues, new projects and bills, bills, bills. We usually go to sleep around 2am after a day filled with routine and surprises.
Jenny Hales: Miami is becoming a player in the food scene so many more people are into food or checking out new restaurants. There's a buzz in the air that there never was before. As a Miami native, it's so nice to see these changes; it was never like this when I was growing up. I like Miami today more than ever because of this.
My day starts off with the hustle and bustle of getting our little ones up and to school. I do a lot of administrative work each day, like running to the bank, bookkeeping, meeting with our assistant, answering emails and payroll. But the days I most look forward to are when I get to play in the kitchen: bake Parker house rolls for Blackbrick's brunch, or experiment on new dessert dishes for the restaurants (which unfortunately doesn't happen as often as I'd like).
SBM: Additionally, do you think things would be different for you two if you lived in another city? Do you find the dynamic of being a couple changes the way you work together? Do the pressures (and pleasures) of married life carry over to the workplace?
RH: We lived in New York City while I worked in the industry and Jenny was in Finance. At that moment we kept work at work and our personal lives were focused on each other. We opened the first Miami restaurant – Sakaya Kitchen – in 2009 and since then our personal and business life have become one. We endure a lot of pressure but we could count the number of fights in the decade or so we have been together on one hand. I thank Jenny for that. She puts up with me and my BS.
JH: I definitely think it would be different if we lived in another city. We have such a great support system here. I'm very close with my mom and my whole family is here; also we have a wonderful nanny who adores our girls. When we have to take a business trip or work events, it's a blessing that we have them to rely on to take care of our daughers, Lily (5) and Violet (3). I feel it would be a lot more difficult to have the flexibility we have if we lived in another city.
Being a couple is definitely a huge advantage for us, as we know each other so well and work well together. We both know exactly what we like and what our strong points are and we have a way of bringing out the best in each other. Richard brings an amazing sense of business acumen to the table, not to mention his amazing cooking skills, and I provide the administrative side and the baking part of the equation. We complement each other perfectly and make a killer team.
The pressures do not carry over to the workplace; rather, the pressures of the workplace tend to carry over to our personal life, since it's such a big part of our life. That's what causes any stress or duress, if any, in our relationship. But when we find that we are too stressed, one of us will check the other, and we do what we have to to strike the balance again (like taking a breather, spending time together to reconvene, exercising, etc).
SBM: It must be tough to find a sense of balance while running successful restaurants, food trucks and the demands of parenthood for you two. How to you make it work? Do the kids like Asian food?
RH: It is very difficult but I stay focused on what is most important – my health, Jenny and the girls. Without my health I am no good to Jenny, my girls or my business. Without a healthy relationship with Jenny, I would suffer and so would the girls. The success of the business takes a back seat to our personal life without exception. The restaurants were my passion. I brought Jenny into this stressful industry so I make sure I keep my time and focus balanced. I approach my home life with as much or more passion for success as I do at any of the restaurants. The girls love Asian food, they eat very healthy and eat it all.
JH: It can definitely be tough at times, especially with so many moving parts going on at the same time, but somehow we always make it work. We have always prioritized our lives around our marriage first, above all else. No matter what, we are aware that our relationship is the glue that holds it all together. Sometimes it can get crazy stressful (such as opening Sakaya Kitchen in 2009 and having our first daughter a few weeks later), and we have our ups and downs like anyone else, but it's always worked out in the end. These difficult times have made our relationship stronger.
The girls absolutely love Asian food! They are quite the foodies actually. Lily our oldest is an adventurous eater; she goes for jellyfish, any type of seafood (the fishier the better), and the weird part is that if the food has eyes or the head still on (like a fish or a duck), she wants to eat it. She even asked Richard if we could go to China because they eat crickets and bugs there. Violet, while not as adventurous, is an excellent eater. I always say she's going to be her dad's restaurant partner in crime. She appreciates a good meal. We're blessed that they're both great eaters, but the truth is they've been exposed to quite a lot of different types of food, homemade and fine dining both.
SBM: Your restaurant was featured on Diners, Drive ins and Dives. How did you both enjoy your interactions with Guy Fieri? Is it true he talked you into selling him your car?
RH: The experience leading up to DDD was stressful because of the amount of preparation that is required by the producers. But once we started filming it was great fun and Guy is a genuinely nice and generous person. I sold him my 1964 Cadillac convertible during the shoot. We stay in touch often and we've flown out to see him in California a couple times.
JH: That was such a tremendously fun experience! Guy is such a great guy. He's so down to earth and authentic, and he truly cares about helping people through his show. It's such a breath of fresh air to see someone with his celebrity status be that way. The friendship he and Richard have formed is for the long term. They both love cooking, running restaurants and classic cars – the perfect recipe for a friendship between two dudes, in my opinion.
And yes, the '64 Caddy we owned was Guy's the moment he laid eyes on it. We've learned that once Guy makes up his mind about something, he somehow wills it to happen (like buying our car or getting us to change our flights while in Napa to hang out with him a little longer).
SBM: When you're not at work, where do you like to dine in South Florida?
RH: I really like what Elad and Gabe do at 27 Restaurant, it is inspiring. Eating out has become more difficult for me as I do not eat meat anymore and prefer to keep my diet 95% plant based. There really aren't any great vegan places in Miami, unfortunately.
JH: We like to try new places. We just went to a place in Ft. Lauderdale called Market 17 that's doing some good things out there, trying to source everything locally and organic. The food was excellent. Sometimes we like to stay close (like our friend Danny's Mignonette). I do like to get dressed up every now and again, so we'll go to the SLS Hotel and have a few drinks and some dinner. A favorite spot of ours is Martorano's in Ft. Lauderdale, which was where we had our second date in 2002. It's a nostalgic place for us, and the food there is always so good.
SBM: When you are cooking at home (for yourself or your friends & family), what's your go-to dish?
RH: I like simple things and could just eat a bowl of white rice, avocado, olive oil and sea salt. If people come over, I like to cook Italian food. But honestly I rarely cook at home anymore; Jenny does all the cooking.
JH: I love to make brunch. I'll bake bread and muffins from scratch and make vegan pancakes (which kick regular pancake's butts), with fruit and fresh squeezed juice. My other go-to dish is a broccoli pasta that I've made for years. Very simple, with olive oil, sea salt and pepper, spaghetti and broccoli. It never disappoints.
SBM: What are the dishes you remember most from your childhood and how do those flavors influence your menu?
RH: As a child my favorite dish was my grandmother's chicken and pork adobo with white rice and lumpia rolls. My grandmother Papa was Filipino, so I grew up eating her food and the flavors of soy sauce and vinegar have influenced my cooking. My mom used to make white clam sauce spaghetti and to this day pasta is my most comforting food. As a young chef, I was most influenced by Jean-Georges Vongerichten and his use of fruit juice reductions, nuts and vegetable purees to create richness and to replace butter, cream and oil in dishes. His techniques stuck with me and I rarely use fats to add richness or flavor.
JH: I am definitely a chocaholic. I remember finding a recipe for a Kahlua chocolate cake when I was around 12 years old and being so excited about making it (I don't think my parents knew it was so booze-filled). It came out delicious! Around that time, I was baking a lot of different desserts from scratch while bored during school breaks, which solidified my love of making desserts.
SBM: How has cooking in Florida changed or inspired you as a chef?
RH: I have been real focused over the years on bringing NYC/LA style concepts to Miami in my own style. But I am now less interested in what is happening outside Miami and more focused on how I can incorporate what is in our area and how Miami ethnic foods work in my menus. #305
JH: I've found that people here in Miami love decadent desserts (as do I). In my experience, the more decadent, the better. If you're going to have dessert, you go all the way and have all the calories that you want. When I was working at a commercial real estate company in 2006 after graduating with my MBA, I would bake 10-12 dozen cookies or cupcakes for my coworkers. They were so appreciative of the gesture, it drove me to bake more often. Without even realizing it, this turned out to be excellent baking practice for our future restaurants.
SBM: Do you find your menu is influenced by the great produce available in Florida?
RH: I have been using the local farms since 2009 when I was introduced to them by Michael Schwartz (of Michael's Genuine Food & Drink). Every year, the produce gets better and better and that is what sets our fast casual Sakaya Kitchen apart from fast food or other fast casual restaurants. Blackbrick is heavily influenced by the local farms and we use their ingredients in all the dishes. It is rare to find a Chinese restaurant using so much local produce.
JH: Richard always incorporates seasonal and local produce on the menus, especially at Blackbrick. We source from various local farmers in Homestead and up north. You can really taste the difference in the local produce – it's so fresh. During strawberry season last year, I made a strawberry buckle cake with lemon whipped cream for Blackbrick's brunch menu. It was delicious.
SBM: What's one thing you want diners to know about the menu at your restaurant – perhaps your favorite dish, an unexpected entree or the inspiration behind one of the dishes you decided to include on the menu?
RH: My favorite dishes at Sakaya Kitchen are the Honey Orange Baby Back Ribs and the Ginger Brussels Sprouts. At Blackbrick, I love the vegetables like the Sichuan Cauliflower.
JH: The Honey Orange Ribs at Sakaya were inspired by a rib dish we had at a Chinese restaurant in Sydney while on our honeymoon. The restaurant, Billie Kwong, was so good that we went there three times! The Duck with Plum Sauce that Chef Kylie Kwong was making was outstanding. Richard created the honey orange ribs using that as an inspiration. He perfected his version before opening Sakaya. When I was pregnant with our first daughter and still working full time in real estate, he would cook at home and pack my lunches. I became the guinea pig for his experiments before opening up Sakaya, and the ribs were one of my favorite lunches. My coworkers were very jealous.
SBM: South Florida diners are eager to discover new local restaurants for the first time. What do you hope they discover about your innovative Asian cuisine that differentiates you from other small businesses?
JH: I hope they discover that we're trying to do something really different and unlike what Miami has seen. We're trying to do it well too; focusing on good food with great flavor profiles. We're putting a lot of heart into what we're doing with our restaurants. I always call them our babies, because like our 2 daughters, that's what they are to me too. We're truly a mom and pop shop now. We're so immersed in our restaurants and we hope it shows.
RH: My head Chinese Chef at Blackbrick said it best to a potential Chinese wok cook during an interview. He said, "Forget everything you know about Chinese food if you want to work here at Blackbrick."
I like to break the rules.
Sakaya Kitchen 3401 North Miami Avenue in the Shops at Midtown Miami. 305.576.8096
Blackbrick 3451 NE First Avenue in the Shops at Midtown Miami. 305.573.8886
photos: Jenny Hales