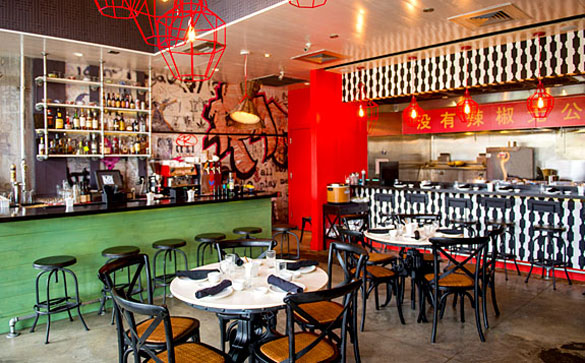 Chefs Jenny and Richard Hales are doting parents to daughters Lily and Violet as well as their passion projects Sakaya Kitchen and Blackbrick Chinese in Downtown Miami. Creating clever desserts for each menu, Pastry Chef Jenny says, "We're putting a lot of heart into what we're doing with our restaurants. I always call them our babies, because like our 2 daughters, that's what they are to me too. We're truly a mom and pop shop now."
Sakaya Kitchen 3401 North Miami Avenue in the Shops at Midtown Miami. 305.576.8096
With an emphasis on sweet and spicy Korean street food, Sakaya Kitchen at the Shops at Midtown Miami offers a fast casual dining experience for busy shoppers who enjoy cracklin' duck sandwiches, steamed pork buns and chunk'd tater tots loaded with spicy meat and a tangy cheese sauce. If you can't make it to the restaurant, the food truck Dim Ssam a Go Go brings highlights from the Sakaya menu to the streets of Miami. Recently featured on the FoodTV Network's Diners, Drive-Ins and Dives , the Hales made such a great impression on host Guy Fieri, he invited them to celebrate his birthday at his California home and convinced them to sell him their beloved vintage Cadillac!
Blackbrick 3451 NE First Avenue in the Shops at Midtown Miami. 305.573.8886
Just across the Midtown mall, their Blackbrick Chinese dining room updates traditional Asian recipes with locally sourced produce and Chef Hales' unique flavor profiles. Offering a variety of dim sum dumplings and buns on the regular menu, weekend brunches carry an extra punch when Jenny and Richard roll out their full culinary arsenal for South Florida's most discerning foodies. Serving indoors and alfresco, the open concept diningroom fairly buzzes with a rock and roll soundtrack and the tinkle of glasses at the popular cocktail bar. Try to score one of the few prized seats facing the open kitchen where chefs flash fry perfectly crisp egg rolls, stir noodles and veggies in a searing wok and carefully steam tender handmade dumplings for the dim sum service.