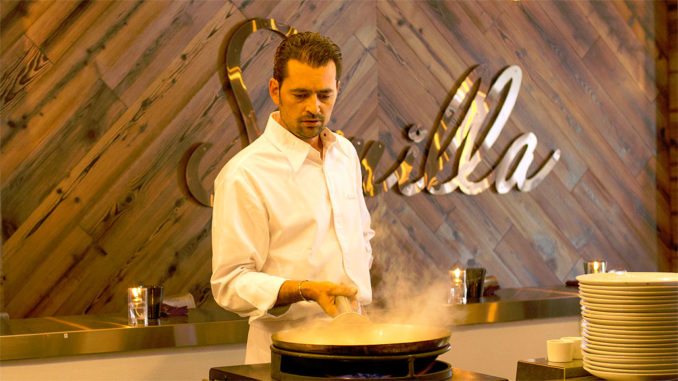 Semilla's Executive Chef Frederic Joulin was inspired to start cooking as a boy when he met French Chef Jean-Claude Ferrero and started assisting in some of the top kitchens in Paris. Enrolling in a formal training course at 15, he soon went on to work for some of the city's top chefs before being tapped to serve as private chef to French President Jacques Chirac. "When I started in the kitchen, I just wanted to become the number one," he said. "At 25 years old, I decided to open my own place."
After launching his own restaurant Le Clos St Honore when he was only 25 years old, Chef Joulin chose to bring his talents to South Beach and started out with a bistro called Cafe des Arts on Miami Beach. This season he launches an approachable modern gastropub on South Beach called Semilla. We recently spoke to the ambitious French chef about his new Alton Road eatery. "The restaurant's name means 'seed' when translated from Spanish to English," said Chef Joulin. "We chose this name to elaborate on the fact that each of our freshly prepared menu items is made using primarily organic ingredients. We aim to go back to the basics—the initial 'seed' (so to speak) of preparing gourmet cuisine—the period before processed food and unpronounceable ingredient names."
What are your impressions of living and working as a chef in Miami. How do you make it work?
As of today, it's still like a dream. I would never have imagined my life outside of France and now that I'm here for almost 9 years, I feel like home again.
I feel blessed living and working in Miami. It's truly a pleasure to live in a beautiful city with the best weather in the world. We have everything here, the sun, the beach and so the motivation and inspiration for working. I'm happy to share my passion with my staff, happy to teach them one of the most beautiful jobs in the world. I work in my restaurant every single day because there is no secret to making a business successful in South Florida. If you want to build customer loyalty, people need to trust you, they are looking for a quality, they need to see your product, they want to see you in your kitchen.
Is it tough to find a balance between the discipline of running a successful kitchen and the temptations of a fun location like South Florida for you and your team?
For those who are night life addicts it can be hard, especially to wake up in the morning. Semilla is open every night so the staff have some time to recover. Night clubbing is not my principal interest and the only temptation I authorize to myself is to go to the Keys and rent a boat. But honestly, it's not that often – I don't have the time for that. It's a privilege to live on the Beach, even if I don't go to the sea, the most important thing is to know that the beach is here and you can go whenever you want during the whole year.
My family always reminds me that I don't need to take vacation because I live where people go for vacation. I love to drive my Harley-Davidson in South Beach, I could not do the same in Paris. It's a way to feel free despite all this work. Don't forget that Miami is a city like other cities and people need to work like everywhere else. What we see on TV is not the real life for everyone – a lot of people have a normal life in Miami, the week-ends just look like more vacation time.
When you're not at work, where do you like to dine in South Florida?
I like to go to Juvia on the rooftop, it's very romantic and the view is quite amazing. With the children we like to go to Lucali, the New-York pizzeria where the pizza are huge and you choose your ingredients.
When you are cooking at home, for yourself or your friends & family, what's your go-to dish?
First the Chef at home is my wife. When you cook everyday at the restaurant you really appreciate that someone does the cooking for you and she is better than me for family cooking. We like simple things but with good product. Our popular dish is Ribeye with Pommes Dauphine (like hashed browns) and a mixed salad with shallots and herbs.
What are the dishes you remember most from your childhood (or your experiences as a young chef) and how do those flavors influence your menu at the restaurant?
I remember when I was a kid my parents use to make me eat a variety of vegetables. It was a simple cuisine, family cuisine, shredded carrots, tomato salad, mixed greens, celery root remoulade that we now find served on my menu with the lobster. So from a family cuisine, we can combine many products and rediscover true tastes and products that we are not used to cooking anymore.
How has cooking in Florida changed or inspired you as a chef, and do you find your menu is influenced by the great produce available in Florida?
I've learned to adapt myself here in Florida because the products are different from France of course but with the weather here, we find all we need. Products are the most important, whatever you decide to cook, you have to find the real taste of the primary produce. That's why I like to work with farmers from Florida state, local product is the best (no travel from far and it helps the farmers here). Of course my menu is influenced by the produce in Florida, I usually look for my produce first and that inspires me to craft a new dish.
What's one thing you want diners to know about the menu at your restaurant—perhaps your favorite dish, an unexpected entree or the inspiration behind one of the dishes you decided to include on the menu?
I've learned a lot, observed this city with this different culture, a South American cuisine and a big influence of Asia. The ceviche inspired me a lot for my new cuisine. Mixing now different cuisines in my restaurant, I know today what the customer will appreciate because I've listened to them from the beginning. I understand their expectations and try to do my best to find the dish they will love. The beef pot stickers are Asian cuisine with American flavor, it's a very popular dish on my menu right now.
Semilla Eatery & Bar
1330 Alton Road
Miami Beach
(305) 674-6522