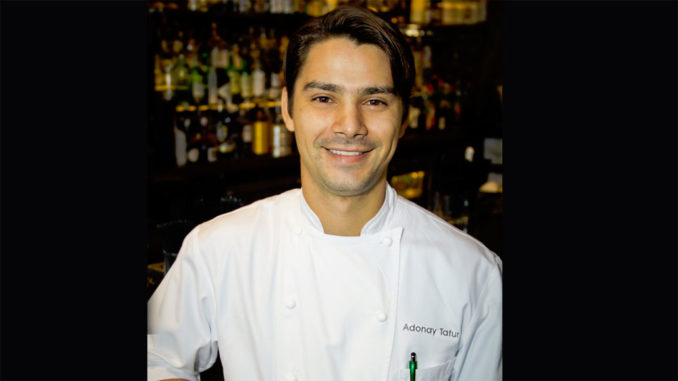 Chef Andrew Carmellini's American comfort food restaurant The Dutch got its start at the corner of Prince and Sullivan Streets in New York City and later expanded operations to the W Hotel in South Beach. Chef Andonay Tafur rose through the ranks of the Miami Beach kitchen brigade, moving from sous chef to executive chef in 2015. Tafur left Bogota, Colombia for South Florida when he was just 16 years old, finishing high school in Miami. On a summer trip to Spain, he pursued a series of culinary internships at Michelin star restaurants Restaurante Aizian Bilbao and Restaurante Andra Mari Galdakao-Bizkaia. He went on to study under Michelin star Chef Ruben Mata at Next Door Tapas Lounge in Los Angeles and Michelin star Restaurante Tragabuches. Returning to Miami, the young chef took his first job at the acclaimed Casa Tua Restaurant on South Beach.
James Beard Award Winning Chef Alfred Portale offered Tafur the opportunity to help open the Gotham Steak House at the newly renovated Fontainebleau Resort. He served first as sous chef at the Miami Beach property before joining Portale and his team at the flagship restaurant in New York City. During his tenure at Gotham Bar and Grill, the restaurant received a James Beard Award for Outstanding Restaurant in the Nation. Upon his return to home and family in Florida, Tafur joined Chef Andrew Carmellini's team at the W Hotel South Beach where his efforts ultimately led to the leadership position he now holds.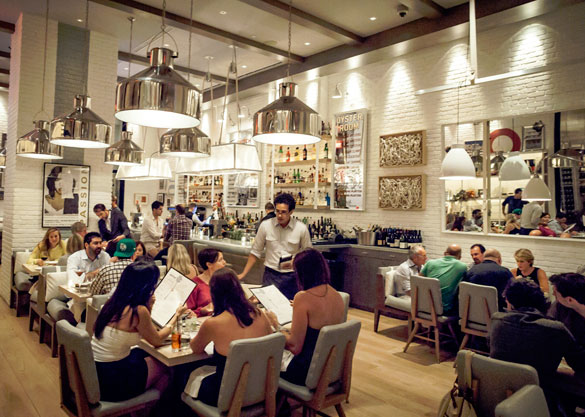 Serving under an acclaimed chef like Carmellini inspires Tafur and his team to uphold some very high standards. He notes, "the team understands the job that has to be done, not only because we represent him and the company, but because we are constantly being reminded of the fact that what we do becomes a representation of who we are to others; in this case, our guests and customers who ultimately are the ones that we all work so hard for." As summer heats up, Tafur will partner with Miami's top chefs to craft a weekly BBQ series, the fifth year The Dutch has hosted this charming summer cookout. Embracing the world's fascination with grilling alfresco, this season brings a Brazilian Rodizo Churascarria, a Thai/Korean BBQ, a Mediterranean Seafood Grill and a grand finale Pig Roast.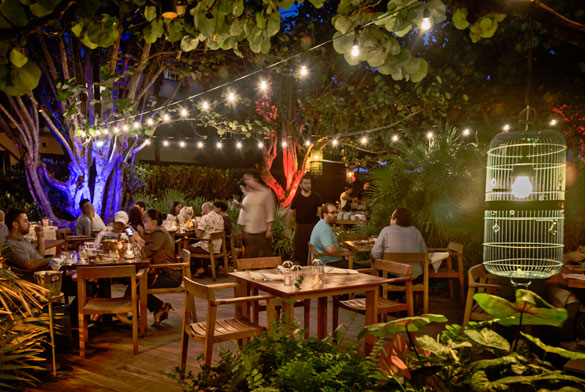 South Beach Magazine caught up with Chef Tafur as he prepared for his first feast. "This is our most popular event and I look forward to kicking things off with some delicious Brazilian Churascarria," he said. "Being from Brazil, it's my favorite theme so I can't think of a better way to start the series." The dinners take place every Wednesday night in July in the tropical Grove dining space just outside The Dutch dining room from 7pm until close. Tafur will mix it up with Miami chefs Michael Pirolo (Macchialina), Xavier Torres & Phuket Thong (Drunken Dragon & Cake Thai), John Iatrellis (Lure Fish Bar) plus John Gallo, Rene Reyes (Pinch Kitchen) and Steve Santana (Taquiza).
Please share your impressions living and working as a chef in Miami.
I have worked in Miami on and off for over ten years. It's always been a place of development and growth. Miami became home since I first moved here at the age of 16. No matter what other place I would go to, Miami has been the one that "always called back". This city is not for everybody, but for the ones who do decide to embrace it, the city is full of opportunities and it is constantly evolving, giving people in our industry chances that, in most places, are very limited.
What is your favorite thing about being a chef in Miami right now?
The fact that it's still a small community looking for growth and exposure. We all support each other one way or another.
If you hadn't decided to become a chef, what would you be doing?
I did not have the answer to that 12 years ago, and I do not have it now!
What do you think the Miami food scene needs most and what would you like to see go away?
Miami wants consistency in quality, needs better work ethic, and I really would not like to see anything go away, but instead evolve towards improvement of quality, sustainability and taste.
Working with Chef Andrew Carmellini must have required extreme focus. How do you help your team find the balance required to get their job done?
Chef has always been very involved with the day to day operations. He is a great role model and very approachable. The team understands the job that has to be done, not only because we represent him and the company, but because we are constantly being reminded of the fact that what we do becomes a representation of who we are to others. In this case, our guests and customers who ultimately are the ones that we all work so hard for.
When you're not at work, where do you like to dine in South Florida?
I like to venture to new places often, not necessarily because they have just opened but because I have never been. I feel that a lot of Miami's food scene gets shadowed by the media and the constant "new" spots but really there is good food that has been delivered for many years in our community. Obviously, never casting aside our local chefs that have worked so hard to open their own places in the recent years.
When you are cooking at home (for yourself or your friends & family), what's your go-to dish?
I love to grill steak outside but when weather or location does not permit, a nice roasted chicken or fish does the trick, even some homemade pasta. Of course, keeping it simple but delicious.
What are the dishes you remember most from your childhood or as a younger chef and how do those flavors influence your menu at the restaurant today?
My Aunt's Sancocho, my Dad's beer chicken and rice, and my Grandma's feijoada are all great and full of flavor, but most of all made with care and feeling. Which at the end of the day is what drives us all to make a good meal. The lingering flavors that transcend throughout the years are the inspiration that drives us to make sure – or at least try – to bring that type of experience to our customers.
How has cooking in Florida changed or inspired you as a chef?
My cooking in Florida is limited only to Miami, which has realistically molded me into who I am now. It has shown me how be better and connect with the people who are part of the community. This multicultural city has become the base of my development and hopefully, the structure to my goals. I am inspired by its diversity and will to stand out, grow, and move forward.
Do you find your menu is influenced by the produce available in Florida?
Of course, the "never ending summer" always supplies with great array of fruits and vegetables.
What's one thing you want diners to know about the menu at your restaurant – perhaps your favorite dish, an unexpected entree or the inspiration behind one of the dishes you decided to include on the menu?
Our food is inspired by our culture, not necessarily Miami, but the cultures that are part of this country in this day and age. We all come together to experience one another's heritage, and display it in our cooking. Most of the dishes in The Dutch's menu have some type of history attached to them, which makes it very exiting every time we come up with new items.
The Dutch at the W Hotel Miami Beach 2201 Collins Avenue, South Beach
photos: Noah Fecks