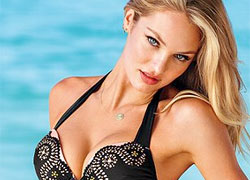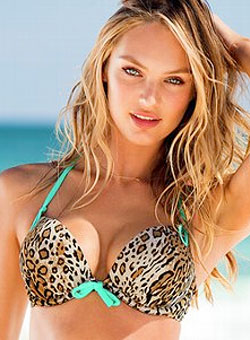 Victoria's Secret maximizes their swimwear business by catering to girls who want a super sexy look backed up by serious construction details that make the most of every bustline. Sold as separates, the Spring 2013 bikini range offers two very dramatic Bombshell Swim Tops which include a Strappy Add-2-Cups Halter Top and the Add-2-Cups Push-Up Top.
Sold in a variety of finishes, the 2013 Bombshell Swim Tops are modeled after Victoria's Secret super-successful Bombshell Bra Collection. The Bikini Team was very impressed to note that this top can add nearly 2 cup sizes to even the most modest cleavage which results in a very sexy presentation of your best beachy assets. If you have a small bust and want big results – this bikini top gets high marks. If you already have a big bust, this line of bikini tops may not be right for you unless you're looking for a lot of attention on the beach this year!


Take the time to visit your favorite bra shop to request a professional bra fitting. Trust in the experts to tell you the truth about what bikini top works best for your bra size!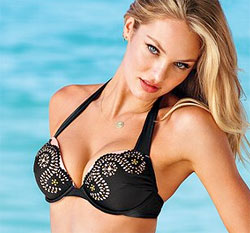 What makes a Bombshell?
Victoria's Secret takes a multi-dimensional approach to the construction of their bikini tops including their "Ooh-La-La Lift," which is basically a layer of padding designed to lift the bust without adding a lot of bulk or weight. Second is an adjustable "Custom Cleavage" fit designed to ease your bust in from either side to add the illusion of fullness in front. Perhaps most important to each of our reviewers, Bombshell Swim Tops are sold in a broad range of sizes to accommodate every body type. Everybody looked bustier in these tops but our fuller figured gals felt a bit too exposed.
Size Matters!
The current range of Bombshell Swim Tops is available in 32 through 38 A, B, C, D & DD (varies by design). For easy fitting, our team used a soft measuring tape to trace around the back band of a non-padded bra up across the area just above the bust. That measurement is the appropriate bra or bikini top size.