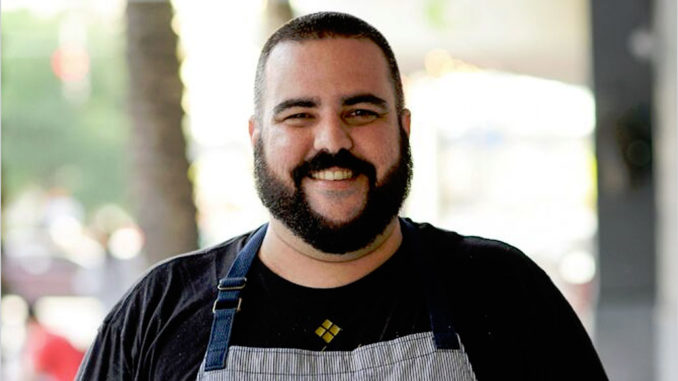 Some chefs are born to cook and others find their way to the culinary arts later in life. Chef Tomas Prado always admired his mother's soulful cooking, but started his career in finance before reinventing himself as one of Miami's most promising young chefs. Studying at Johnson and Wales University, Chef Prado interned at Palm Beach's Cafe Boulud under chef Zack Bell then went on to help open Daniel Boulud's db Bistro Moderne at the JW Marriott Marquis. Mastering housemade charcuterie and building lasting relationships with top area purveyors made a profound impression on Prado who quickly embraced the importance of locally-sourced fresh seasonal produce.
Moving from strength to strength, Prado joined the opening team at South Beach's SLS Hotel serving as a line cook at the Bazaar by Jose Andres where he added molecular gastronomy and innovative Spanish cuisine to his classic French repertoire. The following year, he joined James Beard Award-Winning Chef Sam Gorenstein at My Ceviche in Miami's tony Brickell location serving as chef and general manager. Partnering with area seafood purveyors to promote sustainable local fishing practices added yet another important element to the chef's education and prepared him for his most recent role as Executive Chef at Golden Fig in downtown Miami.
Drawing upon all he has experienced in South Florida's best kitchens, the Golden Fig's Farmhouse Cuisine menu is filled with distinct flavor combinations and subtle regional influences like starters of tender Virginia ham croquettes, Florida Rock Shrimp with hearts of palm and a basil aioli or Atlantic Tuna Tartare flavored with preserved lemon and saffron. Summertime main plates like Buttermilk Fried Chicken served with collard greens and a house Smoked Pork Porterhouse evoke memories of classic Southern comfort food while skewers of Florida Black Grouper over saffron couscous add a bright, regional bite when paired with a bracing caper chimichurri.
South Beach Magazine caught up with the busy chef to find out how he is enjoying his new role at the Golden Fig and how his Miami childhood influenced the flavors of his new menu.
Please share your impressions living and working as a chef in Miami. How do you make it work?
I was born and raised in Miami, so I've been working in this market for awhile and have a unique understanding of it. It's exciting to see the growth the city is going through now. So many great restaurants are opening and bringing added national recognition and greater understanding among diners. Miami is maturing as a culinary city and it is lovely to see and be a part of that.
Is it tough to find a balance between the discipline of running a successful kitchen and the temptations of a fun location like South Florida for you and your team?
No, not at all. When I compiled my dynamic team, I made sure we all share the same values, and the aspiration to put forth some of the best dishes Miami has tasted. Beyond that, we make the kitchen exciting. We have fun while we work. We all get along well and happen to be very good friends. We are a family restaurant and we ourselves are 'family.'
When you're not at work, where do you like to dine in South Florida?
I'm loving the food scene in South Florida, but I have a few favorites I simply can't get enough of; Taquiza, 27 and Cleo, all on South Beach are on the top of my list. Then a bit closer to home, I'm a big fan of Blue Collar and Enriquetas for a quick lunch.
When you are cooking at home (for yourself or your friends & family), what's your go-to dish?
My wife loves when I cook at home but she always asks for the same thing, braised chicken fricassee and potato puree. I am usually pretty playful with dinners at home and I try to always cook something new when I have friends over, but the chicken fricassee is always a hit.
What are the dishes you remember most from your childhood (or your experiences as a young chef) and how do those flavors influence your menu at the restaurant?
The dish that stands out most to me from my childhood would be the braised oxtail my mother would make me. This dish speaks to my soul— it is incredibly delicate yet fortifying. My mother always kept it simple; using local ingredients and off cuts of meats, always making the flavor the highlight of all her dishes. I have never had oxtail like the ones she makes, so I can still honestly say that mama's is best! Her simple approach to cooking has really influenced my cooking style to what it is today.
How has cooking in Florida changed or inspired you as a chef?
Florida's diversity awards a cook endless potential. From the bounty of seafood and tropical fruits such as mango, lychee, and of course, plantain, to the diverse cultures and cuisines around to inspire us, we have so much to draw from and be influenced by. I love Florida –living in Miami especially – and I use all of it when creating menus.
Do you find your menu is influenced by the great produce available in Florida?
Absolutely. We are so fortunate with the local produce we have at our fingertips, allowing us to create amazing dishes that our guests are familiar with and can connect to, but that surprise and intrigue them at the same time. Breathing life back into the true meaning and practice of "farm-to-table" and educating the South Florida community on local sourcing of ingredients is my ultimate goal and passion.
What's one thing you want diners to know about the menu at your restaurant – perhaps your favorite dish, an unexpected entree or the inspiration behind one of the dishes you decided to include on the menu?
We want our diners to know that we cook from the heart. I love the amuse we send out to all tables before their meal – a heaping dollop of creamy roasted Homestead eggplant spread with crispy chickpea chips, all made in-house. The dish is simple and satisfying, but innovative, flavorful and completely local. It acts as a preview of what's in store, and always seems to be a pleasant surprise for guests.
Golden Fig Restaurant
1250 South Miami Avenue
Miami 305.374.4612
Serving Monday through Thursday 6pm – 10pm and Friday & Saturday until 11pm