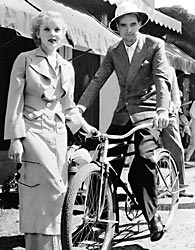 Miami Beach has long been a haven for Hollywood stars and assorted high-rollers as evidenced by this photo from 1937 showing 19-year old actress Ida Lupino and 32-year old Howard Hughes together. As close as we can determine, this photo was taken on the promenade behind the Roney Plaza Hotel on 23rd and Collins.
Lupino had just finished starring in "The Gay Desparado" with Nino Martini and Leo Carrillo, and would go on to become one of Hollywood's first female movie directors with RKO Studios.
In the years that followed this photo, Hughes would set the world speed record for around-the-world flights and gain control of not only Trans World Airlines, but RKO Studios as well.