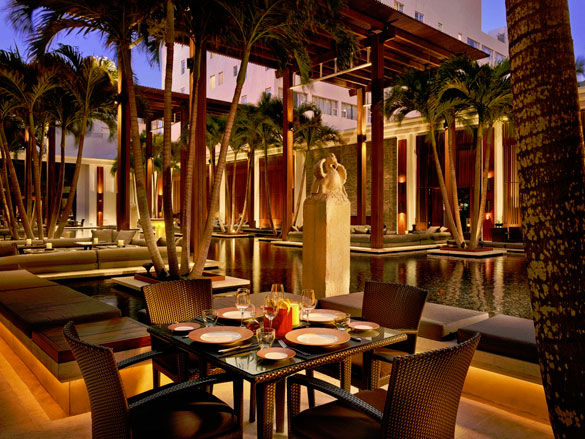 Expand your culinary horizons at some of South Beach's hot new eateries with menus drawn from cultures around the globe. Experience the tastes of the Far East at Jaya, Chef Mathias Gervais' gorgeous new dining room at the Setai Hotel. Miami's own Chef Bee (Piyarat Potha Arreeratn) packs the house at NaiYaRa with his tangy Thai cooking and Paolo Dorigato brings the flavors of his Italian childhood to Dolce at the Gale Hotel. Executive Chef Stuart Cameron's modern Eastern Mediterranean cuisine is drawing crowds to Byblos at the Shorecrest Hotel and Chef Craig Koketsu's inspired menu wows guests at Quality Meats. How thrilling to be able to take a trip around the world without ever leaving South Beach.
Jaya / 2001 Collins Avenue / South Beach 855.923.7899
Dining at the Setai Hotel is always a culinary adventure. Discover Jaya, a 200-seat modern Pan Asian eatery with family-style shared dishes, a perfectly paired mixology program and swift professional service.
Led by Executive Chef (and Chopped Champion) Mathias Gervais and Sous Chef Vijayudu Veena, the kitchen prepares a variety of flavorful treats including rich Indian curries, meats seared in authentic Tandoor ovens and a host of dim sum buns and bites.
Experience the flavors of Thailand, Vietnam, Korea, China and Japan in the spacious Setai dining room or out in the serene hotel courtyard. Choose the chef's Thali Platter, a tasting portion of various meats and vegetables, or savor the richness of traditional Peking Duck napped in plum sauce and topped with crispy leeks. A popular Sunday brunch service features a live Jazz ensemble.
NaiYaRa / 1854 Bay Road /South Beach 786.275.6005
NaiYaRa is an exciting new venture from Chef Bee (Piyarat Potha Arreeratn), who's efforts include the Khong River House and Oishi Thai. Experience this Thai and sushi restaurant in trendy Sunset Harbour where the menu showcases the flavors of the chef's childhood in Northern Thailand.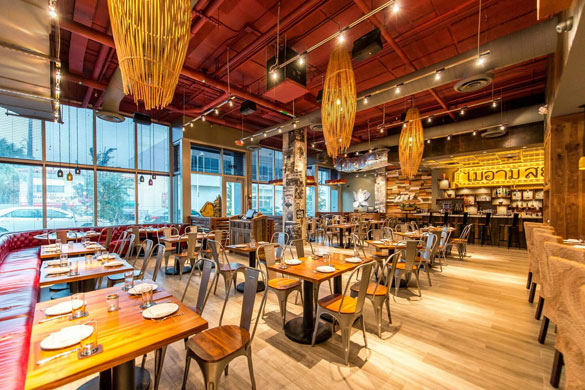 The son of farmers, Chef Bee learned to grow, prepare and preserve food at his mother's side and grew to appreciate the rich tastes of authentic Asian street food as he sold regional treats with his grandmother at the local village market. Relocating to Florida in his teens, the young chef pursued his passion for cooking at Nobu under acclaimed Chef Nobuyuki Matsuhisa and mastered the art of sushi at Siam River under Chef Kevin Cory. Enjoy the bright heat of Thai Street Dumplings, the salty sweetness of tangy Papaya Salad and the subtle richness of Peppercorn Duck, Five Spice Vietnamese Fish and garlicky Pad See-Eew noodles.

Byblos / 1545 Collins Avenue /South Beach 305.508.5041
The Art Deco landmark Shorecrest Hotel is home to Byblos Miami, a labor of love for restaurateurs Charles Khabouth and Hanif Harji who present Executive Chef Stuart Cameron's modern Eastern Mediterranean cuisine at their dazzling 200-seat restaurant. The menu reflects a broad range of influences from Greece, Turkey, Morocco and Lebanon with ingredients sourced here in Miami and imported from purveyors across the globe.
Chef Cameron's goal is to balance seasonality and authenticity in every dish including a variety of mezze small plate starters like citrusy spiced olives, smoky Turkish dumplings and tart duck kibbeh napped in dried fig and date molasses.
The kitchen features a wood fired oven where house made pide breads are baked to order and stuffed with a choice of spinach and cheese, mushrooms and chili or black truffles with creamy buffalo mozzarella. Enjoy gently roasted halibut, chargrilled cornish game hen and grilled whole branzino, but be certain to include at least one of the flavorful herbed rice dishes with your meal.
Quality Meats / 1501 Collins Avenue /South Beach 305.340.3333
While South Beach offers a rich variety of top shelf steakhouses, the arrival of Quality Meats ups the ante on traditional chargrilled fare with Chef Craig Koketsu's inspired seafoods, sides and appetizers that deftly round out the meal.
The young chef started out in Palo Alto working alongside culinary luminaries Jeremiah Tower and Joyce Goldstein before moving to Manhattan to tackle posts at Lespinasse with chefs Gary Kunz and Christian Delouvrier who ultimately named him Chef de Cuisine.
Acclaimed restaurateur Alan Stillman and his son Michael launched the first Quality Meats in 2006 and invested over $5 million to restore South Beach's Bancroft Hotel to prepare for the restaurant's first Florida location. Find the finest cuts from Pat LaFrieda and the Bush Brothers including dry-aged steaks and house cured and smoked charcuterie. Enjoy your meal in the updated Art Deco hotel lobby or alfresco on the 70 seat patio under the shade of oversized canvas market umbrellas.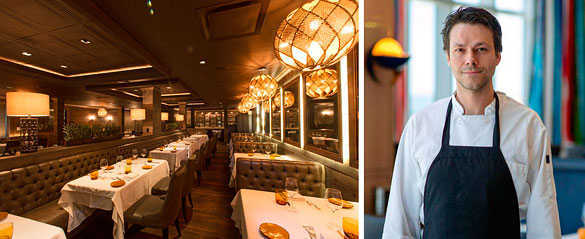 Dolce / 1690 Collins Avenue /South Beach 786.975.2550
A modern Italian Restaurant in the Gale Hotel, Dolce competed and won Bravo TV's Best New Restaurant in 2015, beating five of Miami most popular eateries.
Chef Paolo Dorigato brings a unique sensibility to every recipe, many inspired by his earliest recollections of childhood in Trento, Italy. He worked at some of the top Italian kitchens before traveling to London, Las Vegas, and New York, touching down at The Rainbow Room, Cipriani Wall Street, Barbaluc and Daphne's. His rustic Italian menu at Dolce captures the charm of La Dolce Vita, a sense of effortless elegance that hearkens back to Fellini's Roma in the 1960s.
The cozy dining room features a fresh mozzarella bar; just one of many tempting menu options including crisp pizzas, house made pastas and simply roasted meats. Enjoy tender grilled octopus in a bracing pistachio vinaigrette and a seasonal stuffed tortelli pasta napped in brown butter and sage. House made Fior Di Latte gelato makes a perfectly sweet dessert.