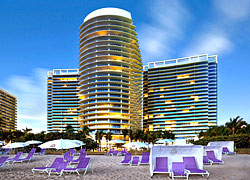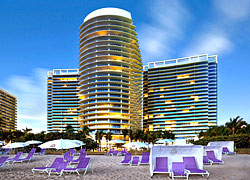 The Sheraton Bal Harbor is destined for demolition soon, making way for yet another new high rise to blot out the skyline along Collins Avenue. For those of you seeking posh new digs, a $1 BILLION St. Regis condominium complex is slated to be built on the site by 2010. The Sheraton Bal Harbour began life as the Americana Hotel, which was designed by famed Miami Beach architect, Morris Lapidus.
Starwood Hotels, parent company of the Sheraton, originally planned to tear down the 41-year-old hotel last year but decided to wait until after the Gold Rush that was Super Bowl Weekend 2007. Miami Today reports…
The 511-unit St. Regis-Bal Harbour Hotel and Residences, a condo complex of about 1 million square feet of residential space, is to replace the Sheraton. The complex is to include 268 condominiums, 36 condominium-hotel units, 24 St. Regis Residence Club units, one presidential suite and a 182-unit hotel. Project officials have said prices of condos will range from $1.8 million to $6 million and hotel units $1.9 million to $2.5 million.
Before the wrecking ball swings into town, local buyers are invited to swing over to the Sheraton starting July 12 to buy a piece of history. If you find you are in the market for a yellow-striped pool side cabana or 100 not-flat-screen hotel room TVs, back up a truck at 9701 Collins Avenue as soon as possible. The sale goes on until everything is cleared. In 2010, there will be three perfectly matching glass towers casting shadows over the Bal Harbour Shops – each with it's own private swimming pool…
For more information: www.stregisebrochure.com