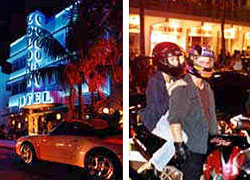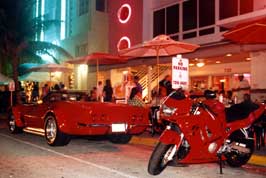 Do the heavy-hang in one of Ocean Drive's sidewalk cafes on most any weekend and you'll see an endless parade of Harleys, 'Vettes, Ninjas, Porsches, Lowriders, Noriders and of course, the ever-present three college girls in a Subaru. Flashing signs at both ends of the 10 block strip say "NO CRUISING WHEN FLASHING", but don't count on it. Slow speeds on the weekend make Ocean Drive a cruisers paradise, with plenty of time for things like returning the smiles from those girls sitting on the second floor patio at Wet Willies, or vamping the hunks crossing the street in front of your car at the Clevelander.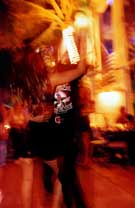 And, no matter where you are along the strip, you'll be surrounded by music coming from the clubs and bars all along Ocean Drive. Passing 10th Street, the Clevelander's sexy poolside bar puts out either reggae or rock depending on what night it is. At the next block you begin to hear the flaminco guitar players at the Breakwater Hotel's open-air sidewalk cafe, and moments later you pick up the hot latin rhythms emanating from Mango's Cafe. Look close and you might even see Alex, the Cuban adonis door-guy at Mango's dancing hot salsa with one of the waitresses out on the sidewalk. The music on Ocean Drive does that to you sometimes! And finally, by the time you've made it down to 7th Street, you're hearing jazz guitar and sax (?la Gato Barbieri) coming from the Avalon's sidewalk restaurant.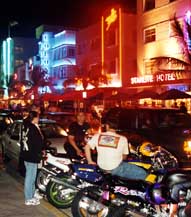 All of the photos for this article were shot by South Beach Magazine photographers on a Friday night in early December. You may notice that the focus in some of these photos started getting a little blurry as the hour drew closer and closer to midnight on this December evening. It seems that some girls from Atlanta forced (?) one of our photographers to do a couple of Tequila shooters with them, and then some guy with a pet lizard named "Butch" showed up, and well, … uh … the whole thing just sort of spun in from there.
No harm done, though. Out of twelve rolls of film, our boy did manage to get one shot that was usable. But, give the guy a break. After all, it was Friday night in South Beach …