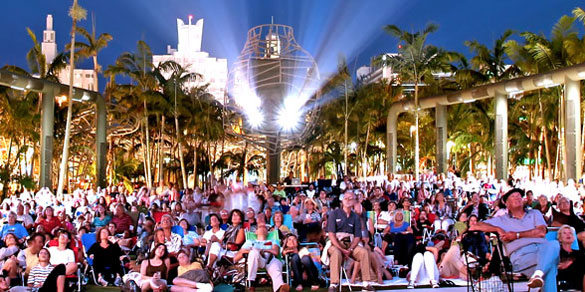 Visiting South Florida is all about having fun in the sun. But when the clouds roll in and you find yourself casting about for somewhere cool to hang out until your bright red skin returns to normal, consider a night at the movies! We've rounded up some pretty great places for cine-astes to check out the latest indie films, some classic motion pictures and a bunch of informative documentaries all over town.
Wallcasts
South Beach locals have discovered WALLCASTS, the New World Symphony's dynamic alfresco cinema series just off Lincoln Road Mall. Every Wednesday night, crowds of families spread out blankets and picnics and get ready for the FREE screening of a full length feature starting promptly at 8pm. Set in a brand new park, the Miami Beach SoundScape projects classic films and a select series of live concerts onto a 7,000 square foot projection wall set under the stars. Upcoming films are March 28: Rocky, April 4: Citizen Kane, April 11: Hairspray (2007), April 18: Vertigo, April 25: Ghost, May 2: Tootsie, May 9: West Side Story, and May 16: American Graffiti.
An Art in the Parks Series hosted by the City of Miami Beach at the New World Symphony features opera films on Thursdays including Jean-Pierre Ponnelle's Rigoletto (1982) featuring Luciano Pavarotti on March 29 at 7:30pm and Franco Zeffirelli's Otello (1986) featuring Placido Domingo on April 5 at 7:30 pm. For lovers of classical music, live performances by the New World Symphony will be simulcast onto the projection wall Saturday March 31 (Nordic Odyssey), Friday April 13 (Dual Forces), and Saturday May 5 (Mahler Legacy) at 8pm. – New World Symphony, 500 17th Street, Miami Beach, FL
Miami Beach Cinematheque
The Miami Beach Cinematheque is home to the local film society, a diverse organization of movie buffs who offer an alternative to the commercial cinema experience. If your taste runs more to interesting conversations about classic films rather than gossip about who was recently spotted being indiscrete at some velvet rope nightclub, check out the Cinematheque! Set in the heart of South Beach's Art Deco District, the HD Art House is located at 1130 Washington Avenue in a newly restored space that also has a gallery, a bookstore, a library and a cafe. Recent screenings include Academy Award nominated foreign films & documentaries, Oscar Shorts, and Roman Polanski's Carnage. To see what's showing next, log onto http://miamibeachfilmsociety.memberlodge.org/calendar. – The Miami Beach Cinematheque & Gallery, 1130 Washington Avenue, Miami Beach, FL
O Cinema
O Cinema in Miami's new Wynwood Arts District is a cutting-edge indie art house funded in part by the James L. Knight Foundation which engages communities and fosters the arts. Founded to provide access to films that might not otherwise be seen in the area, the philosophy of this venture is to engage new film audiences including kids, seniors, and families and to showcase emerging artists, significant classics, newly restored master works and selected special programs. Currently celebrating Miami filmmakers Alfred Spellman and Billy Corben (Raw Deal, Cocaine Cowboys, Square Grouper), the cinema will host a meet and greet with these prolific collaborators at the end of the month.
One of the best combinations in film and food is the OMG! Dinner & a Movie Series featuring an unforgettable evening catered by Miami's top-rated Michael's Genuine Food & Drink. Chef Michael Schwartz and his team craft a unique menu inspired by the film of the month and serve it up to a limited number of advance ticket holders. Ideal for a foodie date night, the once a month series sells out quickly so keep an eye on the O Cinema website to see what's cooking next month! http://www.o-cinema.org/. – O Cinema, 90 NW 29 Street, Wynwood
Tower Theater
The Tower Theater is a Calle Ocho cultural landmark dating back to Miami's Golden Age in 1926. The first state of the art theater in the South, the Tower became in integral part of the ex-pat Cuban experience in the 1960s when new families who relocated to the area from Cuba got their first taste of American cinema culture at the Tower. Catering to the growing Latin American community, the programming at the popular movie house gradually shifted to English-language films with Spanish subtitles and eventually became Miami's first Spanish language movie theater before closing its doors in the 1980s.
In 2002, the Tower Theater was reborn as Downtown Miami's premier indie cinema under the auspices of Miami Dade Community College and the Cultural Affairs Department of the City of Miami. The renovated space is currently used as a lecture facility for the school and a historic gathering place for English and Spanish language films and special events. – The Tower Theater, 1508 SW Eighth Street, Miami, FL
Film Festivals
The City of Miami is home to a number of International Film Festivals throughout the year including the Miami International Film Festival (March), the American Black Film Festival (June), the Brazilian Film Festival, the Israel and the Miami Jewish Film Festival (January), Doc Miami International Film Festival (September) and also Miami Gay and Lesbian Film Festival, Miami Short Film Festival (November), Sicilian Film Festival (April), Romance in a Can (May) and the Women's International Film Festival (March). Bringing the best film makers in the world to South Florida to share their work is the pride of Filmiami.org – the city's central clearinghouse for all movie magic! Learn more about each of these unique competitions at http://filmiami.org/film_festivals.asp and the State of Florida film website http://www.filminflorida.com/wh/ff.asp
See you at the movies!