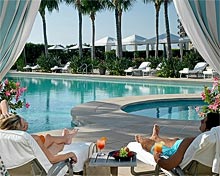 Many of our readers who come to Miami for a cruise often ask us about the best way to spend the hours between MIA airport and their cruise ship at the Seaport in Downtown Miami. Making the transition from a snowy city to a luxury cruise or gradually emerging from a week of buffets and Bacardis is tough stuff! Until now…
Whether you are coming or going through the City of Miami and find you've got some hours to kill in transit, tell the taxi driver to drop you and your Hawaiian shirts off at the Four Seasons Hotel on Brickell Avenue where a $25 day pass admits you to the delicious rooftop pool deck high over the city.
Pamper your travel-weary body on a cozy lounger where you can tan, read magazines and otherwise snooze and schmooze with the lucky patrons of this 5-star resort. If you have a group, a couple of kids or simply want a little alone time, the hotel also features VIP cabana service for just $150 a day.
In partnership with the SportsClub/LA, the Four Seasons features a state-of-the-art fitness facility where you can prepare your winter-weary body for a week in the sun or start on the long road back to physical fitness after all that shipboard snacking. Private spa treatment rooms include a dry redwood sauna, a Turkish steam room, a couple's suite where partners, mothers and daughters, or friends can enjoy treatments side by side, and a wet treatment area with a Vichy shower.
The full-service Rik-Rak Beauty Salon (305-371-5577) is a favorite of Miami Fashionistas who pop in for a touch up before a light lunch at Pasha's Mediterranean restaurant next door. The spa is open 9am-9pm weekdays and until 7pm Saturday and Sunday.
For more information or to make a reservation for your day at the Four Seasons, dial 305-381-3190. The four Seasons Hotel is located at 1435 Brickell Avenue in Downtown Miami, just 10 minutes from the Port.