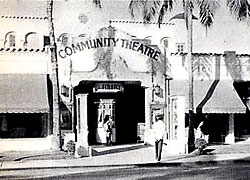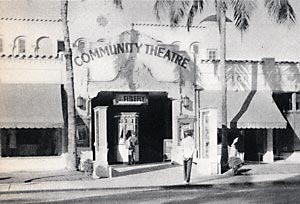 We've had several inquiries from Miami Beach history buffs asking for information on a movie theater that once stood in the 1000 block of Lincoln Road on the north side of the street. After a little research and a lot of luck, we finally found the answer: The Community Theatre, 1007 Lincoln Road, Miami Beach.
The theater was built in 1924 from a design by architect August Geiger who also designed the Federal Saving and Loan building (where Banana Republic is today) at 1100 Lincoln Road.
As a sheer guess, we'd say the photo above was taken in approximately 1938. We tried scanning the photo at ultra-high resolution to see if we could make out the movie title on the marquee to give us a clue, but the pixels just weren't there. The sign above the ticket window says "[???] Firefly," but it doesn't appear to be a movie poster or lobby card. (Although, there was a 1937 film adaptation of an operetta titled "The Firefly.")
The Gap's Kids store currently occupies this location, but the building facade looks much different now, so it appears the owners made significant changes once the theater was closed down.