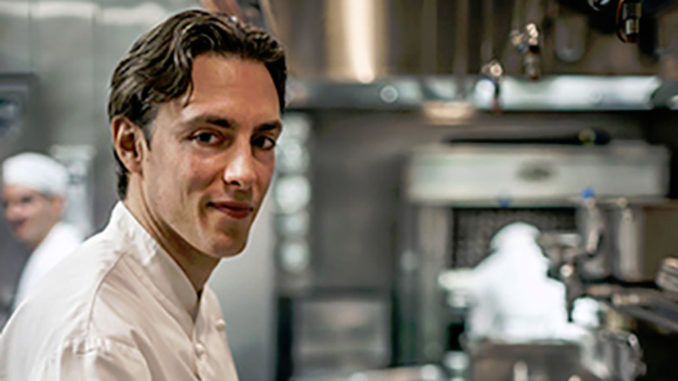 A popular dining destination for foodies, celebrities and socialites in the world's party capitals, Bagatelle Miami Beach debuts this month with Chef Matthieu Godard at the helm. The restaurant enjoys a rather notorious reputation for high energy crowds at its locations in New York, Los Angeles, St. Barths and St. Tropez. The Miami eatery will showcase the young chef's impeccable French techniques as well as his passion for Latin-influenced cuisines. In the coming months, the hotel will transition into Villa Bagatelle, as owners Aymeric Clemente and Remi Laba leap from restaurateurs to hoteliers.
Born in 1979, Chef Godard is a graduate of the Food and Beverage program at the Hotel School in Rouen France, an area he laughingly refers to as the "crème fraiche & butter part of the country." After several successful years at Club Med resorts in France, Spain and Greece, he joined Chef Daniel Boulud's team in Manhattan and worked at the acclaimed db Bistro Moderne in New York and also in Miami. Learning alongside one of the modern masters of French cookery informs Godard's menus and allows him the disciplined approach needed to run a restaurant as demanding as Bagatelle on South Beach.
South Beach Magazine caught up with Chef Godard as he readies his squad for the launch of this brand new venture. We wanted to know how he is adapting to this leadership role and the lofty expectations of Bagatelle's enthusiastic fans.
Please share your impressions living and working as a chef in Miami.
I really enjoy living and working in Miami. The quality of life is amazing and people are very friendly. Every day, I come to work on my scooter and always take a moment to appreciate this beautiful blue and sunny sky! After 8 years living in crowded NYC and using the subway, I make sure to realize how lucky I am.
On a professional side, Its great to see Miami's culinary scene evolving so fast with great names coming to this market. I feel like I am participating in bringing great food culture to this town and it is very rewarding. Diners here are very vocal about what they like and its always a pleasure getting feedback on what I cook.
Is it tough to find a balance between the discipline of running a successful kitchen and the temptations of a fun location like South Florida for you and your team?
I have a French culinary background so discipline and dedication are part of my DNA . As an executive chef, I want to be an example for my staff, so I make sure to be clear minded. On the other hand, South Beach night life can be very tempting for a young chef and I don't have any problem with that! Life has to be fun, cooking has to be fun. However, they know that I will be watching their performance the next day…
When you're not at work, where do you like to dine in South Florida?
I do not have a favorite place to dine in South Florida. I like to drive and stop at local restaurants to discover new flavors and ingredients especially in South American restaurants.
When you are cooking at home (for yourself or your friends & family), what's your go-to dish?
I am a big pasta fan. I could eat pasta every day. For friends & family, I like to challenge myself trying dishes that I have never cooked before or haven't made for long time.
What are the dishes you remember most from your childhood (or your experiences as a young chef) and how do those flavors influence your menu?
The first dish that's coming to my mind is "les oeuf & patates a la crème." It's a dish that my grandmother used to cook for me when I was a child. I used to hand pick fresh farm eggs at the neighbor's farm and she would hard boil them with diced baked potatoes from her vegetable garden, adding a rich sauce made of crème fraiche, butter, sea salt and coarse fresh pepper. It is a very simple and country dish but it is so tasty as every single ingredient was fresh from the farm. It is for this reason that I like to use local South Florida farmed products for my menu to benefit from their flavor and freshness.
How has cooking in Florida changed or inspired you as a chef?
Florida definitely changed my way to cook and create dishes. I am from the crème fraiche & butter part of France (Haute-Normandy) where dishes are pretty heavy! So this is a great opportunity to change and extend my vision of cooking. I have also lived in the south of France and Spain so I had experience with light and healthy cooking. I really enjoy it. Working in Florida gives me the opportunity to use my French techniques with a twist of South American influence. But don't get me wrong, I can't help it – I still love rich dishes!
Bagatelle Miami Beach is located at 2000 Collins Avenue on South Beach. More info on Bagatelle Miami Beach.