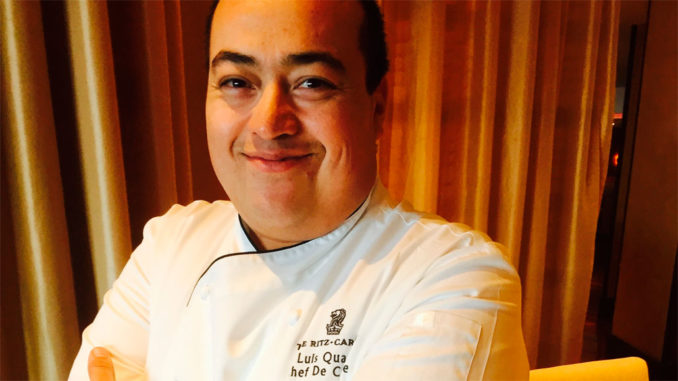 Nicaraguan Chef Luis Quant is best known to locals as the man who helped transition Carlos Centurion's Coral Gables' classic Por Fin Restaurant into the energetic Bulla Gastrobar, a literal shifting of the sands of time for the Miracle Mile area from Old School dining to something far more exciting. Changing course from a white linen tablecloth Spanish affair to a more innovative tapas bar made waves in 2013 because it served as an important harbinger of the rise of the next generation of Miami chefs who are willing to take more chances to create great food.
These days the young chef can be found on the tenth floor of the elegant Ritz-Carlton South Beach where he shares his expertise with a select number of guests at the exclusive Elevation Lounge. Twice a week, he and Pastry Chef John Martinez host live cooking demonstrations so guests can learn what it takes to craft a particular dish and then taste the culinary and confectionary offerings the chefs create. This is all part of his current role as Chef de Cuisine for the resort; a job he has trained for since his days at the Ritz-Carlton Key Biscayne. Working under Chefs Jeffrey Vigila and Jordi Valles on the island, Chef Quant perfected his cooking techniques and established the foundations for his menus today.
As a child, the budding chef spent many happy hours cooking alongside his father, who taught him the wonders of Asian flavors and Caribbean spices. Spending time together fishing along Nicaragua's western shore gave Chef Quant his first taste of the slow-cooked octopus local fishermen prepared out on the beach. The flavors of the chargrilled delicacy now translate to one of his favorite preparations at Bistro One LR where octopus is charred and dressed in cilantro and plenty of fresh lime juice.
South Beach Magazine met with the busy chef at an event recently and asked him about his current role at one of the city's most highly regarded resort properties. Preparing his signature ceviche, Chef Quant fairly beamed with pride as he spoke about new menu options available this season.
Please share your impressions living and working as a chef in Miami. What is your favorite thing about being a chef in Miami right now?
I love the "hype" of being a chef in Miami. I love the fusion of cultures, the melting pot that makes Miami a unique dining destination.
If you hadn't decided to become a chef, what would you be doing?
I enjoy urban farming and I love fishing. I believe if I were not a chef, I'd be doing Aquaculture somewhere in the Caribbean – on the beautiful coast of Nicaragua!
What do you think the Miami food scene needs most and what would you like to see go away?
Miami needs more passionate cooks. There is no place for mediocrity in the kitchen.
When you're not at work, where do you like to dine in South Florida.
One of my favorite places to enjoy great food and drinks is Barceloneta. Chef Juliana Gonzalez is amazing — her food is just an expression of passion and her flavors are immaculate!
When you are cooking at home (for yourself or friends and family), what is your go-to dish?
When I'm with my family and friends, I enjoy grilling fresh fish that we caught that same morning.
What are the dishes you remember most from childhood and how do those flavors influence your menu today?
I have several fond memories from my grandparent's farm – from gathering cow's milk and making fresh cheese to sitting with my grandfather peeling corn to make tortillas. However, most of all, I remember the passion and love we put into each moment when cooking for our family. This is the influence we carry through our menu and onto our team at Bistro One LR.
How has cooking in Florida changed or inspired you as a chef? Do you find your menu is influenced by the produce available in Florida?
As Miami has become my hometown, I've had the opportunity to cook with the most amazing fruits and produce. Taking a drive through the Redlands for fresh greens, going north to Kissimmee for some beautiful mushrooms or just driving to Homestead for the smell of mango fields – this all has inspired the way I cook at Bistro One LR. For many of our dishes we use local citrus, like in our ceviche which is made with farmed cobia and citrus leche de tigre, as well as our spicy mixed green salad with mango and oranges.
What is the one thing you want diners to know about the menu at your restaurant – perhaps your favorite dish or the inspiration behind one of the dishes you include on your current menu?
My favorite dish on the menu is the grilled octopus. It reminds me when my dad used to take us fishing on the west coast of Nicaragua, where octopus is abundant. I learned to slowly cook them with the local fishermen in the middle of the beach and afterwards marinate them in lime and cilantro and then chargrill them whole… Wow!
Many chefs comment that the South Beach Wine & Food Festival is a great opportunity to meet chefs who mean a great deal to them. Who are you looking forward to meeting this year?
I always enjoy meeting all the Food Network Chefs, but most of all I enjoy catching up with local chefs and friends.
The Ritz-Carlton South Beach is located at 1 Lincoln Road. Bistro One LR and The DiLido Beach Club are open to the public seven days a week.