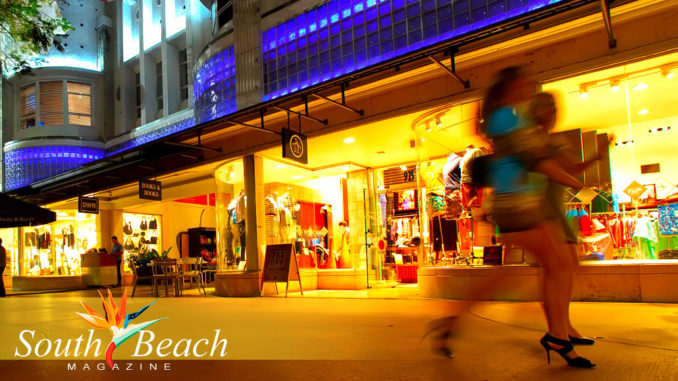 In 1947, Life Magazine's twelve page feature article on Miami Beach summed it up like this: "Each winter it becomes the mecca for stage stars, songwriters, playboys, labor leaders, big-money executives and big-money gamblers." Between 1925 and the early 60's Miami Beach was the winter playground for the world's elite. And in the center of it all was a street known as the "Fifth Avenue of the South," Lincoln Road.
At one time Lincoln Road was Miami Beach's top commercial area, with shops, nightclubs, bars, and department stores lining both sides of the street from the Atlantic Ocean all the way to Biscayne Bay. Saks Fifth Avenue, Harry Winston Jewelers, and Bonwit-Teller all were there for wealthy resort hotel guests to visit. The Road had no less than five movie theaters within its ten block span, including the world famous Carib Theater, with its live parrots in the lobby and mechanical roof that retracted to allow patrons to view feature films under a moonlit Miami Beach sky. Wealthy vacationers from the north would often arrive in Miami Beach for the winter season sporting empty steamer trunks to be used to transport their purchases back home again in April. Most of those purchases were made in the stores on Lincoln Road.
However, in the late 1950's things began to change. New economic pressures would change the future of Lincoln Road for many years to come. Large new hotels like the Fontainebleau and Americana were designed as self-contained resorts complete with shopping areas and night clubs on premises where guests could spend their tourist dollars. Lounges like the Fontainebleau's LaRonde Room or Eden Roc's Mona Lisa Room attracted world class entertainers like Frank Sinatra, Tony Bennett, and Dean Martin and Jerry Lewis. On the popular American Plan breakfast, dinner, and sometimes even cocktails and entertainment were included in the price of the room, so guests began to dine in the hotel's own fine restaurants rather than in local restaurants on Lincoln Road. At one time, the Americana Hotel alone employed over sixty chefs to service its winter guests. All this put great economic pressure on Lincoln Road's shops and restaurants, and the area soon began to feel the strain.
E Pluribus Lapidus
In an attempt to reverse the economic hardship being suffered by local stores and restaurants, the city commissioned famed Miami Beach architect Morris Lapidus, designer of the Fontainebleau Hotel, to transform Lincoln Road into a pedestrian shopping mall in 1960. The Road was closed to auto traffic and Lapidus created a beautiful shopping mall area filled with lush tropical plants, pink sidewalks, fountains, and unique sculptures. These changes met with some success, but the turnaround was short-lived. In the years that followed, Lincoln Road's stores closed their doors one by one. Even the crown jewel, Saks Fifth Avenue eventually called it quits.
New social pressures were also waiting just around the corner. Miami Beach's population, especially in South Beach, was shifting toward elderly retirees. At one point 80 percent of South Beach's population was over 65 years of age. These retirees, living in South Beach's old hotels and apartment buildings on low fixed incomes became a powerful political force and soon began resisting new taxes and bond issues, thus denying the city much needed revenue for infrastructure improvements.
Castro's Mariel Boatlift brought in new residents at the lower end of the socio-economic scale. Of the 250,000 Marielitos allowed to come to the United States during the boatlift, it is estimated that 10 percent of this number were criminals straight out of Cuban jails. The crime rate in South Beach soared. To compound the problem, Miami in the 1980's also had a slight "Colombian Marching Powder" problem to contend with. Check any Miami Vice re-run for details.
At its low point, most of Lincoln Road's shops stood vacant. The Road's golden days were seemingly gone forever.
A Change Gonna Come (Who is Art Deco?)
The war over Art Deco in South Beach is the subject of an upcoming article in South Beach Magazine, but for now, just remember this: All those wonderful Art Deco buildings that give South Beach its unique in all the world personality were moments away from being crushed up by bulldozers and used for landfill, when a few individuals like Barbara Capitman and her Miami Design Preservation League gang stood up against the "Condo Canyon" boys and preserved the Art Deco District for all of us. More on that later, but for now, chalk one up for the good guys.
In the late 80's when South Beach began its resurgence, development progressed in much the same way that the island's original development occurred in the early part of this century, namely, from the south, northward. Tony Goldman's Park Central Hotel, the News Cafe and the Cardozo Hotel/Restaurant all sprang to life in just a few short years. South Beach's redevelopment was like a tidal wave breaking right up Ocean Drive.
And as Ocean Drive has turned around, so has Lincoln Road. Less touristy and more of a hip community, the Road is now blossoming into South Beach's creative district with artists and media production companies gravitating to the area at a blistering pace. Here's an overview of some of the new folks in ol' neighborhood.
Blue Suede Zapatos
Miami is internationally known as the "crossroads of the Americas", so when MTV began looking for the perfect location for their new MTV Latino unit, they naturally chose South Beach. And, being MTV, they also picked one of the coolest sites in South Beach, Lincoln Road.
From production studios at Post Edge facilities at Lincoln and Washington, MTV Latino pipes music videos and Unplugged concerts to 19 countries in Central and South America 24 hours a day. And yes, Beavis and Butthead do habla espanol, although, no better than they habla English. (How DO you say "Dill Hole" in Spanish, anyway?) MTV Latino's production affiliate Post Edge also provides production services for five Discovery Channel International networks around the world.
Another new arrival on the Road is The National Academy of Recording Arts & Sciences known throughout the world for the music industry's GRAMMY? Awards. NARAS is also responsible for numerous professional development and cultural enrichment programs around the world.
The Sunny Side of the Street
And of course, there are the wonderful sidewalk cafes. Lincoln Road is home to some of the finest sidewalk cafes in all of Miami Beach. Here's the scoop on a few of the best.
One of the most well known meeting places in all of South Beach is The Van Dyke Cafe, nestled in a building originally constructed in 1924 by Carl Fisher, the father of Miami Beach. What's not so well known is, in addition to its wonderful sidewalk cafe the Van Dyke also has a second floor lounge where live jazz is played nightly.
A new addition to the Road is Balan's Restaurant, located at the quite western end of Lincoln Road close to the Colony Theater. Balans sidewalk cafe is one of the most relaxing settings on South Beach, and it's also a great place to engage in that favorite South Beach pastime, model-watching. You don't usually have to look very far either. Maybe only the next table.
Pacific Time Restaurant features American-Asian Pacific Rim cuisine, which New York magazine '96 calls, "Best food in South Beach." No argument here!
Yuca Restaurant and Nightclub has to be Miami Beach's premier Cuban cuisine restaurant. Outside dining in the sidewalk cafe is a joy to the senses, while the second floor cabaret delivers South Beach's hottest Latin music with firey Cubano entertainer Albita performing most weekends. Owner Efrain Veiga and manager Billy Bean are most gracious hosts, and will make your visit a truely memorable experience.
Hit it, Ludwig
The Lincoln Theatre, originally named the New Edison Theatre, was designed in 1935 by architect Thomas W. Lamb, who built classic movie palaces all over the country. The theater's foremost resident is now The New World Symphony. Michael Tilson Thomas is the founder and Artistic Director of The New World Symphony, and also Music Director of the San Francisco Symphony, and Principal Guest Conductor of the London Symphony Orchestra.
Glory Days
So, will Lincoln Road recapture its glory days of the past, when movie stars and high rollers all dressed in tropical white outfits strolled its sidewalks? Well, it turns out that shopping at Saks has given way to pumping iron with the hard bodies at Idol's Gym, but other than that, things are basically the same as they were in the 1930's; beautiful weather, beautiful surroundings, and beautiful people. Recapture the glory days? Absolutely. Except, forget the part about "strolling in a white outfit." These days it's rollerblades and skin-tights. Just ask one of the models skating by. They should know.