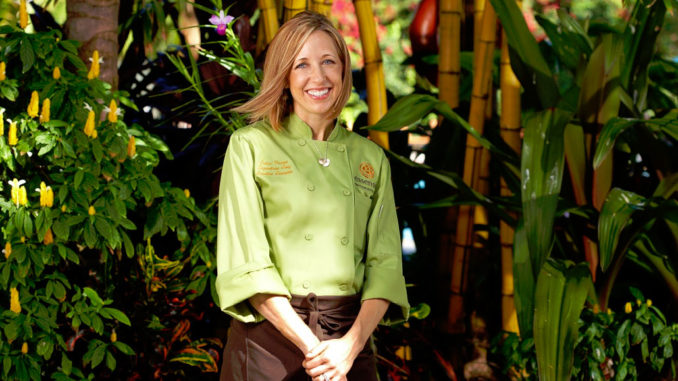 Chef Julie Frans brings inspired seasonal flavors to Essensia Restaurant at the Palms Hotel & Spa where her lifelong dedication to healthy eating yields delicious results. While many South Florida restaurants boast farm-to-table menus, the culinary team at The Palms takes great pride in sourcing sustainable organic foods from local markets and laboring at an on-site organic garden to make every dish they serve an eco-conscious treat. Chef Frans set about creating a 750 square foot working garden behind the hotel's tiki bar where the kitchen and bar staff get the herbs, greens and edible flowers they use in tropical cocktails, entrees and salads.

Originally from sunny Southern California, Chef Frans got her start cooking for a privileged few aboard luxury yachts traveling around the globe. Returning home in 2005, she launched a successful catering company and soon dedicated herself to improving the quality of school lunches through her Chickpeas School Lunch initiative. When she decided to relocate to South Florida to lead the team at the Palms Hotel, her efforts to improve the quality of children's eating habits continued here in Florida.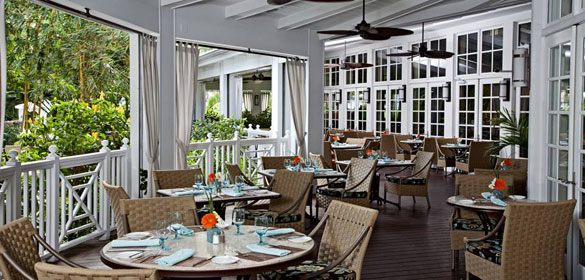 In crafting the menu at Essensia, Chef Frans made certain that meat and poultry resources are certified organic and that all seafood is sourced sustainably. Most of the fruit and veggies served grows here in South Florida and even the wine and beer lists feature local craft brews and biodynamic and organic wine. She speaks with great pride about the relationships she has established with Miami's Proper Sausages company, with Gaucho Ranch, a source of natural grass-fed beef and Lucini Italia where the oils she uses in salads and sauces is prepared by hand in small batches. Like many of the area's top chefs, having access to the freshest produce makes a critical difference in the direction of every menu. We asked Chef Frans to share some of the childhood memories that informed her decision to cook professionally and to tell us about her life as a busy Miami culinarian.
Please share your impressions living and working as a chef in Miami.
I didn't really know what to expect when I moved from the culinary community of San Diego, California, to Miami. I have been really pleasantly surprised and it turns out I love it here much more than I had anticipated. I think I got here at just the right time when the farm to table evolution was just getting started in Miami, so bringing my California background was welcomed and embraced. What I had done for years in California was starting to become "cool" and progressive for Miami when I started here. Three years later, I feel right at home and in good company with the growing number of "Slow Foods" style establishments. I also am really pleased with the sense of community amongst chefs here in Miami. There is a real sense of camaraderie.
Is it tough to find a balance between the discipline of running a successful kitchen and the temptations of a fun location like South Beach for you and your team?
I have not found it to be an issue. We have a really solid team of grounded & experienced cooks, many of whom have families and other hobbies and are not interested in South Beach activities. If they ask for time off, it's usually just to recharge their batteries or travel to see family. We do always have a couple of young international interns who keep us up to date on what's going on in South Beach nightlife. The cooks get a chuckle from the stories!
When you're not at work, where do you like to dine in South Florida?
I try to support my chef friends as much as possible. I follow Kris Wessel wherever he is; I love his new place Oolite! Yum! And Todd Erickson is another favorite. Huahuas is one of my family's go-to places. Other than that, we usually opt for hole-in-the-wall authentic places like Sawadee Thai, Indomania, Katana Sushi, Hy Vong. We don't typically cook at home.
When you are cooking at home (for yourself or your friends & family), what's your go-to dish?
My husband is also a chef so we usually tag-team entertaining at home. We get weekly farm boxes from Teena's pride through growing season so it's usually based around what's in the box. Nibbles to start – chips & salsa, olives, cheese, veggies and hummus. Typically we'll grill meat and fish, maybe a gaucho ranch cowboy steak and a side of wild salmon or a whole snapper. There's always an herb puree chimichurri type sauce with whatever herbs are in the box. Grilled veggies and a giant kale or arugula salad with grilled fruit, nuts, and some kind of yummy cheese like aged beemster gouda or smokey blue cheese. And everything with wine starting with rose or cocktails, then sauvignon blanc or moscofilero, then on to malbec, carmanere, cabernet… whatever! Dessert might be a bite of good salted chocolate or cocoa dusted walnuts. Just a little something to finish the meal.
What are the dishes you remember most from your childhood or your experiences as a young chef, and how do those flavors influence your menu?
My parents were both cooks who taught me very different values about cooking and eating. My mom cooked at home almost every night. She made healthy-ish versions of American home style favorites like eggplant parmesan, spaghetti and meatballs, beef stroganoff, stuffed Cornish game hens, fried chicken and mashed potatoes, chicken taco night, and crusted fish. There was only one rule at dinner: we had to finish our salad. Everything else was negotiable. She made things the hard way when it mattered, like fresh frying tortillas and chips for taco night, always making her own salad dressings and breading fish and chicken herself instead of buying pre-breaded frozen products. I think subconsciously it taught me to go the extra mile to do things myself instead of buying store-bought to ensure freshness and taste. She always strived to make things as healthy as possible. And she taught us not to underestimate the power of a good salad!
My dad on the other hand was a very gourmet cook and spent his weekends crafting extraordinary and extravagant meals, menu planning and shopping at local markets and specialty stores. He specialized in paella, risottos, sushi rolling, curries, and anything Chinese or Italian. Every menu seemed to include prawns which I ALWAYS had the honor of peeling. He always called his Chinese concoctions, "The Ellard Special" no matter what it was. He was passionate about food and cooking, sought after the most perfect ingredients, and loved the adventure start to finish. He brought us together to the dinner table to celebrate food & family over a meal made with love.
How has cooking in Florida changed and/or inspired you as a chef?
For the first year or two, I was really interested in what other chefs here were doing and I wasn't always sure if I measured up. I knew where I stood in California, and my style fit there… But in Miami, I had to work to figure out my place here. Then one day my chef friend, Amber said something that changed my perspective. She reminded me that what I do is different and special here and to keep doing what I do best. It made me really evaluate what makes my food "Julie food" and what it is that I do that people come only to ME to eat. I refined that, and refocused on what I do differently, not the same, as anyone else. My food is unique to this region. I bring a little California flare to Miami. I have been following that advice ever since and it seems to be working really well!
Do you find your menu is influenced by the great produce available in Florida?
If you have been to California, you can understand why I was a bit dismayed when I got to Miami 3 years ago. Coming from the holy land of fertile earth where there are 4 distinct seasons offering a plethora of amazingly perfect produce, and specialty produce is available day after day after day, I had a bit of culinary culture shock. Before I could start cooking, I had to start a garden. I needed to have some dirt and see something growing.
Next on the agenda was to drive far and wide to meet all the farmers I could and see what they grew. Within a couple months of being here, I had developed relationships with Gabriele (Paradise Farms), Teena (Teena's Pride), and the Swanks (Swank Farms). I was restored once I had a grasp on what was available locally, when it was available, and how often it would be delivered. Only then could I start cooking and writing menus. Since then, not only does the produce influence my menus, it defines it. I wait to get the seasons lists from the farmers and then I can start writing the menus accordingly. I take menu development as my challenge of how to best utilize and highlight what the farmers grow locally. It all starts with the farmer, the soil, and the seed. I'm just trying to put it out in its best light!
What's one thing you want diners to know about the menu at your restaurant – perhaps your favorite dish, an unexpected entree or the inspiration behind one of the dishes you decided to include on the menu?
I think that the food we choose to eat and the establishments we choose to support are a reflection of what we think is important. Choosing a place like Essensia means that you support a restaurant (and hotel) that consciously chooses to make the world a better place. From our green initiatives and recycling programs, to our educational outreach, beach clean ups, and community support, to our onsite garden and utilization of local farms, to the style of the food which is healthy, fresh, and always of the highest quality, people who dine here can walk away feeling really positive about not only eating something that is going to make their body feel good, but also supporting a business that impacts the community and earth in a very positive way.
Many South Florida diners are checking out local restaurants for the first time during the Miami Spice promotion. What do you hope they discover about Essensia from your Spice Menu?
I always hear from diners that they have heard of Essensia but as soon as Spice started, it gave them a reason to try it. It's easy for us to convert first-timers into regulars. All we need is that first chance; diners immediately feel the warmth and care from our staff. They taste the difference in the food and they continue to come back again and again through the year, usually bringing more and more new hungry diners with them. I hope that people give us at least one try. We have a strong track record for turning first-timers into long-time, loyal guests. Come with an empty stomach and an open mind, ready to eat food that is nourishing, grown and prepared with integrity and honesty, and of course, tastes delicious!
Essensia Restaurant & Lounge at the Palms Hotel, 3025 Collins Avenue, Miami Beach (305) 908-5458. Serving breakfast, lunch, dinner 7am-10pm Sunday through Thursday & 11pm Friday and Saturday and Sunday brunch 11:30am-3pm. Enjoy up to 3 hours free valet parking at the hotel with dinner service.