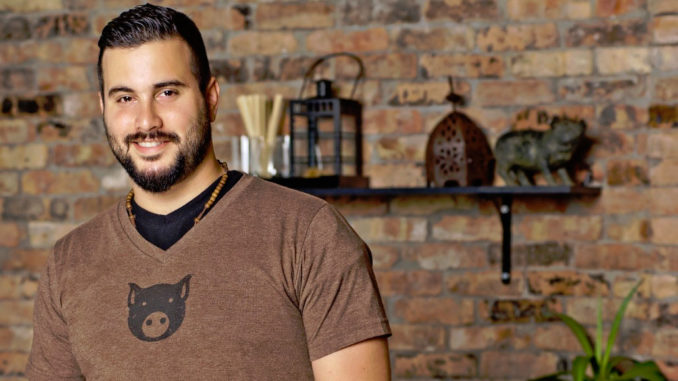 We recently met with South Beach's most prolific chef and restaurateur, Jose Mendin who is a founding member of the Pubbelly Restaurant Group, to find out his secrets to success in Miami's burgeoning culinary community. Born in Puerto Rico to foodie parents and a great-grandmother who was a cooking instructor may have set his professional course, but when Mendin left for college his passion was actually volleyball.
"In college, when I started living on my own, was the first time I started cooking. The reaction of people enjoying my food was beyond gratifying, and I was hooked." After training at Miami's Johnson & Wales University, Mendin worked at top local restaurants, joined the team opening Nobu Miami and then traveled to Europe to open Nobu London. Moving from success to success, the young chef worked in Spain before returning to Miami to join forces with the two men who would help him create a local restaurant empire.
Pubbelly Restaurant Group started out as a gambit between friends Andreas Schreiner, Sergio Navarro and Jose Mendin who quit their jobs, joined their savings and even moved in together in 2010 so that they could open their own gastropub. Embraced almost immediately by local foodies, the small plate, pork-centric tavern served as a catalyst for the development of the Sunset Harbour District of South Beach. Formerly a neighborhood filled with warehouses and auto repair shops, this tiny enclave is now a popular culinary destination.
Within a year, the group opened a second restaurant, Pubbelly Sushi and then a Spanish concept tapas bar called Barceloneta soon followed. By 2013, the group's interests included Macchialina Taverna Rustica on South Beach and PB Steak in the former Joe Allen restaurant location on Purdy Avenue. A Mid-Beach French brasserie called L'Echon opened briefly at the Hilton Cabana Hotel, Pubbelly Sushi launched in the Dominican Republic, and this season the team launched PB Station at the Langford Hotel Downtown. As culinary director for the group, Mendin oversees the concept and menu development for each location and has been recognized for his outstanding achievements by the James Beard Awards, Travel + Leisure, Food & Wine Magazine and many more.
Please share your impressions living and working as a chef in Miami. How do you make it work?
"I love the city of Miami and have been living and cooking here for over 15 years. I did leave for awhile to work in Spain, London and Las Vegas. I grew up in Puerto Rico and Miami has a lot of the same qualities in terms of weather, Latin culture, etc."
Is it tough to find a balance between the discipline of running a successful kitchen and the temptations of a fun location like South Florida for you and your team?
"That's a great question. Miami has a lot of distractions especially with all the nightlife. So yes, you need to keep a balance and it's hard sometimes. I personally love that you can work hard and play hard here."
When you're not at work, where do you like to dine in South Florida?
"It all depends on my mood, but here are some of my favorites in no particular order: Zuma, DB Moderne, My Ceviche, Edge Steakhouse, Macchialina, Scarpetta, Yakko-San, Lucali, and Harry's Pizzeria."
When you are cooking at home (for yourself or your friends & family), what's your go-to dish?
"I love making pastas at home."
What are the dishes you remember most from your childhood (or your experiences as a young chef) and how do those flavors influence your menu at the restaurant?
"My mom cooked at home everyday from Monday to Friday. I love her cooking, anything that she did was great. I also love Puerto Rican food especially dishes like mofongo, alcapurrias, piononos and bacalaitos. All of these types of foods and influences have influenced my cooking today."
Do you find your menu is influenced by the great produce available in Florida?
"I work with farmers on a weekly basis. There's a lot of good products in Florida."
What's one thing you want diners to know about the menu at your restaurant – perhaps your favorite dish, an unexpected entree or the inspiration behind one of the dishes you decided to include on the menu?
"My favorite dish on the menu is the Mofongo. The dish was inspired by the memories of my mom and I going to Puerto Rican cafeterias and eating the way she likes it. Our Mofongo is made with pork belly inside and it's served with shoyu broth as opposed to Puerto Rican style which is served with chicken stock."
Many chefs have commented that the South Beach Wine & Food Festival is a great opportunity to hang out with friends or meet a chef who means a great deal to them. Who are you looking forward to meeting at the festival?
"Every year I randomly meet someone pretty cool. I don't have a list as it just happens, especially if you hang out in the right places."