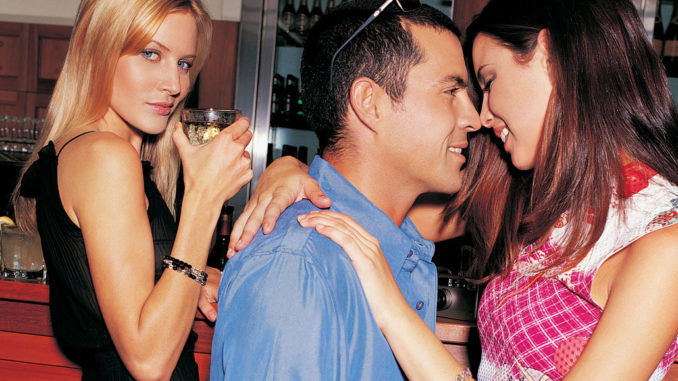 Face it girls, most nightlife guides are written by, and for, the boys. And the boys (bless them one and all) usually have but one thing on their mind—the thrill of the chase. Of course we girls wouldn't have it any other way, but don't you think it's about time that someone wrote a nightlife guide from a girl's perspective?
With that in mind, here's a nightlife guide designed especially for you ladies wishing to further your amorous adventures during your next visit to South Beach.
VIP Lounges
While Miami Beach is known worldwide for its raging clubs, you must keep in mind that many of the coolest scenes around are found in hotels, restaurants (after midnight) and lounges. The key to Miami Beach nightlife is knowing where and when to find "the scene" on any given night. Here are the places to go…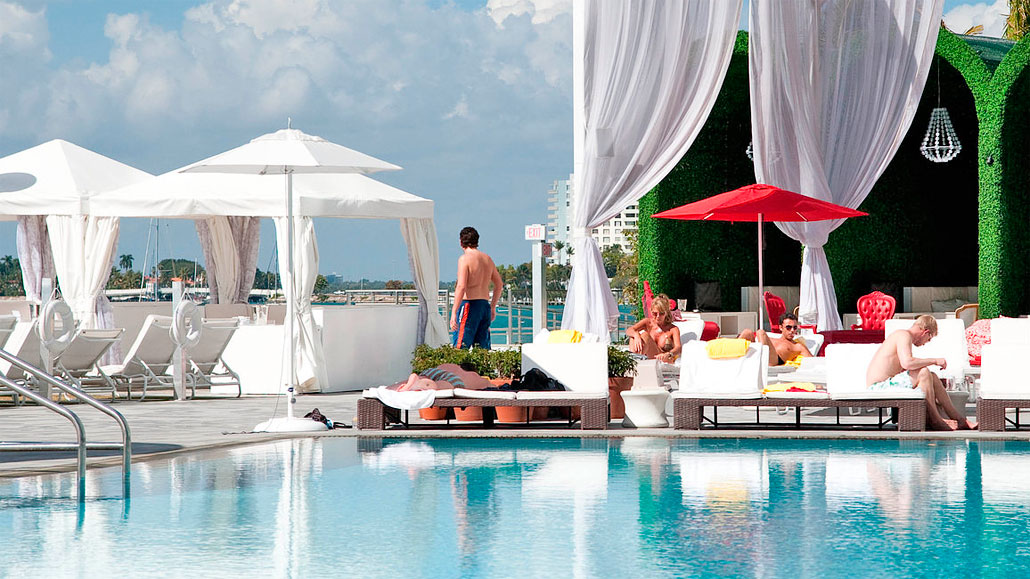 Sunset Lounge at The Mondrian Hotel
Vibe: West Coast Cool
Starting at sundown Friday night, after work crowds gather at this haute watering hole overlooking Star Island and the Downtown Miami skyline to mix, mingle and not to be single! Ladies on the prowl should dress to impress because the name of the game here is ACTION. Set off by the stark white lobby, the whimsical design of Marcel Wanders' pool deck creates an "Alice in Wonderland" atmosphere for strutting your stuff or disappearing behind a well-manicured topiary for a little private conversation. Tropical cocktails from the poolside menu top out at nearly $20 a pop, so sip slowly and enjoy the scene. Mondrian Sunday afternoons are also popular with bikini clad model types frolicking around the marina. Stop by the restaurant for brunch and then enjoy the giddy poolside scene. – Mondrian Hotel, 1100 West Avenue, South Beach.

DiLido Beach Club at the Ritz-Carlton South Beach
Vibe: Beachfront Bliss
On weekday evenings, girls in the know hit the DiLido Beach Club, the sandy oasis behind the swank Ritz-Carlton South Beach Hotel where happy hour prices span four luxurious hours from 4-8pm. Master Mixologist Ramsey Pimentel crafts tropical cocktails like watermelon and peach sangria and the chef's Mediterranean light bites are just $8. On Sundays from noon until 8pm, hip chicks sip $20 bottomless Rose and feast on fresh seafood while a live band plays. Check the Ritz website for upcoming seasonal promotions. To help you and the girls prepare, Thursdays from 3pm – 8pm, the Ritz spa offers "Primp & Prosecco" – a champagne soaked night of pampering to help make sure you're putting your best look forward. – Ritz-Carlton South Beach Hotel, 1 Lincoln Road, South Beach.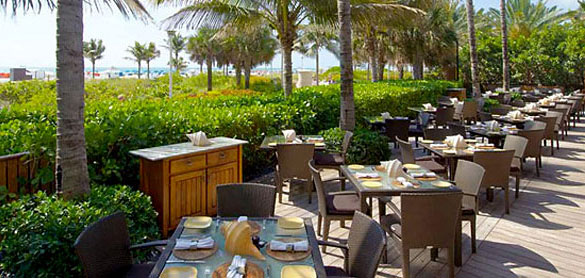 Setai Hotel Pool & Beach Bar
Vibe: Rich & Well-Behaved
At the end of a busy work day on Thursday from 8-11pm, slip into something loungey and stop by the Setai Bar & Courtyard where $12 gets you a chilled flute of champagne or a specialty cocktail and a variety of complimentary canapés that will surely carry you over until dinner. The crowd is quiet, moneyed and cool and the atmosphere is way more sophisticated than the usual South Beach hotel bar. Designed with an elegant Asian influence, you're sure to find things relaxing and serene as you sip your bubbly, nibble your snacks and watch the sunset sparkle over the surface of the swimming pools. – Setai Hotel, 2001 Collins Avenue, South Beach.

La Piaggia Beach Club
Vibe: South of France meets South Beach
For girls on the go, Sunday afternoons at La Piaggia Beach Club provide the ideal combination of Riviera chic and Ibiza cool. Order a bottle of chilled rosé and a few French bistro treats and enjoy that ooh-la-la moment. Located directly on the beach and also sporting a super-sceney swimming pool, this is the spot to flaunt those celebrity shades, stiletto heels and that expensive bikini you never intended to get wet. Service is as laissez faire as you might experience in France, so be prepared to simply sit & sip while your perfectly blown out hair wafts softly in the breeze. Most of the men on site want you to think they are millionaires. Like any smart investor in the current market, it might be best to watch from the sidelines rather than swim with the sharks! – La Piaggia, 1000 South Pointe Drive, South Beach. – La Piaggia, 1000 South Pointe Drive, South Beach.
Nightclubs
Miami has possibly the widest array of nightlife options of any city around. From ultralounges like Haven and Baoli to full-blown dance clubs such as Mansion and STORY, the choices are limited only by the City's 5AM closing time. Here are the bigger clubs you ladies may find more to you're liking.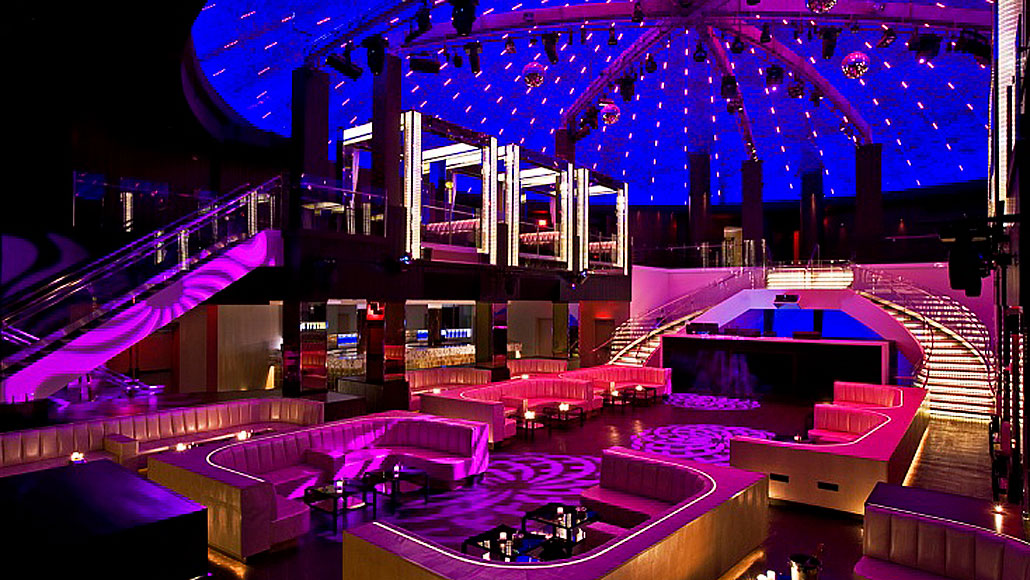 LIV at the Fontainebleau Hotel
Vibe: Big, Bold & Bouncy
LIV at the Fontainebleau Resort Miami Beach LIV at the Fontainebleau Hotel Vibe: Big, Bold & Bouncy While the original Fontainebleau Resort was designed to appeal to wealthy snowbirds who spent their winters in South Florida, the new resort is all about Las Vegas Glam. Part of that charm lies in the huge nightclub called LIV which is a HOT stop on the international DJ circuit that makes South Beach sizzle! Stealing the thunder from the SoBe nightclub district, LIV has a strict door policy so dress smart and be prepared to wait at the door (or Bleau Bar) unless you've booked bottle service with the club's VIP concierge. Check the club website to see who is performing before you run the gauntlet at the door. – Fontainebleau Hotel, 4441 Collins Avenue, Miami Beach, FL.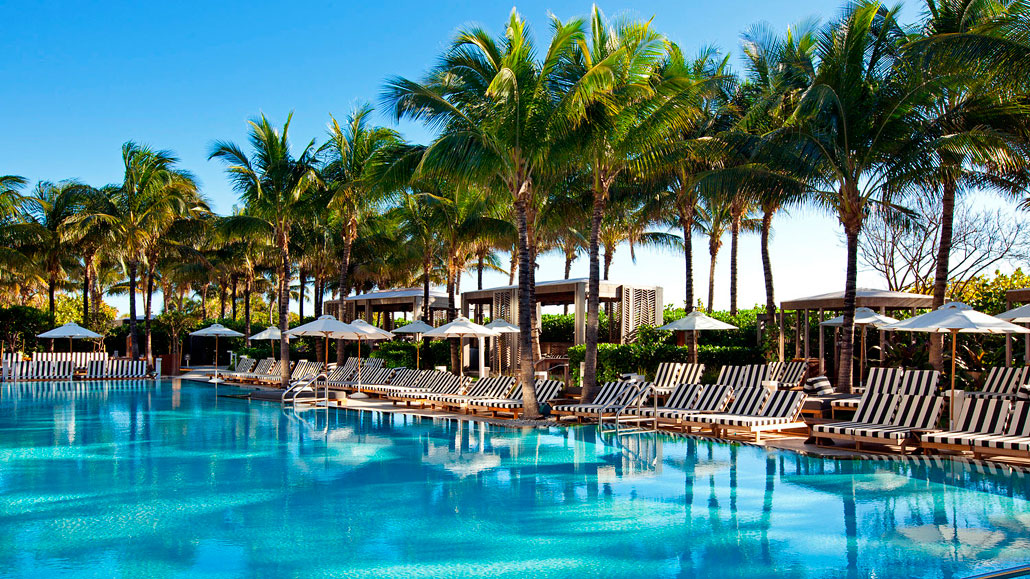 WALL  &  WET Lounge at the W Hotel South Beach
Vibe: Crazy, Sexy, Cool
The trendy W South Beach is an upscale adult's playground by the sea with private VIP cabanas, WET – an outdoor poolside lounge and WALL – a laid back boutique dance club that keeps things moving all night long. Crafted by the nightlife impresarios behind some of South Beach's hottest clubs and chicest restaurants, WALL is more intimate and upscale than the South Beach scene along the Washington Avenue district so you and the girls won't feel quite like you have been thrown to the wolves! Open Tuesday, Thursday, Friday and Saturday, the venue's FaceBook page is your best resource to see who is performing during your trip. This is the place to work that Little Black Dress! – W South Beach Hotel, 2201 Collins Avenue, South Beach.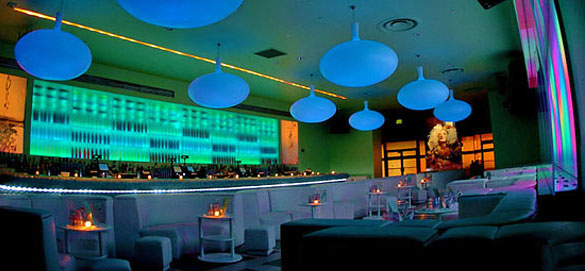 Mynt Lounge
Vibe: Crowded, Electric, Energetic
To escape the younger, rowdier club scene on South Beach, some of the best spots for girls on their own are located in the Collins Park District near the W Hotel around 21 Street Beach. That's where you'll find Mynt, a pretty unassuming spot by South Beach standards that still attracts a great-looking crowd. Many visitors opt for bottle service but well-dressed women who arrive before midnight should have little trouble getting in. The scene is centered on those few haute tables, the hot (hot!) go-go dancers and the tanned and toned people dancing super close together well into the night. Drinks teeter around $20 a pop so pre-gaming is a great idea if you're thirsty. Not much to look at from the street – the club is small, the crowds get tight and – in spite of all this – the energy is always electric. That's what keeps Mynt so fresh!– Mynt, 1921 Collins Avenue, South Beach.
Restaurants
The best South Beach nightlife often begins with a transition from fine dining at a trendy restaurant to a foray into clubland. Here are a few of the hottest places for you ladies to try …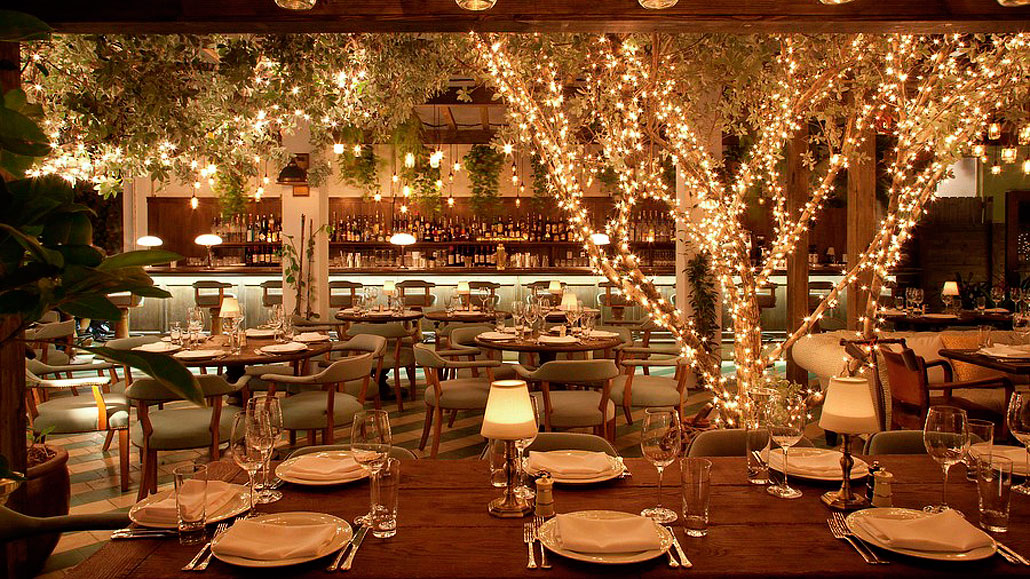 Cecconi's at Soho Beach House
Vibe: Alfresco Chic meets London Cool
Founded in London in 1995, the Soho House Group is a chain of private clubs for people in film, media and the creative industries. On the golden sands of Miami Beach, private club living at the Soho Beach House is limited to members but (lucky for you) the divine alfresco restaurant and bar Cecconi's is open to the public. Grab the girls and gather at the bar at sunset to sip pricey cocktails and check out the fashionable crowd. The cicchetti (Italian tapas) menu features rustic Italian favorites prepared with precision and served from 11am daily until close. Because this is an upscale club, remember that cocktails are crisp, refreshing and may induce sticker shock. But surrounded by thousands of twinkling Tivoli lights that rival the Miami moon, chances are you will be feeling so romantic you will hardly notice the check. – Soho Beach House, 4385 Collins Avenue, Miami Beach, FL.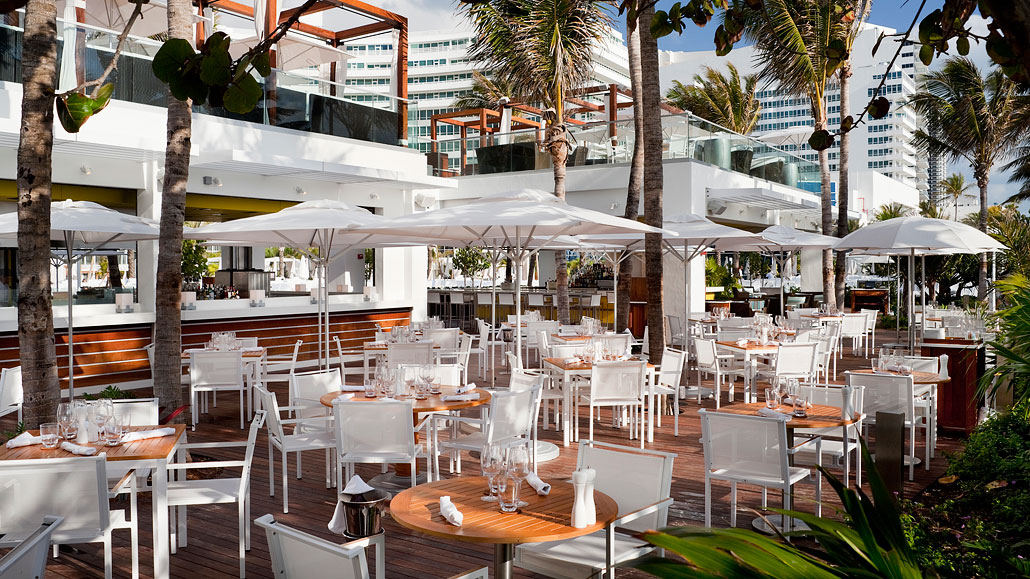 La Côte – Poolside at the Fontainebleau
Vibe: Nothing but Glam
Poolside at the Fontainebleau La Côte – Poolside at the Fontainebleau Vibe: Nothing but Glam The design team tasked with updating the landmark Fontainebleau Resort & Spa turned their eyes toward Las Vegas when crafting the opulent pool deck where VIP cabanas with flat panel televisions just might divert your gaze from the sun, the wading pools and the great-looking crowd. Book the girls into the Lapis Spa for a day of pampering which includes complimentary access to the giant fitness center and all of the Fontainebleau pools! Surrounded by all of that golden skin, it's tough to imagine having much of an appetite, but La Côte Restaurant – inspired by the Côte d'Azur – is really more about the scene than the cuisine. Overlooking a vast stretch of Atlantic surf, the place is pure French Riviera with a little Miami Beach shimmy thrown in for good measure. A DJ spins, a bartender whips up fashionable cocktails and the kitchen serves up tapas-style snacks from 11am – 6pm. Wrap your hips in a gauzy pareo, order a frosty Kir Royale, and savor one of the best views in town. – Fontainebleau Hotel, 4441 Collins Avenue, Miami Beach, FL.
YardBird Southern Table & Bar
Vibe: Hot Like a Buttered Biscuit
The current hit among South Beach restaurants is YardBird Southern Table & Bar just off Lincoln Road. This down-home restaurant on South Beach offers a full (50 brand!) bourbon bar that's ideal for meeting your rugged Mr. Right. That Southern Sipping Whiskey is all the rage right now and the bar is filled with hot looking single men nearly every night of the week. We suggest you pull on a bright white tee (to highlight your tan), some tight jeans and belly up to the bar to check out what's cooking! Steps away from Lincoln Road Mall, the menu is pure deep-fried goodness. – Yardbird Southern Table & Bar, 1600 Lenox Avenue, South Beach.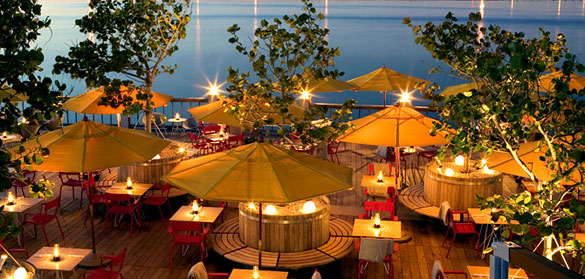 Lido Bayside Grill at the Standard Hotel & Spa
Vibe: Co-Ed Summer Camp
One of the top spots for a girl's getaway weekend, the Standard Hotel is like an adult sleepaway camp with do-it-yourself spa treatments, a co-ed Hammam steam bath, and sexy private soaking tubs on the terrace of many guest rooms. While you and your besties are finding your inner bliss, explore the action at the Lido Bayside Grill where Chef Mark Zeitouni's healthy fare isn't too good for you and the eye candy lounging poolside isn't either! Meet and mingle over an alfresco yoga class or celebrate Sundays overlooking Biscayne Bay with beer, bocce and a Brazilian BBQ. Day trippers can rent a Lush Garden Cabana from 11am-8pm which includes a 3-course lunch and a spa day in the sun. – Standard Miami Hotel, 40 Island Avenue, Miami Beach, FL