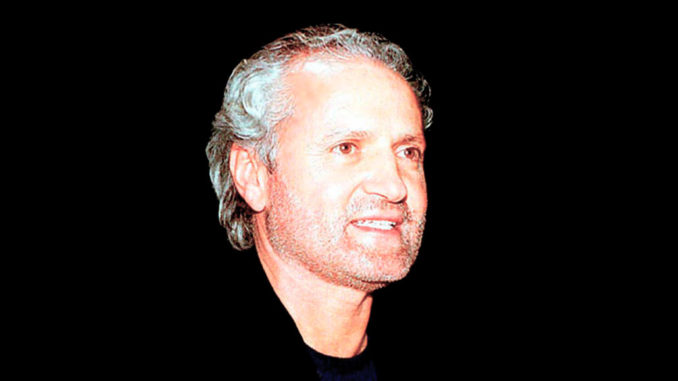 In the 1980s, Gianni Versace's younger brother Sebastiano wrote to his sister Donatella back in Florence…
"Here in Miami, I've finally found what I was looking for:  the center of my circle. I want to stay here and live out my time…forever."
Thus began the Versace family's love affair with Miami.
Gianni Versace's initial connection with Miami—South Beach in particular—came when he designed the sensual T-shirt-and-pastel-jacket look for Miami Vice, a look that exuded a fresh and sexy style that would soon sweep the country and set the tone for a decade of wild and reckless living. Versace soon became couturier-to-the-stars with larger than life rock icons parading in his designs. His fashion shows incorporated music and lighting that approached rock concert status with celebrities clamoring for front-row seats. His mantra of "Style makes sense only if it is your own" connected with millions of people. And with the world as his oyster, it's notable that Gianni Versace chose South Beach as his home.
After moving here in 1992 and creating a palatial estate at Casa Casuarina on a still raw Ocean Drive, Versace distilled the visuals and youthful sexuality he saw on the streets of South Beach into his "Miami Collection," a line of bold colors, art deco images, sleek 1950s automobiles, and, as always, mondo sexuality.
The origins of Versace's inspirations were obvious to anyone familiar with the South Beach scene, as Gianni's years in South Beach were a whirlwind of flash and glamour. Dinner parties in the open courtyard of his beloved Casa Casuarina with Madonna, house guest Elton John, Stallone,Herb Ritts, and many others. Wild nights at Paragon, the blazing gay disco on Washington Avenue with its sexually-charged theatrics. And late-night strolls to the upstairs VIP room of the Fellini-esque Warsaw on Espanola Way.
Candid photos of the family taken by Bruce Weber on the beach at Ocean Drive during this period show a mood of peaceful contentment; a sense of solitary belonging and fleeting happiness—the same feeling Sebastiano spoke of in his letter to Donatella years before.
Some mornings Versace would walk down Ocean Drive to the News Cafe a few blocks from his mansion. Ocean Drive was much different back then—far more open with an unobscured view of the sky. And when Versace walked, he walked under a brilliant Miami Beach sun—the same beguiling light that lured legions of artists and photographers to this magical place over the years. The golden light of Miami.
A stylized painting during this period by artist Thierry Perez portrays a shirtless Gianni Versace in a collage of palm trees, tropical flowers, and big-finned Cadillacs with golden rays of sun beaming out from behind the scene. And one small portion of the painting seems to sum up completely Versace's feelings about his new home: on Gianni's arm is a heart-shaped tattoo saying simply, "Miami."
July will mark ten years since the passing of Gianni Versace, and as the years go on, less and less attention will be focused on his life and accomplishments. Sadly, Versace's contribution of style and glamour to our society will one day become nothing more than a footnote in fashion history. Such is the way of the world.
But, for those few individuals who truly understand what first beckoned Gianni Versace to these golden shores, the memory of his loss will never fade.