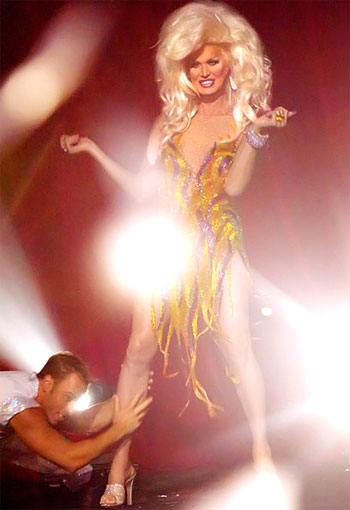 On the very day fashion icon Gianni Versace was murdered in front of his Ocean Drive mansion—July 15, 1997—James Davis awoke to his first morning on South Beach after relocating here from Dallas. There was a cruel irony in their shared twists of fate, because Davis—much better known today as drag diva Elaine Lancaster—had moved to South Beach because of Versace. "I had been a fashion model in Milan for a while and I got to know the whole Versace family," says the six-foot, two-inch, blond-haired, blue-eyed Davis. "So, I moved to Miami to be close to the Versaces and all of that energy." His dream ended in gunfire before it had begun.
Now, three years later, it is James Davis-as-Elaine Lancaster that conjures the same scene-transforming creative magic that Gianni Versace left as his legacy for South Beach. Moreover, it is a testament to Davis's extraordinary will and determination that he did not flee from his newly adopted home when his idol was brutally murdered on the steps of his palazzo.
Instead, Davis channeled his energy into perfecting a character he had begun creating in Dallas—a "10-foot tall blonde with over-the-top glamour." On his first night in South Beach, he went to the now defunct gay club Warsaw. "I started working the next week, hosting the Wednesday night amateur strip contest, and I've been working ever since," he says. His second job was the legendary Fat Black Pussycat at Liquid. After that, stardom quickly ensued.
Although he has known haute couture designer and nightlife impresario Gerry Kelly since he arrived here, Davis began collaborating with Kelly only last year at Bar Room. "That's where Elaine blossomed," says Davis, who earned a degree in American history from the University of Kansas and owned a high-end home furnishings and gift store in Highland Park, Texas before pursuing his dreams in South Beach. When Kelly became the marketing partner in Level nightclub last November, he brought Elaine Lancaster in as resident house diva. Very quickly, the blonde goddess with "big hair and little dresses," as Davis says, became a local legend. Today, Davis has an exclusivity agreement with Level among major South Beach clubs. He works there every Thursday, Friday and Saturday, and often works a fourth night. In addition, he performs at special events—locally, nationally and internationally.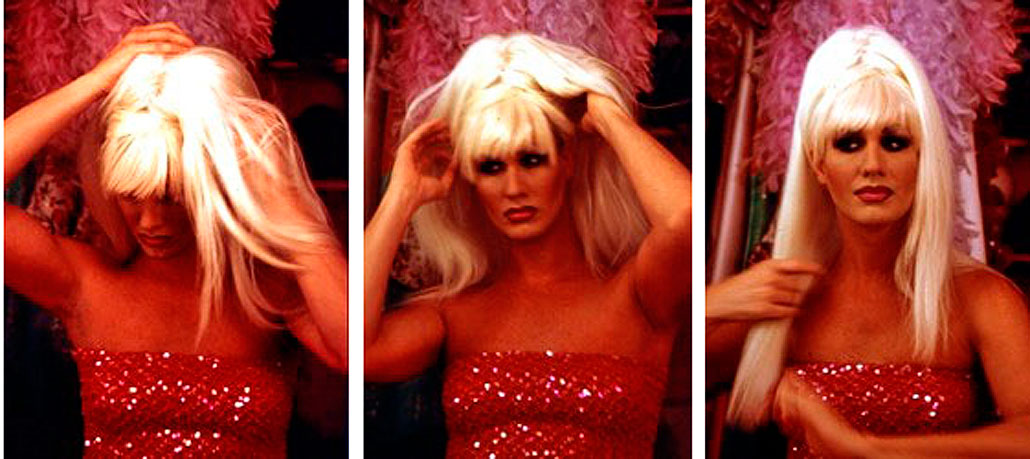 With focus and determination, Davis has forged a unique, powerful celebrity for himself and a six-figure income that comes from being a star on South Beach and traveling the world with celebrities such as Dennis Rodman and Elton John. He has appeared on the TV sitcom "Wings" and was featured in an HBO special called "Drag Time." He had a role in the Versace murder movie, and later this year will appear with Richard Dreyfuss and Burt Reynolds in a new film entitled "The Crew."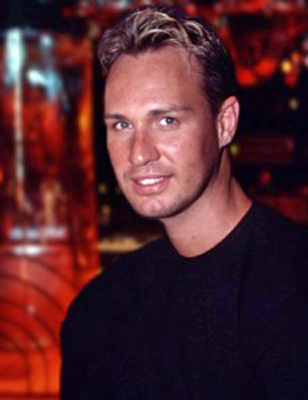 And, he says repeatedly, like his superstar friends, he is merely an entertainer; Elaine Lancaster is a character he creates, not some kind of real-life sexual freak or alter ego. "I'm not Elaine," says the soft-spoken Davis, who has never shed his melodic Texas drawl. "Elaine is a character I create." He tries to explain her nature. "Elaine Lancaster is the illegitimate daughter of Burt Lancaster and Lana Turner." What does that mean? "The strength and social awareness of Burt Lancaster and the social graces, elegance and beauty of Lana Turner." But, he adds, there is more to the enigma of Elaine than such a whimsical character analysis. "Elaine is a very elegant, very beautiful, very witty woman," says Davis. "But at the same time, she can swig back beers with the best of them and get down on any level."
Most surprising, perhaps, is the fact that, for James Davis, dressing as a woman isn't a sexual experience. In fact, Davis sees no real connection between his gay sexual orientation and his chosen career as a female impersonator. "I'm an entertainer," he says proudly. "I've always known my whole life that I was going to be an entertainer, but I didn't know the vehicle was going to be drag."
Davis is quick to point out precisely what drag is about and to distinguish it clearly from other lifestyles that involve some sort of gender bending. "Drag goes back to the beginning of time," says Davis. "You can see it from the Asian Kabuki theatre days. The term 'drag' comes from Elizabethan times, when drag stood for dressed as girl. Opera had its diva and the theatre had its drag queen."
Davis says he views what he does as a sincere tribute to women, not making fun of them. "It's sort of taken from where women leave off today," he says, "because they really don't dress up that much. They don't wear hardly any make-up. So, I just sort of personify my interpretation of what the strong women in my past have been and always will be."
He hastens to point out that drag is different from other activities usually associated with sexual orientation. "People who dress in women's clothing for sexual gratification are cross-dressers," Davis explains. "Then there are pre-op transsexuals who walk around with implants and live their daily lives as women. Those I don't consider to be drag queens. That's not an illusion. That's reality. And then there are actors, or drag queens, and that's what I am."
On South Beach, where the drag queen has been a sort of cultural icon ever since the destination began its renaissance in the late 1980's, Elaine Lancaster has become the queen-bitch diva without peer. "There's no one who can hold a candle to what I do," Davis says defiantly after describing the obstacles that littered his path to the top. "That's why I get paid more than anybody else in this town, probably all of them combined. There's not a drag queen in this town who does it with the professionalism and seriousness I do it with."
Without proper context, such comments might sound brash or egotistical. But Davis provides the context that helps explain his quest to be the Michael Jordan of female impersonators. "The drag world is a sport and it's a very competitive sport," says Davis. "When other people see you're progressing at a certain rate and surpassing them, they put up roadblocks and obstacles to prevent you from getting big."
Such roadblocks can sometimes take the form of outright physical aggression. "About a month ago," Davis says, "I was standing at the bar with some friends when out of the blue this guy, a friend of another drag queen, walked up and hit me in the face with a closed fist." Fortunately, Davis remembered the lessons he had learned growing up with two older brothers who would become professional football players. "I hit the guy on the head with my cocktail glass."
On another occasion, Davis, dressed as Elaine, actually punched out an overly aggressive, drunken would-be challenger. "It's not something I'm proud of," Davis says. "But if you allow somebody to challenge you one time, the word gets out?'she's an easy target, fuck with her.' Now, I think people know I'm not to be fucked with. I'm six-foot, two-inches tall. I'm a big man and I know how to fight." In Elaine's world, it all comes with the turf. "A friend of mine once said 'don't put on the wig unless you can fight in it,'" Davis says with a laugh.
But, he says, he is more interested in liberating others from stereotypes than fighting it out in a bar. "When people from Omaha or somewhere like that see me, I hope they go away with a sense of freedom, experiencing a form of self-expression that's unconventional and saying that's okay, " Davis says. "I think what I do frees people up to be more who they are." As an example, he cites the CEO of a major U.S. company he was introduced to at a special corporate event he was hosting at Level. When Elaine first greeted the CEO, the gentleman leaned forward and whispered: "I'm wearing panty hose under this suit."
Now that Davis has established himself as both South Beach's premier drag queen and someone not to be trifled with, he says he has even loftier ambitions. "I'd like to write a book," he says. "I've had a very, very interesting life, both as a man and as a character I created." Davis will also mount a one-woman show as Elaine later this fall at a venue to be announced. This year, Elaine Lancaster is serving as national spokesperson for Stolichnaya vodka for alternative markets.
In the long run, however, Davis sees himself out of women's clothing and off South Beach. He says he wants to live on a ranch in Montana or Colorado and build an entertainment career that reaches beyond the world of drag. "This is just a stepping stone for me," he says.
Superstardom appears to be just around the corner for Elaine Lancaster. Says friend Dennis Rodman, "She will get everything she wants and a hell-of-a-lot more…trust me on that." But Elaine's ever-increasing fame does present James Davis with a problem. He has seen how fame has affected the lives of friends such as Rodman and Madonna. "They can't get through a bite of food in a restaurant without someone coming up and asking for their autograph. I wouldn't want to live like that." Davis adds, "I don't want to have people bother me when I'm not in drag though?I tell them I'm on vacation." Consequently, Davis guards his privacy in public and prefers to not be recognized as the man who creates the fabulous Elaine Lancaster.
Says James Davis with a smile, "I hope people don't know I'm that person when they see me on the street?or else my drag wouldn't be very good, would it?"
Miss Elaine now has her own line of cosmetics at Elaine Lancaster Cosmetics