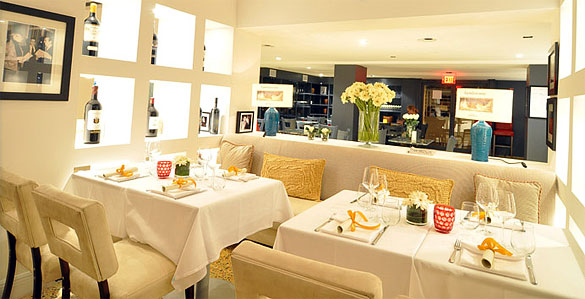 A famed Italian winery has launched its first South Beach restaurant. dei Frescobaldi Restaurant debuts at the storied Astor Hotel just in time for Art Basel this week with a rustic Italian menu crafted by Chef Marco De Simone. Piero Benini, son of Maria Frescobaldi, tapped the award-winning Tuscan chef to craft a menu that showcases authentic regional recipes designed to pair with the entire portfolio of Frescobaldi wines which are appearing for the very first time in the United States.
The Frescobaldi family have launched a number of successful restaurants throughout Europe but bring their first American venture to the shores of South Beach just this week. The Art Deco Astor Hotel provides the perfect backdrop for this brand new venture with its wide open spaces, ample natural light and cozy wine bar that leads to the alfresco dining terrace. Marchesi de' Frescobaldi has a storied history in wine dating back to 1308 and has grown into one of the largest vineyards in Tuscany. Producing acclaimed wines like Giramonte, Mormoreto and Castel Giocondo / Brunello di Montalcino, the Frescobaldi name is synonymous with fine Italian wine.
After expanding operations to include the production of Extra Virgin Laudemio Olive Oil and opening wine bars and restaurants in Rome, Florence and inside Harrod's Department Store in London, the Frescobaldi family decided it was time to bring their unique brand to the Magic City. The South Beach restaurant will include a market space dedicated to offering their extensive selection of wines to retail customers. To help introduce Miami oenophiles to their vintage pours, the restaurant plans to host wine dinners and tastings highlighting the best of their cellars. Chef Simone will develop tasting menus that put a contemporary spin on traditional family recipes and add a dash of Miami style to every presentation.
dei Frescobaldi Miami Beach at the Astor Hotel
956 Washington Avenue, Miami Beach, FL 33139