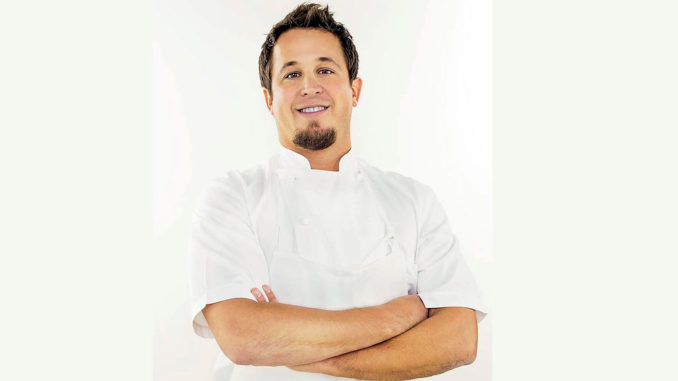 Miami welcomes an exciting newcomer to our culinary scene. Chef Danny Grant opened 1826 Restaurant on South Beach this month with the promise of a bold, contemporary American menu.
Trained in classic French cooking techniques, Grant attended Chicago's French Pastry School and was awarded two Michelin stars at RIA at the Waldorf Astoria where he was also dubbed Food & Wine Magazine's 2012 Best New Chef. Sharing the secrets to his success, Grant told Food & Wine about his favorite Thanksgiving ritual – rolling meatballs with his mom, his grandmother and his uncle Richie when he was just 10 years old.
A native of Long Island New York, Grant started out washing dishes at a Mexican restaurant in junior high and worked his way up to cooking at a local bistro in high school. Serving as sous chef for four years alongside renowned Chef Bruce Sherman at Chicago's North Pond made an enormous impact upon the young chef. "(Sherman's) philosophy on food is amazing. And also his emphasis on the importance of reading, seeing other things, being outside your own kitchen." Starting a new venture in South Beach offers Grant a vital culinary challenge. He is crafting a lighter menu with an emphasis on fresh seafood and plenty of local Florida produce. The restaurant's industrial design features warm woods, brushed concrete and plenty of glass. A chic lounge space fills the third and fourth floors where guests can sample Chef Grant's late night menu along with perfectly mixed cocktails.Executive
Is it tough to find a balance between the discipline of running a successful kitchen and the temptations of a fun location like South Florida for you and your team?
Working in the restaurant industry, it's always a fine line balancing fun and running a successful kitchen, but we're able to do it. I'm looking forward to opening so we can get our kitchen and team running efficiently. Once we have created an amazing dining experience, our team can take full advantage of the South Beach lifestyle.
When you're not at work, where do you like to dine in South Florida?
There's two places I always look forward to – Pubbelly with Jose Mendin and Macchialina with Michael Pirolo. Both places consistently deliver a great dining experience.
When you are cooking at home (for yourself or your friends & family), what's your go-to dish?
A fresh locally caught fish with some vegetables from the market, cooked en papillote No pans, keeps your kitchen from getting messy and lets you enjoy your company.
What are the dishes you remember most from your childhood (or your experiences as a young chef) and how do those flavors influence your menu at the restaurant?
Growing up on Long Island, my favorite memories are summertime grilling with the family. When the weather is warm, it triggers my mind to do more grilling and using items that have a more fresh, outside feel. And in the wintertime, I like to focus more on roasting and braising with heartier ingredients. With my family, food and cooking was always a time of pleasure and I still continue that idea in the kitchen today.
How has cooking in Florida changed (&/or inspired) you as a chef? Do you find your menu is influenced by the great produce available in Florida?
Being in Florida with the warmer weather has inspired me to create more light and delicate dishes, which pairs great with the seasonal produce and local fish.
What's one thing you want diners to know about the menu at your restaurant – perhaps your favorite dish, an unexpected entree or the inspiration behind one of the dishes you decided to include on the menu?
What makes me excited is how we decided to break up the menu and how we are able to focus on the ingredients—Vegetables "The Harvest", Fish "The Hook", Meat "The Hunt", and Dessert "The Finish." Within each category, you're able to start with finger food, move on to small bites and then to larger dishes that can be shared with the whole table. One dish that I'm really excited began when my team and I received an order from the farms with beautiful grapefruit and avocados. Then an amazing case of olive oil came in, which brought about a fresh grapefruit, avocado and hearts of palm salad that we topped with a citrus emulsion.
1826 Restaurant & Lounge
1826 Collins Avenue
Miami Beach, FL 33139
(305) 709-0000