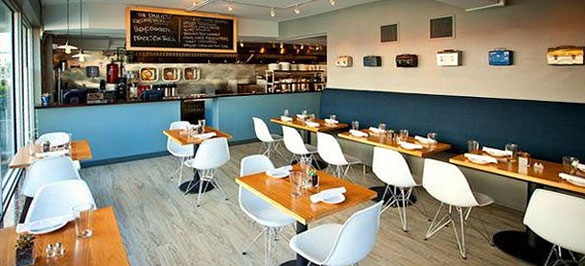 Many of Miami's top chefs have turned away from the upscale dining experience to focus their creative energies on more affordable cuisine. They are getting back to the basics of great ingredients prepared in classic styles and they are reinventing regional or ethnic foods with fresh local produce. This newfound passion for elevating even the most humble entree makes going out for a pizza, a bowl of ramen or a juicy burger even better than ever. Our Cheap Eats Guide is all about finding that tasty alternative – the perfect blend of quality and value – at some of our favorite South Florida eateries.
JOSH'S DELI / JOHN'S TACOS
9517 Harding Avenue, Surfside / 305-397-8494
After a brief venture into organic Chinese food, many of Chef Joshua Marcus' local fans were surprised to see he shuttered his Chow Down Grill and reopened as a modern Jewish deli with nearly every ingredient made in house by the ambitious young chef. Soon enough Josh's Twitter Feed and Facebook filled with photos of his house-cured corned beef and smoked pastrami piled high on a nuevo "Jewban" sandwich that fuses the best elements of a Reuben and a Traditional Cubano Sub. After hours, Josh hands over the keys to the deli to Chef John O' Connell who flips the switch and transforms the restaurant into a taco shop serving Mexican munchies from Wednesday through Monday nights until midnight.
LUCALI
1930 Bay Road, South Beach / 305-695-4441
Many of South Florida's most over hyped restaurants are outposts of popular Manhattan eateries so it is no surprise the local press made much ado about Shake Shack, Serendipity and even Rosa Mexicano when they announced locations in the 305. But nothing compares to the buzz surrounding Lucali Pizza which enjoys a cult-like following in New York and amongst Miami's most vocal foodies. Here is the lowdown – the pizza is pricey but delicious, the calzone at $10 gets high marks for taste and value and the restaurant is already climbing up most of the city's top food lists … including ours!
MOMI RAMEN
5 SW 11 Street, Miami / 786-391-2392
Pity the humble noodle bowl you probably recall from late night study breaks – something boiling and starchy pulled straight out of the microwave. Flash-forward to MOMI Ramen and every sad notion of noodles disappears with your very first slurp. The hard truth is the prices will inspire sticker shock (and they only take cash) but the heady broth that surrounds the house made noodles is simply delicious. Bottom Line – If you're going to put the name ramen on the door, you had better be certain that ingredient is worthy of the name. MOMI is definitely getting it right.
BLUE COLLAR
6730 Biscayne Boulevard, Miami / 305-756-0366
Tucked inside a sketchy "No-Tell Motel" in Downtown Miami, Daniel Serfer's Blue Collar Restaurant inspires plenty of online buzz for hearty comfort food specials that the Chef/Owner announces via his popular Twitter Feed. From pork chops parmigiano to massive sandwiches named after his friends, the menu starts with pork & beans and veers around the kitchen with reckless abandon. Plan to dine with a few friends who like to share large portions of belly busting goodness. Be sure to ask about the daily rib, parmesan and braised entrees and know that even hungry vegetarians can find some lovin' in the Blue Collar oven.
HARRY'S PIZZERIA
3918 North Miami Avenue, Design District / 786-275-4963
Fans of Michael's Genuine Food & Drink thought they had cause for concern when the talented chef announced a second Michael's location in the Cayman Islands and then a one-off pizza shop at the edge of the district. Once the thin crust pizzas started popping out of the wood burning oven, everyone was so busy chewing Chef Manny Sulbaran's delicious crust they had no way to continue bitching. Casual, simple and – yes – genuine, the pizzas and daily dinner specials at Harry's are soulful and satisfying and that's what makes Michael Schwartz a local hero. Sundays from 11am-4pm the pizza gets an egg on top and BOOM! it's brunch.
MC KITCHEN
4141 NE Second Avenue, Design District / 305-456-9948
Weekends in the Design District offer a welcome respite from the chatting crowds who frequent Chef Dena Marino's MC Kitchen during the workweek. Lovely for drinks or dinner and dessert, the market-driven new Italian eatery treats early risers to heavenly hearth baked eggs in a fontina béchamel, grilled hangar steak & eggs with a bone marrow sauce and a chewy bruschetta topped with tender poached eggs, crisp prosciutto and a shaving of aromatic truffles. Turns out the best way to savor all that the new restaurant has to offer may be to get there a little early to get the jump on a delicious day!