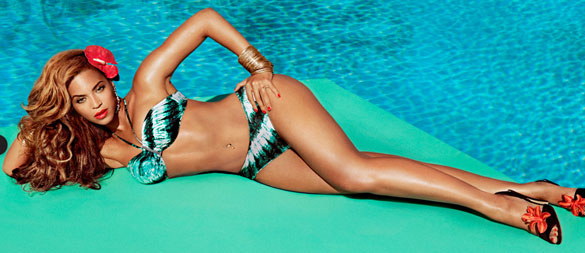 The Bikini Team Lines Up Early to Buy Beyonce's Bikinis at H&M!
One of the most exciting launches for Summer 2013 is the "Mrs Carter in H&M" swimwear collaboration currently making it's debut at H&M shops and HM.com where the opening price point of just $5 for a bikini top got every member of the Bikini Team up early and ready to shop! Not only is it a great marketing idea to partner with Beyoncé if you want to sell swimwear, offering great looks for very little money as the weather finally turns warm can only bring crowds of shoppers out to the mall.
Highlights of the collection include an eye-catching string bikini in sunflower yellow, a 2-piece turquoise tie dyed print bandeau with an optional halter tie, a classic triangle tie black string bikini with fringe accents (fabulously priced at $4.95) and coordinating cover up dresses and pareos to complete a striking summer ensemble for very little money. Beyoncé struts her stuff in a variety of H&M looks in a custom crafted music video that's timed to launch in tandem with her summer tour. The collection also includes a number of one-piece bathing suits with structured cups designed to support women who aren't exactly ready to dance on the beach in a string bikini.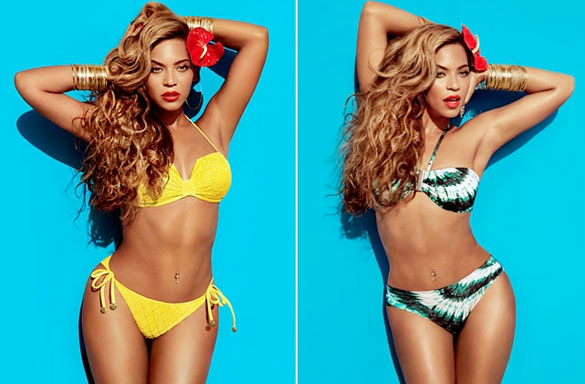 While the turquoise tie dye group was definitely the centerpiece in ads and videos featuring Beyonce, we were also excited about a whimsical pineapple print used in a full length beach dress, a large sized beach towel and a coordinating wrap. Fringed accents on a number of bikini tops make everyone feel a little "Viva Las Vegas" and coordinating jewelry and sandals shown with the line make it easy to assemble a vacation-ready wardrobe in a flash.
For great, affordable looks that look great together, we rate the "Mrs Carter in H&M" summer collection 5 stars!