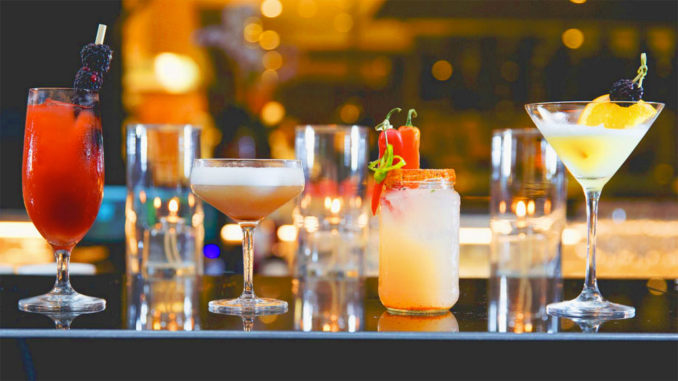 Florida's sizzling summer season kicks into high gear when the rising temperatures inspire an insatiable thirst for frosty tropical cocktails mixed with equal parts wit and precision. We have sipped and sampled our way across the city to search out the Best Craft Cocktails in Miami and South Beach. From the edge of Downtown Miami where Kiki on the River serves a potent Pink Panther to the shores of Sunny Isles Beach where Gili's Cachaça cocktails soothe the spirit, find refreshments infused with fresh fruit, flavorful spices and exotic teas.
DÔA
2000 Collins Avenue, Miami Beach, FL
Vibe: Asian Persuasion
Looking for a brand new spot to fuel your foodie passions? Check out DÔA in Collins Park where the dim sum menu pairs perfectly with signature cocktails like the Asian Mule (vodka, yuzu & ginger beer), ShisoRumi (Flor de Cana, lime & shiso) and Sensi's Apprentice (tequila, honeydew, cucumber & lime). Stop in from 6pm-8pm for the daily happy hour when craft cocktails are $7 and bar bites including crispy squid, pork belly buns and spring rolls are $5.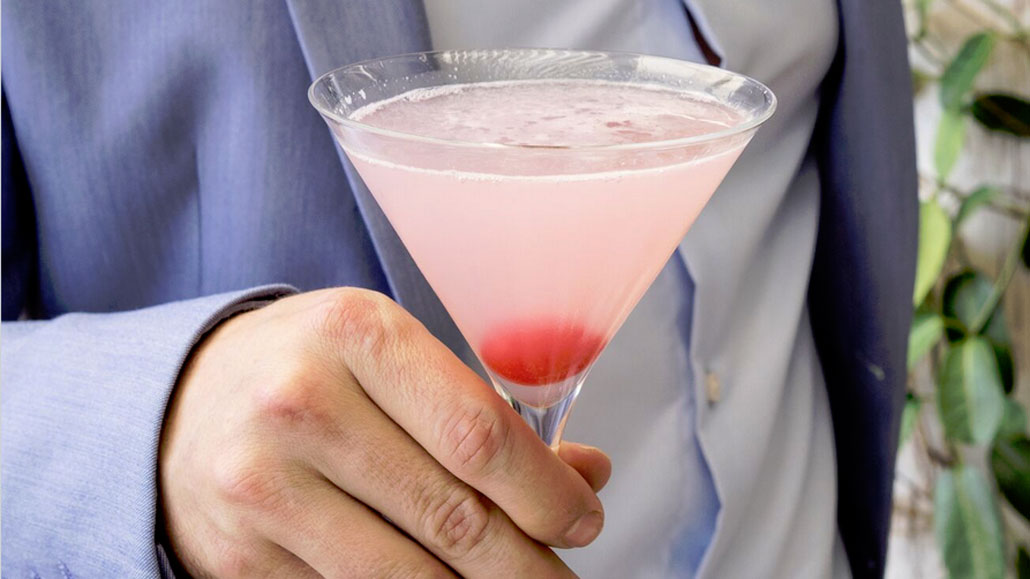 Kiki on the River
450 NW North River Drive, Miami, FL
Vibe: Waterfront Taverna
Downtown Miami's haute new Friday happy hour destination is Kiki on the River, a waterfront taverna with a twist. Starting at 5:30pm at the bar, guests can share Greek mezze appetizers, an innovative cocktail menu and buy one get one free drinks served until 7:30pm. Enjoy custom blends like the Spicy Mule (vodka, mango, cayenne pepper, lime and ginger) or The Pink Panther (vodka, watermelon juice, and a hint of lime).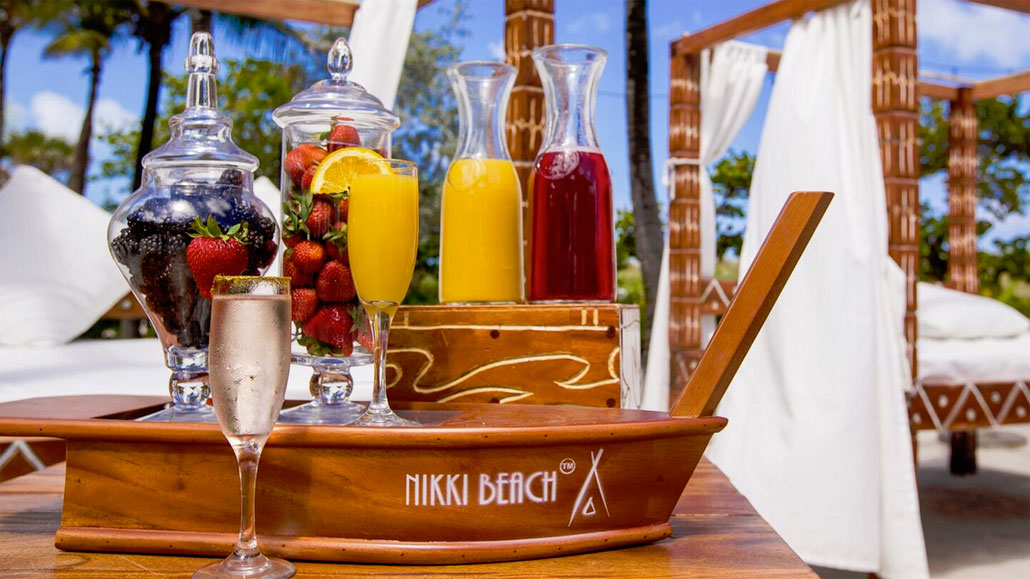 Nikki Beach Club
1 Ocean Drive, Miami Beach, FL
Vibe: Cabana Classic
South Beach swizzles at Nikki Beach Club where the sumptuous "Amazing Sunday" brunch includes a variety of serving stations with breakfast classics, custom cut prime rib, hand-rolled sushi and seafood paella. Adding an extra lift to the afternoon feast are Craft Bloody Mary mixes and a DIY Mimosa Bar featuring customizable champagne cocktails with fresh fruit juice, rock candy swizzles, ice cold sherbet and so much more.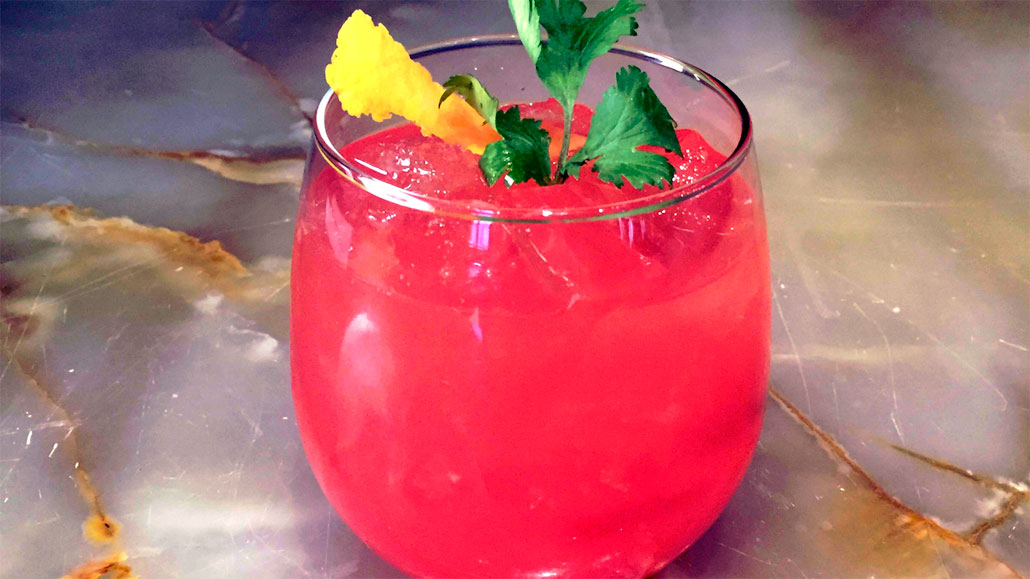 Yardbird Southern Table & Bar
1600 Lenox Avenue, Miami Beach, FL
Vibe: Southern Comfort
South Beach sippers gather at Yardbird Southern Table & Bar where bourbon is the name of the game. Choose from the classics or opt for a crafted cocktail like the Yardbird Old Fashioned with Buffalo Trace bourbon infused with a hint of smoky bacon, bitters and a dash of maple syrup. For something sweet and spicy, order the Chica Fresno Watermelon, a mix of tequila, fresh lime juice, fresno chili, orange bitters and a sprig of fresh cilantro.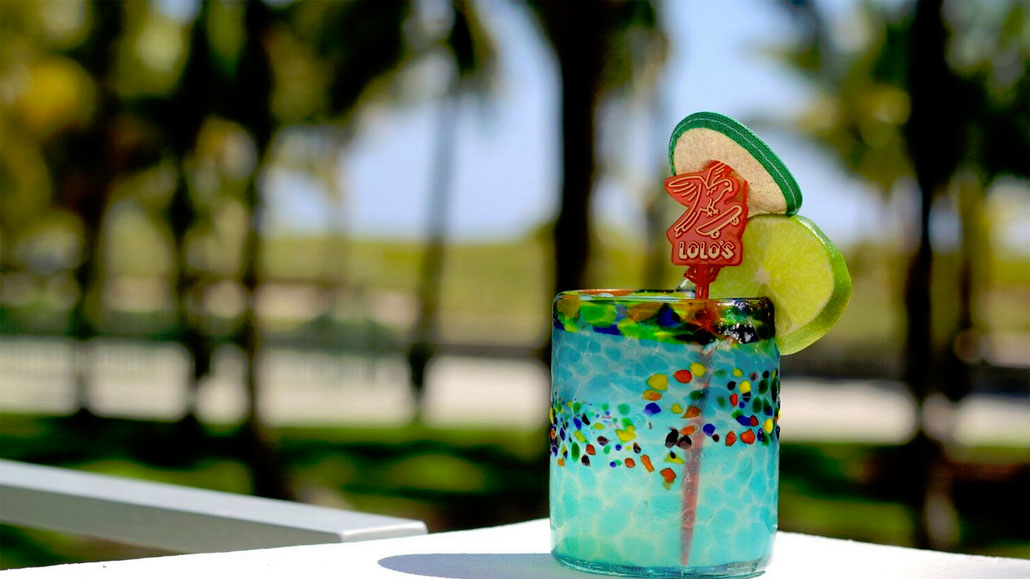 Lolo's Surf Cantina
161 Ocean Drive, Miami Beach, FL
Vibe: Baja Fresh
The SoFi District's best kept secret is the refreshing cocktail menu at Lolo's Surf Cantina where the featured Bebidas include Hibiscus Sangria, Margaritas de la Casa and citrusy Micheladas (fruit and spice infused beer). Stop in for happy hour at the bar Sundays through Thursdays from 4pm – 7pm when draft beer, house margaritas & palomas, Mexican Mules and wine by the glass start at $4. Pair your punch with discounted tacos and other spicy snacks.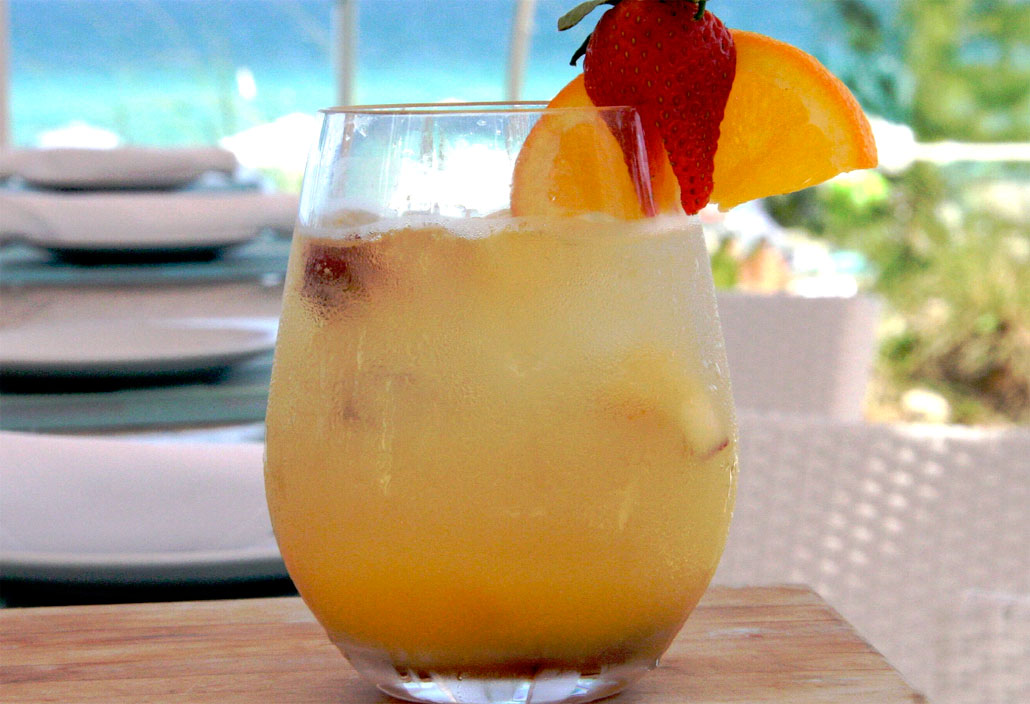 Gili's Beach Club
18001 Collins Avenue, Sunny Isles Beach, FL
Vibe: Beachfront Oasis
Surf's Up! Gili's Beach Club offers guests a rare opportunity to sample fruit infused, house signature cocktails just steps from the Sunny Isles shoreline. Enjoy a fresh white peach sangria on the 60 seat patio or try the Hibiscus Key Lime Agua Fresca with tequila, fresh oregano and a dash of jalapeño for an added kick. The Caipirinha bar includes fresh fruit Cachaça cocktails blended with raspberies, grapes and a splash of lime. Open daily until 6pm.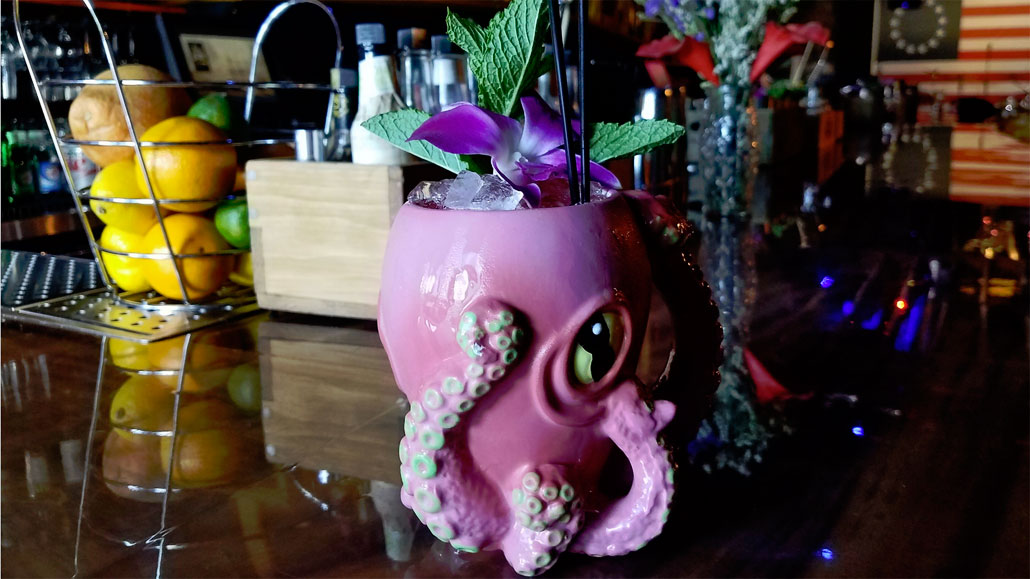 Nancy
2007 SW Eighth Steet, Little Havana, Miami, FL
Vibe: Pirate's Booty
Check out Little Havana's cool new cocktail lounge crafted with nautical touches and welcoming landlubbers and salty dogs from 5pm, seven nights a week. Bar Nancy showcases a specialty cocktail program inspired by the spice trade that includes house made blends of herbs, spices and fresh fruit. From the rum and whiskey menu, sample "Gunners Daughter," (infused with tea and black cherry) and the aptly named "Smile You SOB" (tequila, plum, passion fruit and lime).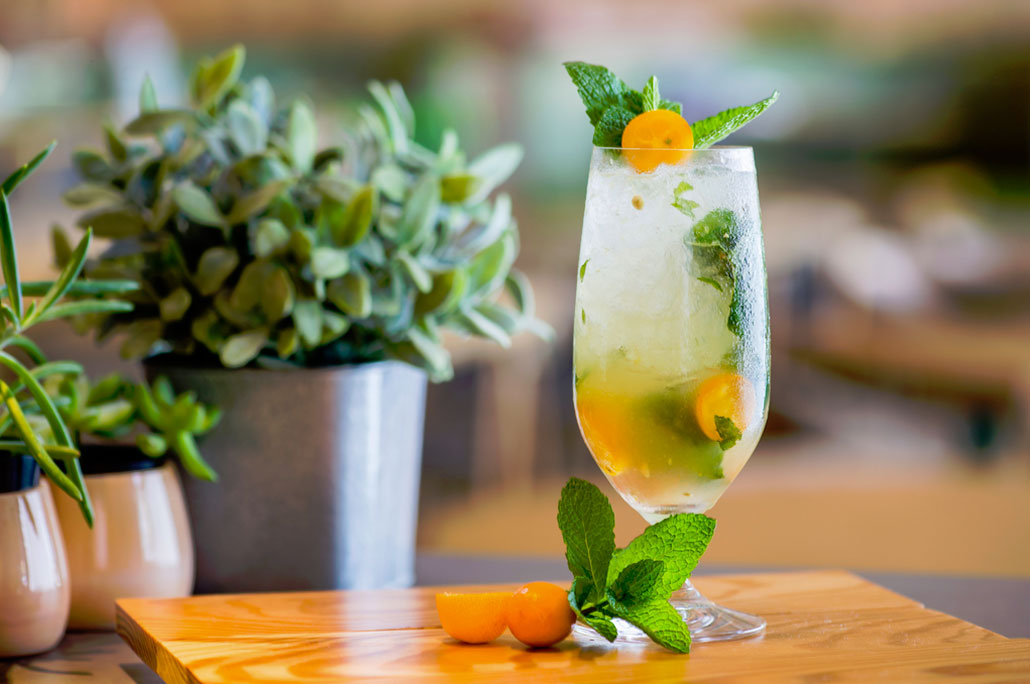 Sushi Garage
1784 West Avenue, Miami Beach, FL
Vibe: Tokyo Tech
Fans of the Sunset Harbour District favor the weeknight happy hour at Sushi Garage, a casual eatery (run by the team behind Juvia) where the craft cocktail program has a refreshing Asian inspiration. Happy hour prices are offered from 5pm-7pm and again from 11pm until closing. Priced at just $7 are the Cooler Cucumber (cukes, gin and soda), the Sake Fusion (sake, aloe and soda), Wine Tea (Pinot Grigio, green tea and lemongrass) and In the Mood (pear, vanilla and prosecco).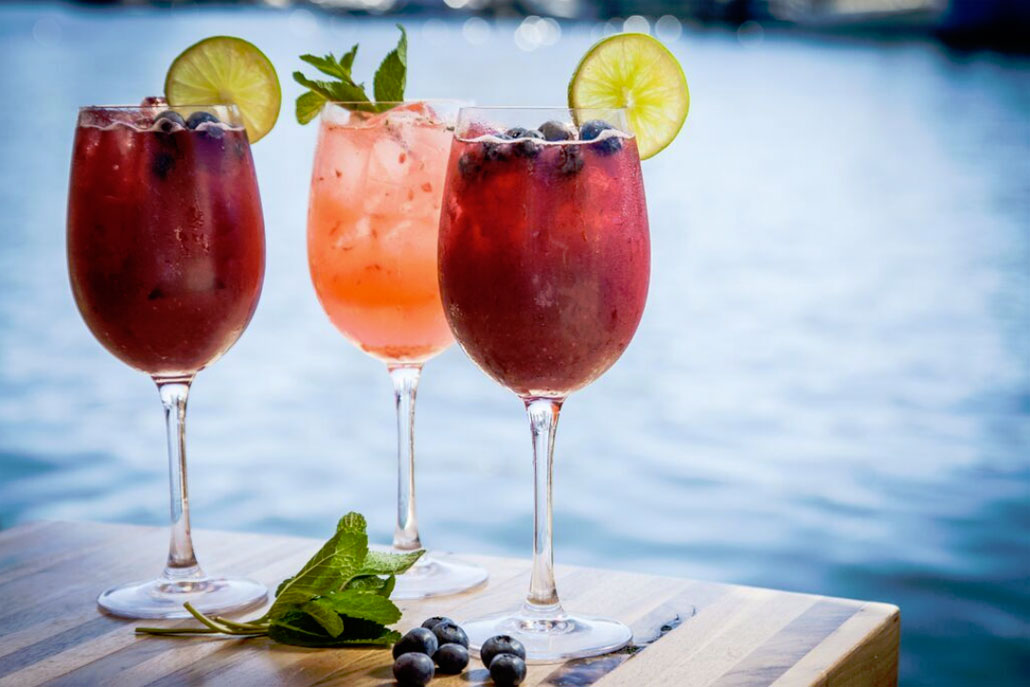 Seaspice
422 NW North River Drive, Miami, FL
Vibe: Miami Vice
Enjoy the thoughtfully curated cocktail menu at Seaspice where the drinks are pretty enough to compete with panoramic views of the Miami River (and a great looking crowd). Find an alfresco table or a seat at the patio bar to sample a Blackberry Ice (Grey Goose, fresh berries, lemon juice and St. Germain), a Melonade (Maestro Dobel tequila, watermalon and basil) or a Seaspice Mojito (Bacardi coconut rum, raspberries, pineapple, mint and lime).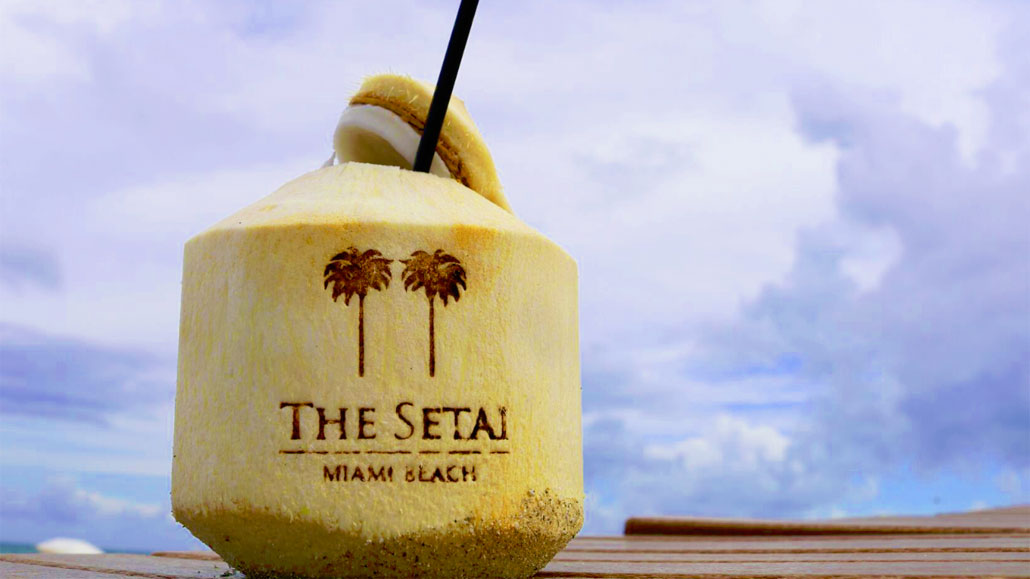 The Ocean Grill at the Setai
2001 Collins Avenue, Miami Beach, FL
Vibe: Tropical Hideaway
The Setai Hotel's newly renovated Ocean Grill is an open-air eatery just steps from the Atlantic surf where happy hour priced tropical cocktails are served daily from 4pm – 6pm. Try the brand new Coco Setai Cocktails served inside a fresh coconut for $16. Choose from four signature pours including the Coco Walker (whiskey, Coco Lopez and coconut water), the Coco Vanilla (vanilla vodka and pineapple), Coco Tequila and Coco Melon (rum and watermelon juice).