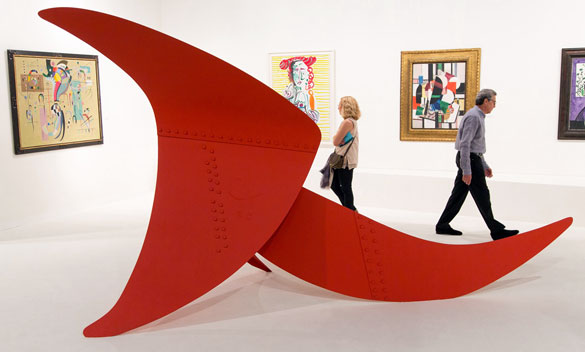 The cultural juggernaut that is Art Basel Miami Beach, which kicks-off December 4–7, 2014, has changed the tourist season on South Beach forever. International art fans, artists, gallery owners, art buyers and journalists fill the city with the deafening roar of art and commerce. Celebrities host great parties, wealthy patrons open their homes to tours of their priceless collections, clever PR flacks promote midnight pool parties, clandestine boat tours and meet & greets with reclusive artists. And then—like a mirage in a desert—all of the glitzy installations simply vanish overnight and the resort town goes back to business as usual.
Note: This year, Dec. 3rd will be reserved only for VIP guests: a "First Choice VIP" at 11 a.m. followed by "Preview VIP" at 3 p.m.
Instead of the brief lull between the family rush at Thanksgiving and the build up to Christmas & New Year's events, the full capacity crowds that overwhelm every restaurant, bar, and hotel room in Downtown Miami and Miami Beach during the first week of December are now an annual occurrence. As a harbinger to the art assault last year, huge pink plastic snails appeared as if by magic at intersections all over Miami Beach to alert locals of the coming Art Basel BOOM! Sister exhibit to the prestigious Art Basel fair in Switzerland, the Miami Beach show draws thousands to the sunny shores of South Beach where days of film, music, art and architecture are celebrated in live performances, hourly seminars, guest lectures and spontaneous public displays.
Works from more than 2000 international artists line galleries at the Miami Beach Convention Center and adjunct contemporary pieces fill shipping containers at the Art Park at 21st Street Beach. Nightly concerts, International DJs and dancing under the stars make this the most popular after party in town. Satellite shows at many Miami Beach hotels and fairs across the bay in Miami are also scheduled during Basel week so critics, curators and collectors can make the most of their time in Miami. While the atmosphere can sometimes feel like a circus, for most visitors Art Basel is the greatest show on earth!
Art Basel Miami Beach
1901 Convention Center Drive
Miami Beach, FL 33139
(305) 674-1292