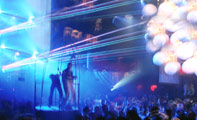 Life is not always fun and games. Unless, of course, you live here in South Beach, where each night is a disgustingly glorious wonderland of savage music, mystical chemicals, and pagan sexual behavior. A place where random encounters with the twisted pleasures of the night are continuously fueled by the holy trinity of plastic money, plastic promises, and plastic tits. A pop-culture netherworld where superficial things not really worth having are the ones most desired. Yep, just a little ol' place we call home.

Thursday night, and a temporary reprieve from the usual clubland psychosis in the form of dinner and drinks at Blu Marine restaurant with writer John Buchanan and a raising star beauty named Martha Dominguez who will soon be writing a monthly sex/relationships column for Channels Magazine. From her outward appearance, the beautifully animated and refreshingly open former model is apparently very well qualified to comment on anything sexual in nature. The dinner conversation covering everything from the trials and tribulations of modern-day romance, to sure-fire cures for guys with occasional hydraulic problems. Problems which we, of course, wouldn't know about.
Friday night at the Astor Hotel's outdoor pool area, and a birthday party for South Beach scene maker, Monika Gaba. Our moment of enjoyment lounging with the beautiful crowd under the stars is soon interrupted by some low-level hack rushing up in a blabbering lather and offering us the inside track on photographing OJ as he carves up a steak in the hotel's downstairs dining room. Our response, a polite, "No, thanks."
Various news flashes coming our way 'mykel Stevens and Carmel Ophir, the Back Door Bamby boys, plus Crobar's Kenny Smith and Cal Fortis, teaming up with owner David Bick to take Lola Bar to the next level with big-name DJs, live bands, and a whole array of fun and games. Eric and Francis, the Milon brothers making plans to attack downtown Miami with a new venue in the works. Madonna's Drowned World Tour coming to Miami, with an after-party at Crobar, on August 15.  The opportunities for bad behavior are apparently endless here in sin city.
After receiving a tip softly whispered in our ear along the lines of "you won't be disappointed," we make a courtesy appearance at Red Square for a roving theme party code-named "Skin." Arriving at 1:00am expecting nothing more than the usual silicone-enhanced scene, we soon realized that we had unwittingly stumbled into a rather enlightening little fantasy love-fest for bi-sexual women and their dates.
Definitely not the usual scene by any measure—girls dancing together four at a time on the dimly lit dance floor, each one clinging closely behind the other in a passionate embrace, all moving slowly in unison to the music, and all with their hands in the cookie-jar. One girl, all smiles, moving through the crowded room, greeting other women with a momentary caress in just the right spot from her battery-powered-boyfriend, and gazing deeply into their eyes to savor the effect. Definitely more effective than one of those "Hi, My Name is __" tags.
Deciding we were way out of our league in this setting, we reluctantly headed toward the door and as we were leaving, a local, 21 year-old, steeped-in-sex beauty we had photographed previously at other clubs, came up with a big smiling hug, and whispered, "You didn't know I was a switch-hitter, did you."
Badly in need of a drink (and a cold shower), we headed off to the continuing psycho-social drama of life in the lost world of South Beach nightclubs, where the youthful masses were once again busy devouring the earth one cocktail at a time in search of their next glamour fix. Star-struck storm troopers on a mission of madness, driven onward by their firmly held belief that the key to eternal fabulousity surely lies somewhere inside the velvet ropes.
The club scene this time around basically just the way we left it—everyone in turmoil 'some wanting in, some wanting out, everyone wanting something, and no one really sure of anything, except for what drink to order.
Crobar, and Johnny-Boy's Jungle Fever party. The place, one solid groove if ever there was one. Michael Capponi, relaxed and looking like a man truly in his element, doing the heavy-hang in Crobar's upstairs VIP lounge, slowly deep-kissing a gorgeous blonde in the midst of a thundering musical maelstrom from DJ Lippy. Twenty feet away, Mick Jagger, protected by a jovial, yet potentially lethal bodyguard, partying the night away with the frantic crowd. Mick receiving an impromptu lap-dance from a Wilhelmina Models girl wondrously caught up in the excitement of all the waving arms, swaying bodies, and torrid music. Veteran clublander, Tony Cho and photographer Seth Browarnik whippin' it hard to the beat. The whole club rocking like there's no tomorrow. LA girl Lauren Sanchez, ("Is South Beach like this EVERY night?") in town to interview for a news anchor position at one of the local TV stations, and being entertained by Tony Gonzales of the Kansas City Chiefs.
The ringleader of the whole affair, John Buchanan, floating around the club from table to table like a psychotic butterfly, decked out in a striking leapord-skin outfit, apparently having out-grown his usual fishnet stockings and oybug eyeliner. Numerous people throughout the night commenting on the club's torrid vibe and pressing Johnny-Boy to make Jungle Fever a monthly event. Buchanan dismissing such comments with, "What, are you shittin' me?…I do this EVERY night!"
A trip to the restroom produces yet another Pulp Fiction moment. Standing at the urinal, holding our camera in one hand and ourselves in the other, basically minding our own business, we're cornered by some terminally hemorrhoidal individual with a curious residue of white powder surrounding his nostrils, who steps up to the next urinal, complements us on our equipment (not the camera) and launches into a vivid description of an X-rated gay video he will soon be starring in—the punchline being, would we be interested in photographing the whole thing, since we "look like the kind of guy that would enjoy it."
That statement marking the perfect exit cue for us, we decide to zip-up not only our pants, but the entire evening as well, by bidding a quick farewell to Captain Video, of the Lost Planet Rump Rangers, and head for the door.
Moments later, walking home through the steamy neon darkness of Washington Avenue at 4:00am, with a deflated ego, ringing ears, and a body approaching hyper-nausea from three too many gin & tonics, we reflect on yet another shameful week of life on the South Beach glam circuit—truly laughable vignettes of a city obsessed with fame, sex, ferocious ass-kissing, and any number of other manifestations of a society on the fast-track to oblivion. A city forever willing to accept candy from strangers.
Be it ever so sleazy, there's no place like home.