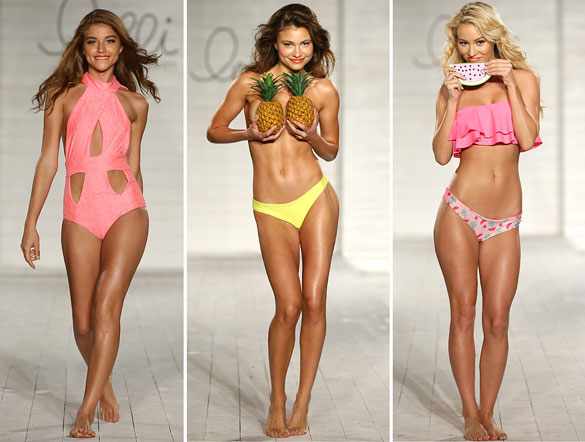 Lolli's 2015 resort collection, Coco Colada debuted at Miami Swim Week on Sunday, July 20th. Filling the runway with simple yet playful designs this collection features vibrant colors to match its tropical fruit theme. Embellished with bright yarn details, fun textures, and flirty patterns the collection features a variety of styles including classic two pieces, high waisted bottoms, and sexy monokinis. Flowing cover-ups and lightweight crop tops round out this collection for a complete beach look.
"When creating a collection I always start with scrapbooking. I take pictures of yummy colors that make me smile and pull swatches and photos that spark a memory. Once I have all of my inspiration I put everything together in one little swimmie," said Laguna based designer Vy Nguyen of her design process.
To emphasize Lolli's signature flirty style models walked the runway holding props like pineapples, coconuts, and watermelons. To end the show with a splash models jumped into the pool surrounding the runway at the Soho Beach House.
Collaborating with Acacia Swimwear to put on an energetic show this was Lolli's third showing at Miami Swim Week.