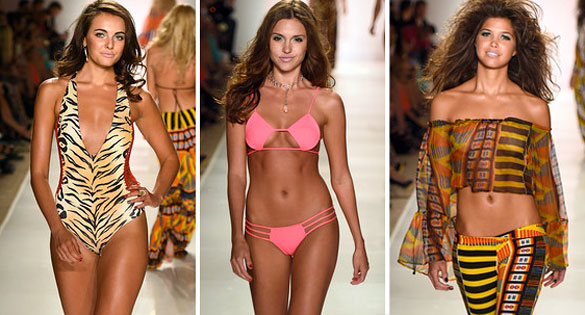 Bali-based designer Libby Desantis debuted her latest collection at Mercedes-Benz Fashion Week Swim in Miami. Hosted at The Cabaña Grande in the Raleigh hotel, this was Indah's second showcase at swim week. Her collection fuses the sheer and relaxed fabrics of Bali and the bold patterns and edgy silhouettes of the native Zanzibar style. Models prowled the runway wearing unique swimsuits, cover-ups and beachwear with bold geometric and abstract prints embellished with flirty fringe detailing, and neutral metallic hues that added a sexy shimmer.
Indah's 2015 collection is dubbed JAMBO ZURI, meaning, "Hello Beautiful," and evokes an atmosphere of travel on an exotic fashion safari across Africa with Indah's wild prints, seductive cuts and fine fabrics.
Over 400 guests attended the event to experience Libby's natural instincts behind her JAMBO ZURI 2015 collection. "This collection is my love for women. For mothers, grandmothers and beautiful youth…women are the essence of beauty. All of of us different, all of us the same. Welcome to our show! We are so excited and grateful to have you here. So sit back while we take you on a fashion safari,"said Libby Desantis.