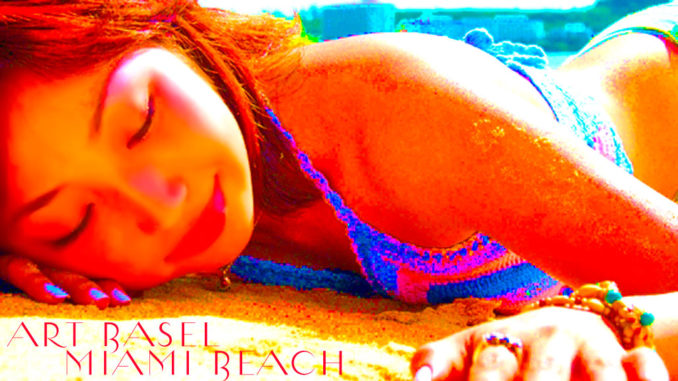 While early December may bring dark and gloomy weather to most of the country, the sun shines brightly on South Florida where the world's biggest stars gather to celebrate the Fine Art of the Deal that is Art Basel Miami Beach. So much more than a series of multi-million dollar international art fairs, this massive cultural showcase attracts A-list celebrities and big money socialites who attend VIP parties both public and private throughout the week.
While most of the world thrills to paparazzi photos of their favorite stars online each day, Miami plays host to artists, fashion designers, supermodels, professional athletes, and mega-stars who are rarely seen in public at the same time. Attendance at any of the art presentations comes with the very likely chance to rub elbows with screen icons and global billionaires who wander through the pavilions gazing at the collected works of classic and modern artists.
Art Basel
"Art Basel's well-delineated sectors offer one of the most comprehensive looks at the state of art today." ~ Isabella Mason
The focal point of South Florida's art festival week, Art Basel Miami Beach takes over Miami Beach's Convention Center during the first week of December to showcase contemporary paintings, sculptures, photographs, films and digital works by both established and emerging artists for over 70,000 visitors. Following a rigorous review process, 250 select galleries from across the world are assigned small, white-washed spaces organized by sectors throughout the massive meeting space to display their finest works for collectors, museum curators, international art critics and the general public. The show starts with two days of private showings followed by four rather spectacular afternoons of public viewing from Thursday throughout the weekend.
Art Basel at Miami Beach Convention Center 1901 Convention Center Drive, South Beach
Show Dates December 6-10, 2017 Info – ArtBasel.com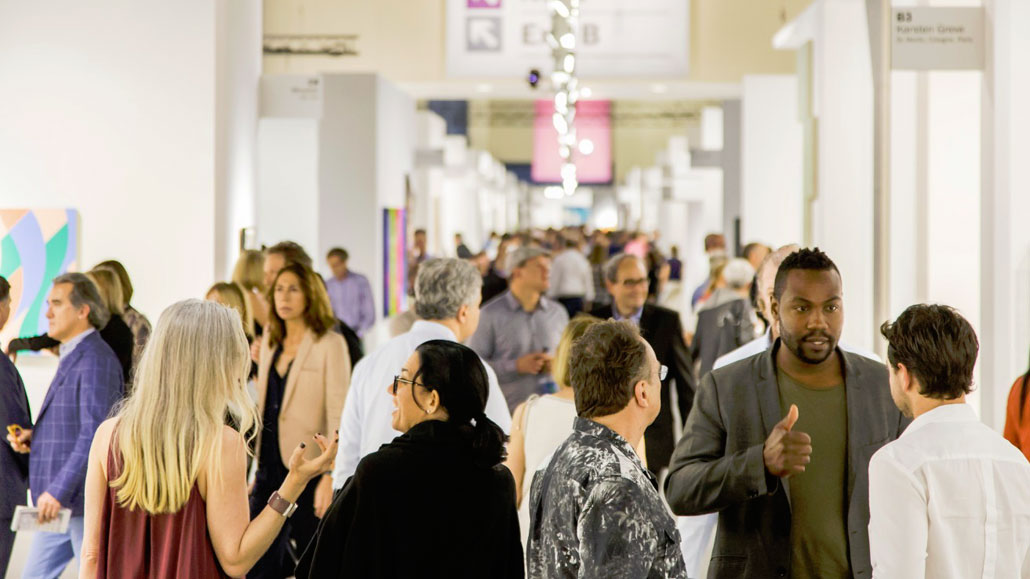 Satellite Art Fairs
Each December during Art Basel, nearly twenty Satellite Art Fairs are staged throughout South Florida from massive beachfront pavillions to tiny shipping containers, assorted hotel rooms and impromptu urban galleries across the city. One of the biggest weeks in visual art, the city is best navigated with a predetermined plan in mind and comfortable shoes in tow. Gala openings and late night after parties can be announced at the last minute (and Miami's finicky weather plays an important role), so a degree of flexibility is essential to viewing success.
The primary fairs divide between Miami Beach and across Biscayne Bay in Miami with area museums and important galleries also hosting special events. The larger fairs offer dedicated shuttle service around Miami which may prove an important asset as traffic and parking issues abound. Best to enjoy the fairs in Miami one day and the showcases on Miami Beach the next to avoid the hassle of navigating crowds and causeways.
Free City Shuttle
Travel in style on a dedicated bus that runs about every 15 minutes.
Route 1 (East-West Route)
Miami Stops: 29th St. and Midtown Blvd, 36th St and Buena Vista Ave,
Miami Beach Stops: 17th St and Convention Center Dr.
Route 2 (North-South Loop)
South Beach Stops: 10th St. and Washington Ave., 17th St. and Convention Center Drive.
Middle Beach Stops: 41 St. and Royal Palm Ave., 46th St. and Collins Avenue.
North Beach Stops: Bandshell Park, 72 St. and Collins Avenue.
Download the App "Miami Trolley" for more info.
The city will also offer the Miami-Dade Art Express bus route, also free.
Running every 20 minutes between 11am and 11pm, this is an alternate mode of transportation across the Julia Tuttle Causeway connecting Miami and Miami Beach.
On Miami Beach, explore Aqua Art Fair, Design Miami, Form Miami, Fridge Art Fair, Ink Miami, Pulse Miami Beach, Scope Miami Beach and Untitled. Downtown, discover Art and Context Miami, Miami River Art Fair, NaDa Art Fair, Pinta Miami, Prizm, Red Dot, Spectrum Miami and Superfine! If each of these shows sounds daunting, know that there are countless indy galleries and private art collections including the De La Cruz, Rubell Family, and Marguilies Collections available to explore throughout the week.
Aqua at Aqua Hotel 1530 Collins Avenue, Miami Beach
Show Dates December 7-10, 2017
Design Miami at Miami Beach Convention Center 1901 Convention Center Drive, South Beach
Show Dates December 5-10, 2017
Form Miami Washington Avenue and 17th Street
Show Dates December 7-10, 2017
Fridge Art Fair at Blue Moon Hotel 944 Collins Avenue, South Beach
Show Dates December 3-10, 2017
Ink Miami at the Dorchester Hotel 1850 Collins Avenue, South Beach
Show Dates December 6-10, 2017
Pulse Miami Beach 4601 Collins Avenue, Miami Beach
Show Dates December 7-10, 2017
Scope Miami Beach 801 Ocean Drive, South Beach
Show Dates December 6-10, 2017
Untitled Miami Beach 12th and Ocean Drive, South Beach
Show Dates December 6-10, 2017
Art & Context Miami One Herald Plaza, Miami
Show Dates December 5-10, 2017
Miami River Art Fair at the James L. Knight Center 400 SE 2 Avenue, Miami
Show Dates December 4-6, 2017
NADA Art Fair at Ice Palace Studio 1400 North Miami Avenue, Miami
Show Dates December 7-10, 2017
Pinta Miami at Mana Wynwood 2217 NW 5 Avenue, Wynwood
Show Dates December 6-10, 2017
PRIZM 145 East Flagler Street, Miami
Show Dates December 6-10, 2017
Red Dot Miami 1700 NE 2 Avenue, Miami
Show Dates December 6-10, 2017
Spectrum Miami 1700 NE 2 Avenue, Miami
Show Dates December 6-10, 2017
Superfine! 56 NE 29 Street, Miami
Show Dates December 6-10, 2017