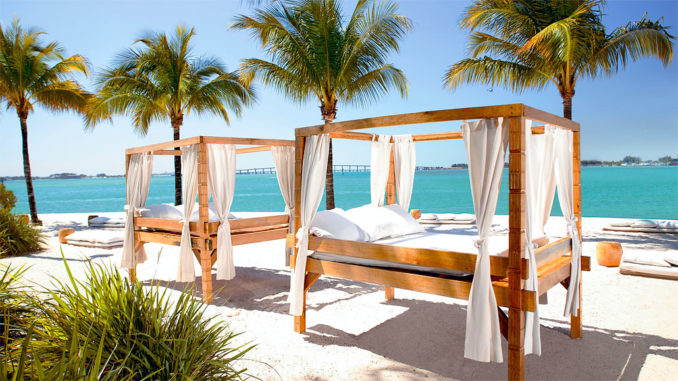 Miami has a wealth of great hotels, both downtown and on the beach, to accommodate guests in need of a quick overnight or a fun-filled family getaway. To help make the planning of your trip as easy as possible, we've compiled an overview of the different areas most travelers want to visit and a general guide to the best hotels.
Miami Beach – On the Ocean
Sunny Florida boasts miles and miles of pristine Atlantic coastline with seaside communities that offer non-stop action or a quiet escape. From South Beach to Surfside, from Mid-Beach to Sunny Isles, hundreds of hotels in every class from luxurious to bare-foot-basic welcome thousands of travelers annually. Miami Beach tourist districts encompass South Beach from 1-23 Streets, Mid-Beach through 75th Street, Surfside & Bal Harbour through 102 Street and Sunny Isles Beach & Aventura through 195 Street. The distance from the southern tip of Miami Beach to the northern border is a dazzling 14 mile stretch of Collins Avenue/ A1A.
South Beach – Where the Action is
The most popular area, South Beach is a glowing Art Deco neon-lit strip of some 23 streets packed with nightclubs, restaurants, bars and sidewalk cafes operating around the clock. Attracting families, singles and international travelers, the area offers all manner of accommodations from hostels to mega-resorts and everything in between. Ideal for the vacationer who needs no rental car, South Beach boasts great shopping, beaches from busy-to-blissful and truly memorable vacations for less money than you might expect. A 25 cent local shuttle bus circles the city offering unlimited access to attractions near the sea or on the quieter west side of town.
Attractions on South Beach include the city's hottest nightclubs, upscale and ethnic eateries, the historic Art Deco District along Ocean Drive and the 24 hour pedestrian-friendly Lincoln Road Mall. South Beach is home to the Bass Museum, the Wolfsonian Collection, the Jewish Museum and the Holocaust Memorial. Parrot Jungle animal theme park and the Miami Children's Museum are just a 5 minute ride along the MacArthur Causeway. What makes this area so popular is the opportunity to stay busy 24 hours a day or to find a quiet lounge under a shady palm tree and do absolutely nothing at all.
Top tier hotels include the Setai, the Tides, the Delano and the Ritz-Carlton South Beach. Families and young travelers enjoy the Loews Miami Beach and the W South Beach Hotel. Budget-conscious visitors like the Marriott South Beach, the Clevelander and the Sense Hotel on busy Ocean Drive.
Travel time from Miami International Airport to South Beach is around 20 minutes. Travel time from the Port of Miami to South Beach is about 15 minutes.
Miami Beach – Mid-Beach and Millionaire's Row
Just north of the Art Deco district, the Mid-Beach area features larger hotels and a number of mega-resorts where it is possible to check in and experience celebrity-style pampering for the duration of your stay. Streets and beaches are quieter than South Beach so it is possible to opt for a more luxurious hotel, a less hectic pace and still have all that "Miami Vice" action just a quick taxi ride away.
The newly renovated Fontanebleau Resort & Spa and it's neighbor to the north the Eden Roc Hotel attract the lions share of upscale traffic with the new Grand Beach Hotel offering affordable suites.
Travel time from Miami International Airport to Mid-Beach is around 25 minutes. Travel time from the Port of Miami to Mid-Beach is about 20 minutes.
Surfside & Bal Harbour
Surfside has a small town vibe with a shady main street of shops and bars to explore in the evening and miles of beaches with smaller hotels and motels for moderate-priced travel. Considered a hidden treasure by snow birds who come south for the winter, the area encompasses a number of condos and apartments for rent plus the Solara Hotel and the Best Western Oceanfront Resort. By contrast, tony Bal Harbour is home to the most upscale shops in town and multi-million dollar condo developments lining the shore. Once you've had your fill of Chanel, Prada and Gucci, check into the Seaview, the boutique Daddy-O or the brand new ONE Bal Harbour Resort.
Travel time from Miami International Airport to Bal Harbour is around 35 minutes. Travel time from the Port of Miami to Surfside & Bal Harbour is about 30 minutes.
Sunny Isles Beach
Just north of Haulover State Park and Beach, the luxe new high rise hotels along Sunny Isles Beach offer guests a range of resort amenities like fine dining, spas and drinks on the sand. Popular with older visitors and families looking to relax on site and enjoy the weather, there are but a few restaurants and bars within walking distance along a strip shopping district across busy A1A. To augment the guest experience, the cities of Sunny Isles and Aventura provide shuttle busses to nearby restaurants and shopping malls just a few miles away on US-1.
Family-friendly resorts along Sunny Isles Beach include the casual beach club at the Newport Resort to the more upscale Doubletree Oceanpoint, the Trump International Beach Resort, Marenas and (at the top end), Acqualina.
Travel time from the Miami International Airport to Sunny Isles Beach is about 45 minutes. Travel time from the Port of Miami to Sunny Isles Beach is about 35 minutes.
Downtown Miami & The Port of Miami
Miami's Downtown is most densely populated during business hours when streets and parking can be quite congested. After hours and on weekends, the city teems with tourists enjoying off-priced shopping, museums, the Bayside Marketplace and a lively nightclub district bordering a rather desolate stretch of industrial development. Popular for it's proximity to the Port of Miami, the lower 20 streets of US-1 offer hotels ideal for cruise transfers, weekend visitors and business travelers. Access to the Performing Arts district via a free monorail also makes Downtown Miami hotels perfect for theater goers and concert fans visiting Bicentennial Park and the Bayfront Amphitheater.
The most popular budget spot Downtown is the Holiday Inn Port of Miami but nearby properties like the EPIC, the Intercontinental Miami Hotel and the Hyatt Regency often offer rates that make it tempting to explore more upscale accommodations. The brand new Casa Moderna Miami Hotel & Spa still in its finishing stages occupying the lower floors of the 67-story Marquis Building overlooking all of Downtown.
Travel time from Miami International Airport to Downtown and the Port of Miami is around 15 minutes. Travel time from the Port of Miami to Downtown is less than 10 minutes.
Brickell Financial District
Just south of the city, the Brickell Financial District is home to Miami's international banking offices and a number of luxurious condo residences on tony Brickell Key. Rapidly expanding to satisfy a vast number of new families, Mary Brickell Village offers restaurants, bars and shopping early morning until late night. A quick ride to the Little Havana historic district and Coral Gables, Brickell Hotels are an ideal spot for cruise passengers or visitors more interested in exploring Miami's architectural, cultural and urban scene. Most hotels have resort quality pools and spas and can set you up with a 15 minute taxi to the beach. Deep sea fishing, jet ski rentals and windsurfing along nearby Key Biscayne or a day of drinks and shopping in Coconut Grove are just minutes away.
Upscale resorts like the Four Seasons, the Mandarin Oriental (photo above) and the Viceroy Miami pamper guests in wall-to-wall luxury. The Conrad, the JW Marriott and the smaller boutique Urbano Hotel offer more affordable lodging.
Travel time from Miami International Airport to Brickell Avenue is around 15 minutes. Travel time from the Port of Miami to Brickell Avenue is about 10 minutes.
(Opening photo: Opium Beds at the Mandarin Oriental Miami's beautiful Oasis Beach Club)