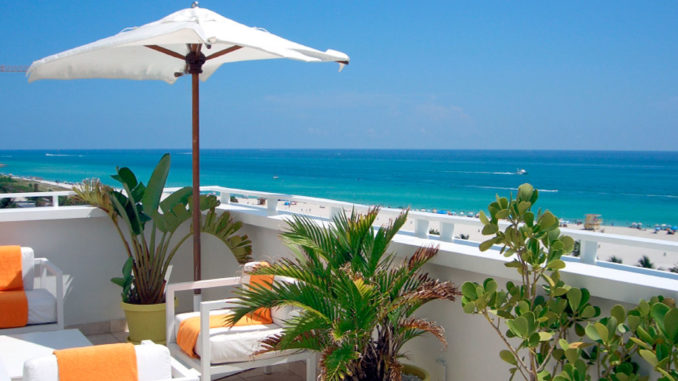 If you're looking for an intimate travel experience that's long on style, South Beach's boutique hotels specialize in providing posh amenities and luxury services to travelers just like you. South Beach's boutique hotels are almost as popular as the city's nightlife scene itself, so to help you find the best spot for your stay, here's our view of the top five boutique hotels in Miami Beach for the winter 2008 season.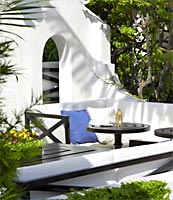 Angler's Boutique Resort
600 Washington Avenue, Miami Beach, Florida, 305.534.9600
Originally built in the '30s by Henry Maloney, The Angler's Boutique Resort's Mediterranean revival buildings bring a taste of island life to guests looking for sun, sand and solace. From rooftop terraces to private gardens and Jacuzzis, it's an escape to a tropical, Zen-like paradise brimming with amenities like studio and duplex suites, plasma TVs, wireless Internet and spa areas. Real estate developer Gregg Covin spared no expense in bringing an oasis vibe to South Beach's scene.
Located between Sixth and Seventh Streets on Washington Avenue, Angler's 49 fully furnished studio and duplex suites are within walking distance of South Beach hotspots Mansion, Opium Garden, Prive, Prime 112, as well as the area's other clubs and restaurants.
The Angler's can arrange just about any luxury service a guest desires—from yacht, plane or car rentals, to scheduling massages, to a one-on-one guide with the concierge, and all in the pet-friendly environment.
The Angler's consists of four buildings including restaurant and bar, Parisian Brasserie Maison D'Azur, along with a sidewalk café, spa and fully equipped gym. A concierge is available 24-hours a day to assist guests with the many amenities South Beach has to offer.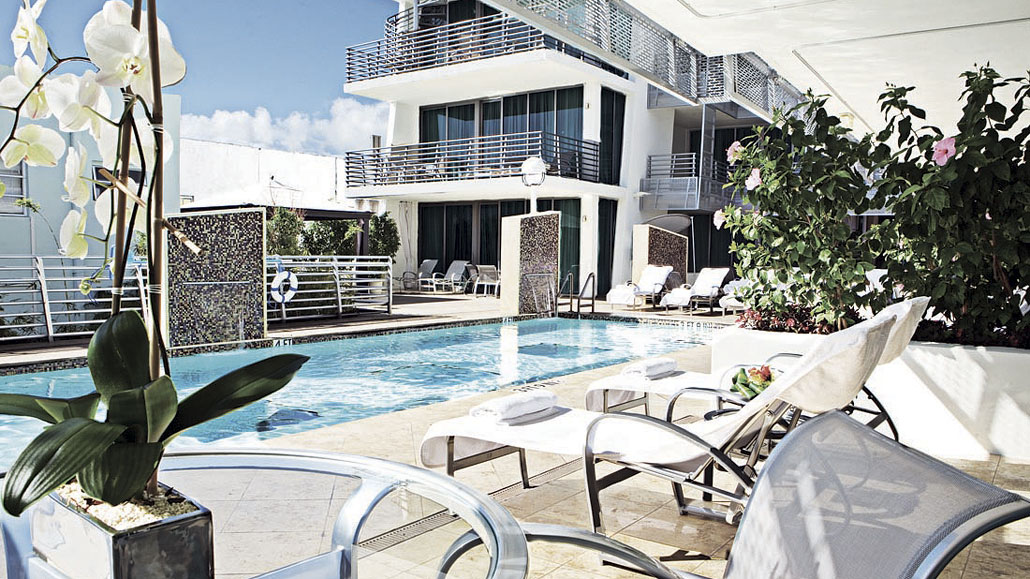 Z Ocean Hotel
1458 Ocean Drive, Miami Beach, Florida, 305.672.4554
Formerly Regent South Beach, Z Ocean Hotel's 80-suites, including 27 rooftop terrace suites, are the creation of Gene Grabarnick and Ronald Molko. Guests looking for the glamorous life in South Beach need only to check into the Z Ocean hotel. While the name changed, the hotel still offers top-notch amenities like Mercedes-Benz 500S house cars, butler services, luxury car rentals (Porsche, Bentley and Lamborghini) and posh penthouse rooms and spa services.
Featuring a revived design by Arquitectonica and located in the heart of South Beach's Art Deco district (within walking distance to hotspot Cameo), Z Ocean also offers a taste of culture along with fine cuisine. Famed Table 8 restaurant and lounge, featuring the mastery of Chef Govind Armstrong, draws in famous faces like Al Pacino and Elton John.
But you don't have to be a star to be treated like one at this boutique hotel. Should you happen to bring your own wheels to South Beach, Z Ocean offers an exclusive turn down service for your car once you're in for the night. The concierge is on hand to assist guests with everything from car rentals and nightclub arrangements to jet-ski rentals and landing tickets to local events. Whether you're there to indulge in South Beach's nightlife scene or just in town to sit back and relax at the hotel's glass-bottom pool, Z Ocean brings a chic vibe to South Beach's boutique hotel scene.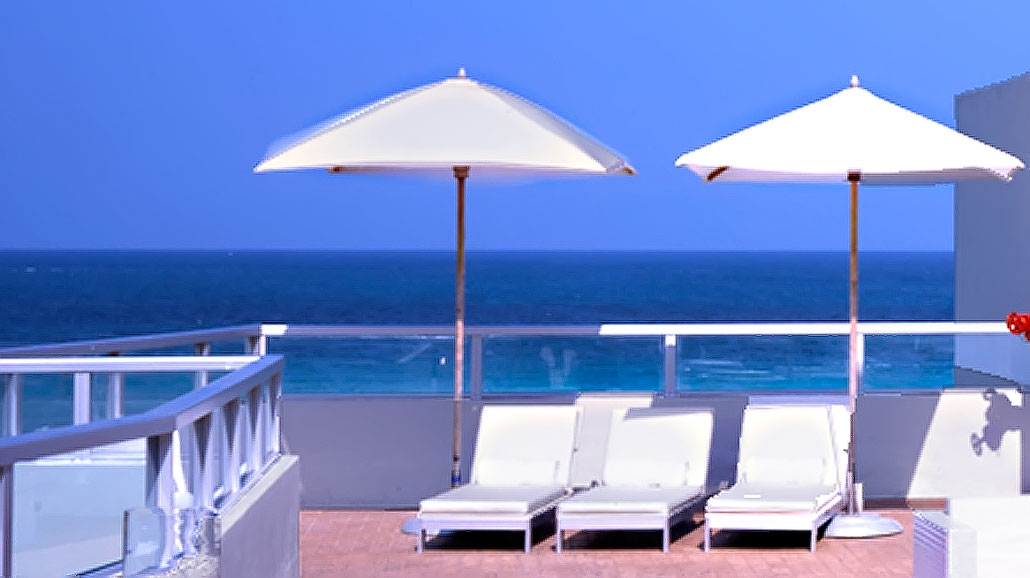 Sagamore
1671 Collins Avenue, Miami Beach, Florida. 305.535.8088
This 92-suite boutique hotel burst onto South Beach's scene in 2002. Drawing in guests with its minimal décor and extensive art collection, the Sagamore, situated on Collins Avenue between 17th Street and Lincoln Road Mall, calls itself The Art Hotel. Each room features paintings and sculptures, and the hotel even offers an art and photography gallery with works by famed and up-and-coming artists and a production studio for fashion shoots. Toss a curator in the front lobby and this hotel takes your stay to museum-quality standards.
Originally built in 1942, the Sagamore boasts eight, three-bedroom rooftop penthouse suites, or if you prefer, seven two-story garden bungalows and eight two-story bungalows with balconies. Each suite features posh furnishings like fully equipped kitchens, wireless Internet, two 42-inch Plasma televisions, yummy Philosophy products and an in-room gourmet snack by Dylan's.
Should you dare to venture outdoors, the Sagamore's slick infinity pool, featuring poolside spa treatments, brings an element of relaxation to your stay. If you dare to bare, the Sagamore's second-story sundeck allows guests a chance to tan au natural.
The concierge, who says the hotel is located within walking distance to "everything you need to enjoy your stay," provides services such as nightclub guest lists and bottle service, car services and any other need a guest could imagine. And should you have a taste for a true South beach dining experience, Social Miami is located in the hotel to take your taste buds to new heights. Be sure to make a reservation for Friday night when Social throws a house party of epic proportions—or just let the concierge take care of that for you, too.
The Strand Ocean Drive
1052 Ocean Drive, Miami Beach, Florida. 305.538.9830
Resting high above Ocean Drive is The Strand's rooftop pool with scenic views of the famed street and Miami Beach's best asset, the beach. A perfect blend of South Beach's true architectural styles, The Strand is comprised of one new building and four historical structures. Inside the 67 all-suite boutique hotel, featuring rooms that range from 300 to 800 square feet, guests will find everything from 300 thread-count linens, H20+ bath products, soaking tubs, rainfall showerheads and furnishings by Luminaire. They'll also find state-of-the-art technologies like wireless Internet and flat screen televisions. Should guests hunger for something out of the ordinary, the Strand offers up restaurants Atlantic Grill & Bar from restauranteur Stephano Fritella and Cheeseburger South Beach from Cheeseburger Cheeseburger fame.
Managed by Desires Hotels and located between 10th and 11th Streets on Ocean Drive, The Strand centers in guests in the heart of South Beach. Within walking distance are dining destinations like Larios on the Beach and libation depots like Wet Willies. Shopping hotspots like Kenneth Cole, Armani Exchange and Nicole Miller as just around and way, and as night falls, check out venues like Mansion, B.E.D., Opium Garden and Cameo, all within a few blocks of The Strand. The hotel's concierge, which adheres to its Desire Program, is on hand to help guests set up golf games and fun-in-the-sun activities like jet skiing, boat tours and fishing trips, as well as passes to clubs and bottle service reservations, scheduled tours and car services. Says the concierge, "We call it the Desire Program because whatever the guest desires, they get."
The National Hotel
1677 Collins Avenue, Miami Beach, Florida. 305.532.2311
At the National Hotel, relax in your terrycloth robe and slippers as you watch movies on your flat-screen TV and surf the Web's high-speed wireless Internet. Luxuries like these are all part of the boutique hotel experience at this Art Deco masterpiece with a modern twist. Guests are welcome to spend their vacation in of the 115 historic tower room or suites featuring oceanfront or cityview rooms, one of the poolside cabana wing's 36 deluxe rooms and suites or in the Triplex's tri-level penthouse suite, which boasts 1,250 square feet and occupies the 13th, 12th and part f the 11th floors. The hotel's widely sought-after three, one-bedroom tower suites on the 11th floor give way to spectacular views of both the beach and the ocean, are 500 square feet in size, feature fresh flowers and come with on-demand in-room refrigerators stocked with whatever it is guests crave.
Speaking of cravings, the hotel houses Tamara, a French fusion restaurant from chef Frederic Delaire. If its lighter fare or refreshments you're after, The Zee Pool Lounge offers poolside bites and libations until 11 p.m.. But if they're looking to venture off the hotel's grounds, visitors will find restaurants and shopping all within walking distance at Lincoln Road Mall and on Ocean Drive.
After dinner and shopping slip past the velvet ropes at some of South Beach's hottest clubs, including Mansion, Prive and Opium Garden, all with help from The National's concierge.
Helpful concierge services, like booking tours, setting up private car service and scheduling in-room or poolside massages, are just a taste of what The National has to offer. The hotel also has a production department to assist with shoots, videos and television and movie filming. You never know which celebs you'll see at work or play on The National's grounds. But all work and no play makes for a dull vacation, so be sure to drive right into one of The National's two pools or add some Zen magic to your day with a yoga class. What a way to relax.