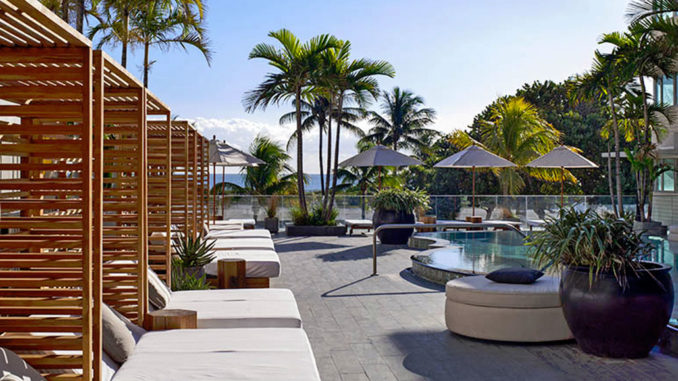 Hip and sexy, the Hotel Victor was previously featured on Conde Nast Traveler's Hot List of the world's best new hotels.
This hyper luxe, 91-room boutique hotel, originally built in 1937, was recently refurbished by French design genius Jacques Garcia – this, his first foray into the American hotel scene. Garcia, famous for his work at the Hotel Costes in Paris, has broken from the bare minimalism so prevalent in South Beach hotels throughout the 1990s.
The opulent lobby boasts purple, fried-egg-shaped banquettes and a jellyfish tank lit with fibre optics, and yet, it still manages to give a nod to its Art Deco roots with terrazzo-marble floors from the 1930s and a historic mural. Taking a page from its neighbor – the legendary Versace mansion now the exclusive club Casa Casuarina – the Hotel Victor believes in excess.
There are three resident DJs and a Vibe Manager (a concierge responsible for maintaining a chic ambience in the lobby and common areas), rooms come standard with a full – not mini – bar (complete with everything from 200ml bottles of vodka and Champagne to chilled eye-masks and caffeine energy patches), flatscreen plasma TVs and massive white marbled bathrooms with infinity edge bathtubs.
For those who can afford it, a Pool Bungalow room, with private outdoor shower and terraces leading to the pool area, is a must. The ocean-view pool, located on the second level of the hotel, is surrounded by oversized daybeds and cabana tents, which, at night morph into a lush VIP lounge.
A 6,000-square-foot Turkish Spa is the hottest spot at the Hotel Victor with its oversized, unisex steam room, Turkish bath and heated marble slabs.
The glass-enclosed dining room features an exhibition kitchen and a chef's table for those in search of a culinary adventure. Vue, an exotic second floor terrace overlooking Ocean Drive, offers informal dining with an array of cocktails, ceviche and satay selections.
1144 Ocean Drive, Miami Beach, FL 33139
• In the center of Ocean Drive
• Across street from Ocean
• 5 blocks to Lincoln Road