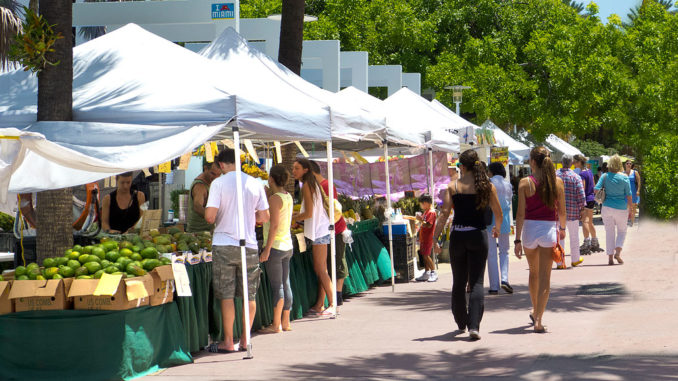 As the sun rises over South Beach on Sunday mornings, and while nearly everyone in town is either asleep or finishing up a night of dancing in the clubs, city workers have already begun erecting wooden tables and small tented stalls on Lincoln Road for the vendors whose treasure-filled trucks will soon be arriving for the Antique & Collectible Market.
Located in the public spaces from Michigan to Lenox Avenues, about 125 dealers set up an eclectic array of affordable goods including retro fashions, jewelry, housewares and furniture. Admission is free and the show is opened to the public until 5pm. The historic venue is perfect for a Sunday stroll with the kids in tow, and even non-shoppers discover the people watching is never better than it is on Sunday afternoons!
Lincoln Road Outdoor Antique & Collectible Market Schedule:
2017
October 15, 29
November 12, 26
December 3, 17
2018
January 7, 21, 28
February 4, 18, 25
March 11, 25
April 8, 22
May 6
Click here for vendor information.
Miami's design community thrives on the early-bird buying frenzy over Mid-Century objects used to punctuate quirky interiors for their upscale clients. Many popular home magazines have featured photos of renovated houses decorated with accent pieces discovered at the Lincoln Road Sunday Market. From a George Nelson slat bench to a one-of-a-kind sculpture, the chances of finding something truly unexpected are far greater for those arriving early.
As the day wears on, locals with visiting relatives, baby strollers and leashed dogs arrive to wander the show and find a sidewalk cafe for brunch. What makes Lincoln Mall a perfect venue for the Collectible Market is the proximity to interesting retail shops, moderate sidewalk dining and ample parking.  It seems everyone turns up at some time on a Sunday as this sale engenders an "American Main Street" vibe. Miami Beach residents run into friends and neighbors here and the sense of community is renewed at this casual weekend event.
Best Bets for brunch on the Mall are Books & Books Cafe (933 Lincoln Road), Balans Cafe (1022 Lincoln Road) and Nexxt Cafe (700 Lincoln Road). Each restaurant offers a casual atmosphere, sidewalk or indoor seating, and traditional brunch or lunch entrees on an a la carte menu. For Southern style goodness, including fried chicken & waffles and flaky buttermilk biscuits, check out Yardbird Southern Table & Bar (1600 Lenox Avenue) or if you would rather an all-you-can-eat Sunday brunch buffet, visit Bistro One at the Ritz Carlton South Beach (1 Lincoln Road).