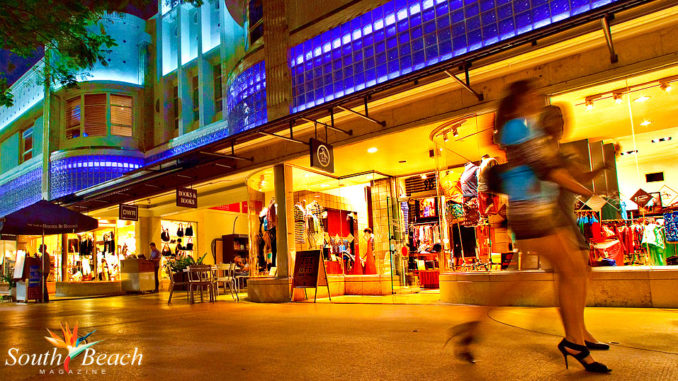 Great cities throughout the world have one thing in common—that one street which draws both locals and visitors to all the best stores and restaurants. While there are a number of attractive avenues you'll want to visit in Miami Beach, the pedestrian mall known as Lincoln Road is considered the true heart and soul of South Beach.
Ocean Drive attracts tourists looking for a quick fix of "Miami Vice" neon and retro-deco styling; it's the place locals take out of town guests to show them the sights. But, Lincoln Road provides a more authentic experience where just about everyone gathers to shop and dine under a brilliant Miami sun. With little resemblance to Small Town USA, Lincoln Road is a tropical Broadway, homey yet hip, with a sex appeal all its own.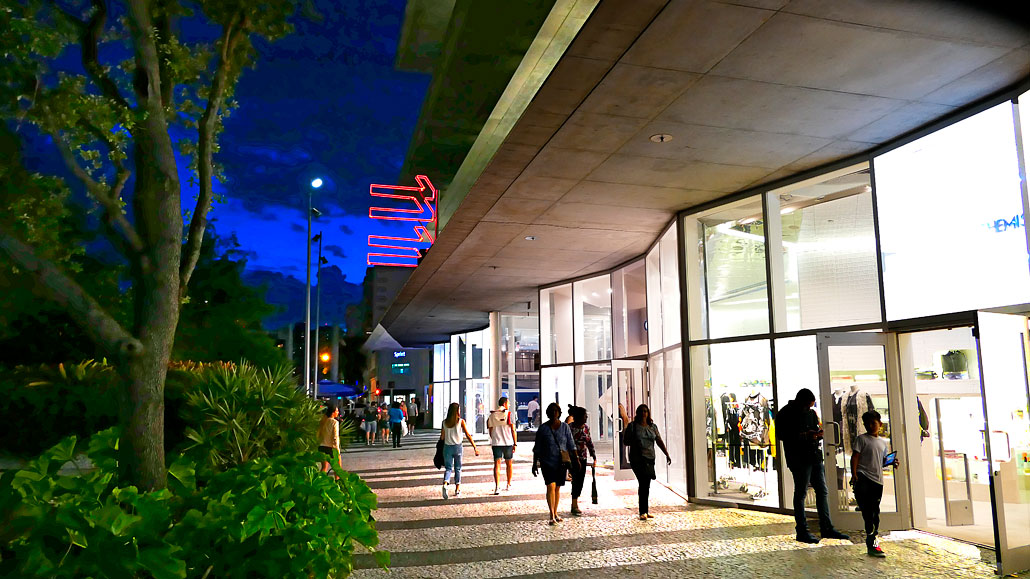 No other avenue in the City is as popular 24 hours a day. While television shows like "Cheers" and "Friends" fictionalize cozy neighborhood places where everyone knows your name, the sunny sidewalk cafes along Lincoln Mall are frequent meeting places for friendly neighbors and social groups who gather to catch up on shared interests.
Newcomers will find it difficult to tell where one cafe ends and another begins. This open plan design is deliberate. Some venues favor boundaries, but not South Beach. The sports bar, the gay bar, the coffee shop and the deli all share tables and customers. Simply find an empty seat at a sunlit table to join the community. Folks who skateboard, rollerblade or bicycle meet on Lincoln. New parents bring overwrought toddlers to the Euclid Circle to barrel around and blow off steam. Ex-pats from cities around the globe find fellow countrymen to discuss world events, football matches and the goings-on back home. If America is indeed a melting pot, Lincoln Road is the red-hot burner in South Florida.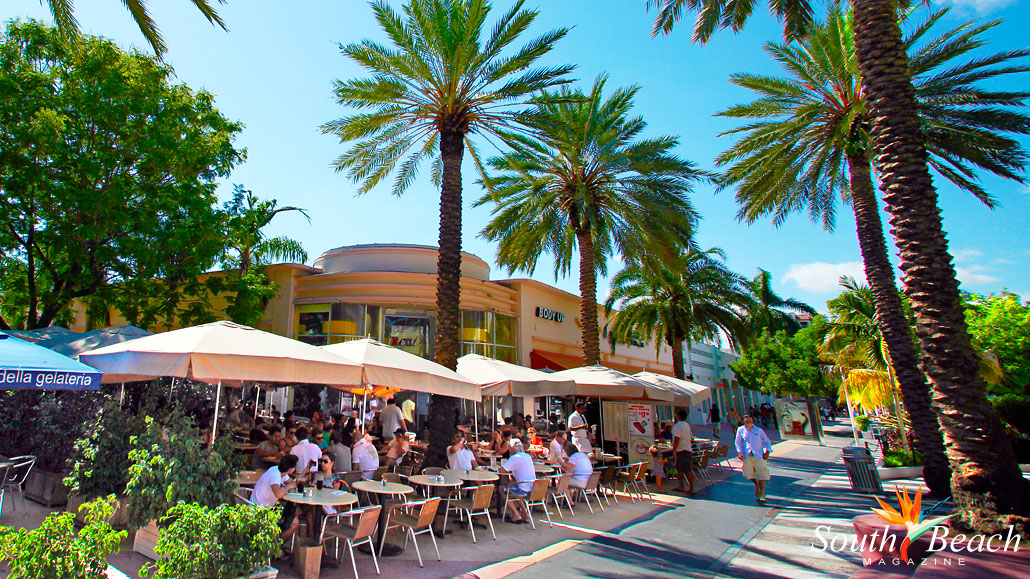 Let's Get Started…
The Sunday Antique and Farmer's Market get the week off to a great start. Morning joggers, earnest home cooks and casual shoppers join the crowd of collectors up at sunrise hoping to find a bargain. While there is no big box home store on the island, local nurseries bring in apartment-friendly houseplants for porch and patio. Many residents furnish their homes, fill their pantries and decorate their balconies at the weekly markets.
In the past few years, clever New York decorators and fashion stylists have boasted to national publications about the treasures they've unearthed at the Lincoln Road Flea Market. Suffice to say, those used to getting rock-bottom prices now meet the antique dealers' trucks the moment they start to unpack. Competition is fierce! (Alternate Sundays October through May)
On holiday nights, families gather on the mall after dinner to check out the local revelers and catch up with old friends. Halloween is a particularly popular time of year. Local merchants encourage kids to trick or treat in all of their shops. Meanwhile, local drag queens parade in full regalia up and down the avenue hoping for cheers of encouragement from those lucky enough to score a table at a sidewalk cafe. Elaborate costumes created for local competitions or worn simply to provoke the crowd are everywhere you look. Everyone cheers, everyone takes photos; it's a big party.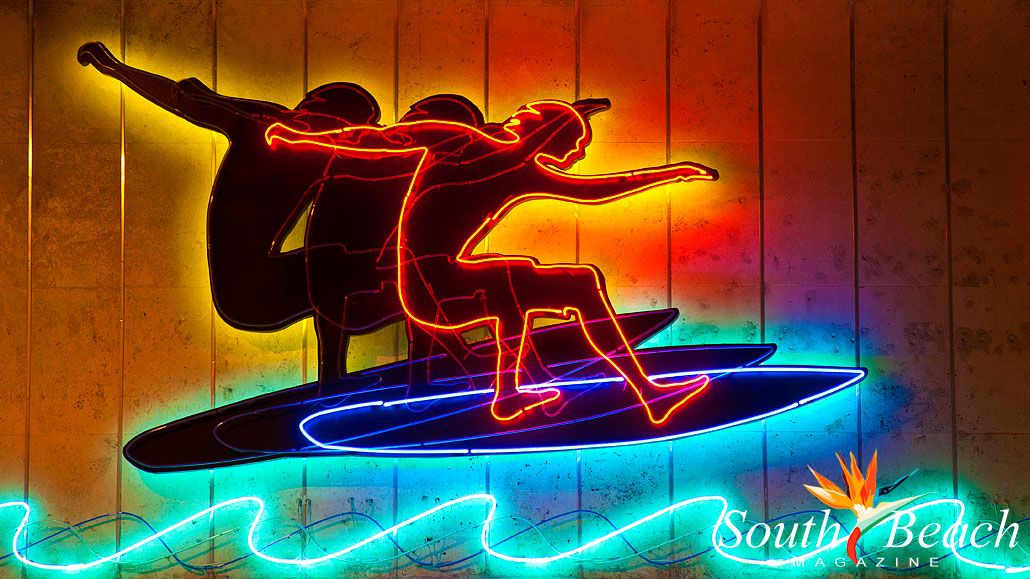 The weekends before and after Halloween are some of the busiest of the year. October kicks off the official holiday season. Temperatures might creep into the 80s, but the holiday lights twinkle in all of the palm trees along the mall. Holiday shopping at the quirky boutiques, art galleries and chain stores is always a bit more fun than at a traditional shopping center. New Year's Eve is also intensely popular before and after the midnight fireworks at the beach. Black tie dressed couples and flip flop wearing teens compete for a place to hang out and celebrate. By accident or by design, there is always something to do on Lincoln Mall.
We've wandered from Bayside to Seaside along Lincoln Road and even explored the cross streets to help you navigate the incredible dining scene on this popular promenade. Whether you want a quick bite before the theater, a casual lunch while shopping, or a romantic dinner just for two, you'll find a dazzling array of options all along Lincoln Road Mall. Since no cars are permitted from Washington Avenue through Alton Road, you'll need to do a bit of walking to find the perfect spot. To make everything easier to find, we've organized our guide based upon the cross streets shown on this map so you can get where you're going just a little bit quicker. Are you ready?
Let's eat!
One block west of Alton Road at West Avenue, savvy locals make frequent visits to Altamare Seafood Restaurant and Panizza Cafe, an Argentinean bakery specializing in empanada pocket pastries. While a significant portion of Lincoln Road is closed to cars, the last few blocks on the west side are busy with families getting their shopping done and buzzing around the residential district. Travelers who want to discover a quieter restaurant or glimpse local city life should venture west of Lincoln Mall. One of the few hotels on the west side of town, The Standard Spa is just a short walk away. This hipster hideout is all about rest and relaxation, but if you decide to venture out, the hotel provides transport to Lincoln Road and the busier tourist areas of South Beach. Visitors find the west side of town has an entirely different rhythm than Ocean Drive and Collins Avenue.
Dinner and a Movie …
Just under the Lincoln Road movie theater marquee, Piola Pizza's wood-burning oven produces thin crispy pizzas in the manner most popular in Italy. Panfiore Sandwich Shop makes it easy to grab a quick bite just before or after a film. Just north of the cinema, Epicure Market packs up deli sandwiches, take out entrees, fresh-squeezed juices and gourmet treats 7 days a week. Epicure is a great resource for an upscale picnic lunch, fresh produce and just-baked pastries and cakes. If your hotel room includes kitchen facilities and you want to stock up on a few specialty items and a good bottle of wine, definitely make a quick trip to Epicure.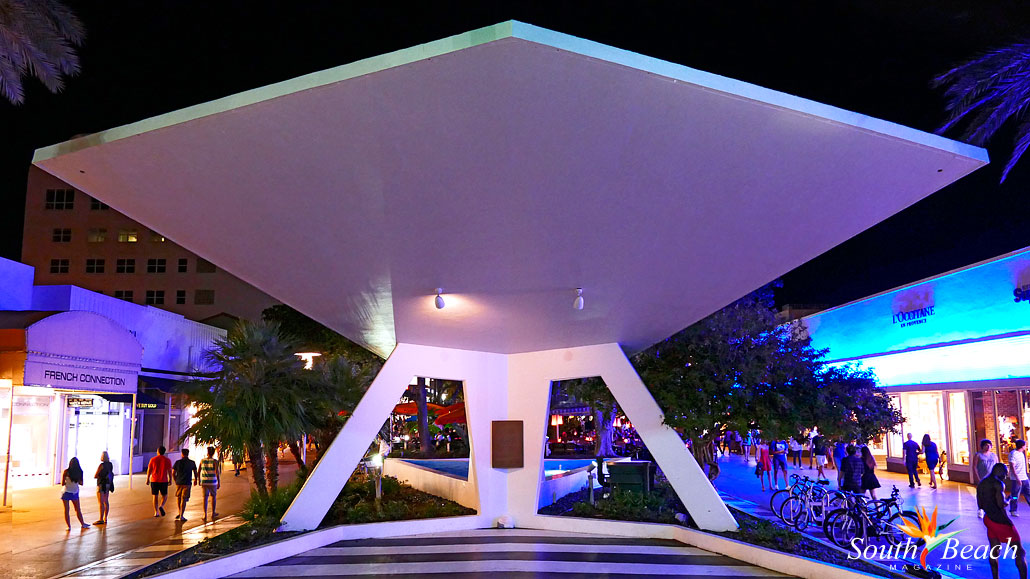 At Segafredo Espresso at the western edge of the Mall, it's possible to hear 4 different languages before you recognize one you understand. Serving panini sandwiches, giant cocktails and espresso to a huge crowd all day and night; this open-air cafe spreads randomly around a mosaic fountain in front of the Colony Theater on Lenox Avenue. Perched between the dancing waters, the Pottery Barn and the newly renovated theater, this is an ideal spot to join friends before a movie at the multiplex, during a casual day of shopping or for an after-dinner cocktail. Expect to see pampered pooches and exhausted toddlers elbow-to-elbow with European Playboys and dewy young models. That guy who looks like the Mayor probably is Hizzoner having coffee and chatting up a Big Wig. While it might be possible to pull on sweat pants and run to most malls to make a quick purchase, you surely do not want to hit Lincoln Road in anything short of your best new look.
Rock and Bowl …
At the intersection of Lincoln and Michigan, Finnegan's Two attracts European Football Fans by day and local rock musicians by night. While some nightclubs on South Beach have a strict velvet rope policy, this is not the case at most of the bars along Lincoln Mall.
Finnegan's posts pub specials on a chalkboard by the door including happy hour drink prices and the name of the band performing that night. Just a few steps south on Michigan, The Frieze Ice Cream Factory dreams up exotic flavors for some of the top restaurants in town and also serves cups and cones at the counter.
On rainy afternoons, Lucky Strike Lanes is a favorite hangout for visiting families looking for a quick lunch and a little friendly competition. Bowling lanes are opened to everyone until 9pm when the place turns to an over 21 nightspot. Music, videos and cocktails rev up the sports bar atmosphere as the party starts to roll.
On a Budget? Ask a Local …
Balans Restaurant enjoys a fierce local following and rewards their fans with weekday $2 discounts for breakfast, happy hour and dinner entrees. While prices at many South Beach eateries skyrocket, it's always nice to find good food at a good value. Balans eggs benedict are particularly popular, and at $2 off – a real deal! Tiramesu and Spris also attract a steady stream of eager diners by offering sundown dinner prices before 7.30 pm. Spris bakes thin, crispy pizzas and Tiramesu features light Italian dishes. As a plus, their wine list is discounted in the early evening as well.
For home-style cooking away from a hot stove, South Beach natives flock to Rosinella Cafe where you'll feel like "a regular" as soon as you arrive. What drives this tiny Italian kitchen is surely "Mama" Rosinella Doino who oversees the preparation of light pasta entrees and delicious nightly specials.
An ideal spot for a casual date, a family dinner or an impromptu snack, Rosinella makes a great pairing with the New World Symphony just next door.
One of the newer additions to the eclectic dining scene, Hofbräu München has just started serving hearty German fare and giant steins of imported beer on the sidewalks just across the way. If you notice happy drinkers feasting on soft pretzels, you'll know you've found our newest beer hall.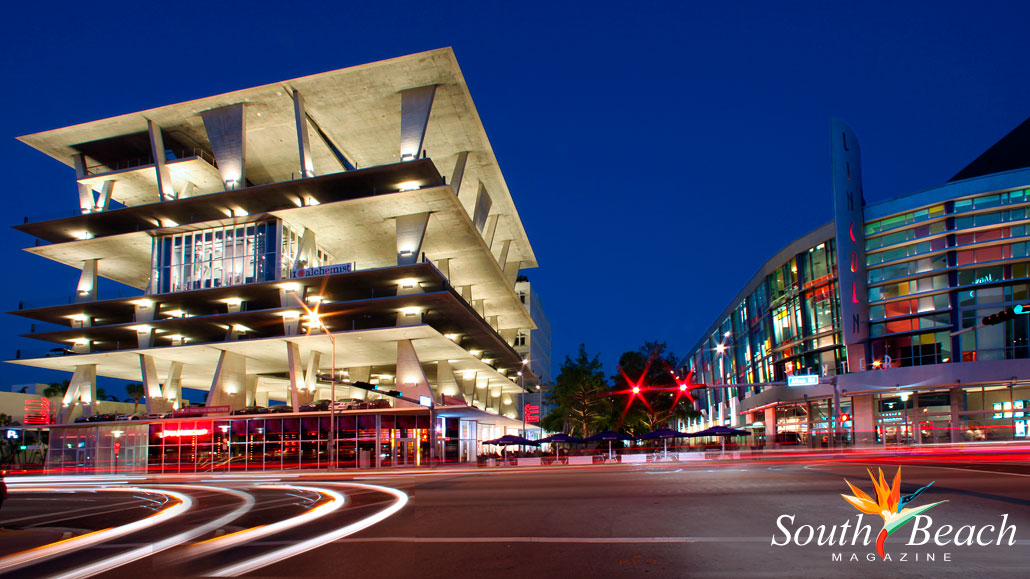 Dining by Design …
While many national booksellers have expanded their services to include a coffee bar, Miami's favorite Books & Books now has a full menu and a tapas and drinks list as well. Oddly, most of the steady stream of sidewalk patrons seems to have little interest in the shelves of best sellers.
Competition for a spot at the tables lining the atrium is fierce since the dinner menu was introduced. The reason? The bookstore, BASE boutique, Design Within Reach and the dazzling new BASE Annex attract the who's-who of the Miami design community.
From Pizza to Pasta to Panini …
Meridian Avenue is the center point of South Beach and runs directly through the city end-to-end. At the busy intersection on Lincoln Road, Starbucks Coffee gives way to Paninoteca which might be missed with the blink of an eye, but is well worth a second look. Just next door, da Leo Trattoria will make you feel like family. Friendly service, Italian classics and nightly specials make this cafe a local favorite. Oddly, there are more Italian restaurants on South Beach than any other cuisine. Diners can choose from simple pizza and pasta shops like Rosinella, Spris, Piola and Pizza Rustica, the more upscale Sibilla and da Leo Trattoria, and the pricey Quattro Gastronomia Italiana. Quattro is one of the top-dollar doors on Lincoln Mall, so make reservations to sample the hip, culinary pyrotechnics of these twin-brother chefs. If the prices seem daunting, just stop in and let bartender "Capri" mix you a perfect cucumber martini. Grab a book of matches and say you were there…
For a more casual evening out, head north of the mall on Meridian to sample classic Cuban dishes at David's Cafe II. What sets this friendly eatery apart is their 24/7 service, incredibly low prices, and the great people watching at the busy walk-up coffee window. Whether you need a quick pick me up or a full course dinner, David's is ready to serve you day and night.
From Asia with Love …
Asian Restaurants on Lincoln Mall encompass Sushi, Thai, "Asian Fusion," and Chinese. Among the best are Sushi Samba Dromo, a Brazilian-accented Sushi Bar that's a nightclub after hours, Doraku, which has a popular weeknight happy hour, and Sushi Siam, a Thai and Japanese combination (both done well).
Kid-Friendly Options …
Euclid Circle is a unique spot of grass at the center of Lincoln Mall. Because there are few green spaces to congregate in the area, kids and dogs are drawn to this tiny island surrounded by cafes and ice cream shops. Italian import Gelateria 4D scoops fresh fruit flavored gelato to long lines of patient customers. Nexxt Cafe encompasses the southern side of the street with umbrella-shaded tables filled with hungry diners. Portions are big enough to share at this popular cafe serving giant breakfasts, main plate salads and towering sandwiches. Across the way, one of three branches of Pizza Rustica offers pies by-the-slice perfect for a quick bite or a hungry toddler. If your brood craves burgers and friendly singing servers, Johnny Rockets 50's style diner provides helium balloons and a family friendly atmosphere day and night.
Now HEAR This!
At Pennsylvania Avenue, Sushi Samba Dromo faces the first concept store HEAR Music by Starbucks. South Beach music fans can enjoy some cake and a latte at one of the video listening stations. Using a free, magnetized card, it is possible to program all of your favorite songs into a modern mix tape and have one of the Starbucks baristas burn you a souvenir CD of your new vacation soundtrack. While there are many Starbucks locations in the area, HEAR music is by far the most popular. Just south of the mall, El Rancho Grande is a friendly Tex-Mex eatery best experienced at a sidewalk table on a breezy night. Feast on still-warm chips, spicy salsa and a hearty margarita and you're soon to believe you're south of the border. Stick with reliable classics from the taco and burrito menu and you're in for an inexpensive evening.
Dining and Dancing …
The Lincoln Road Supper Club Scene is active every night of the week. While some nightspots have a daunting door policy, others provide a night of dining and dancing simply by calling to reserve a table. Sushi Samba Dromo offers an interesting fusion of Japanese and Brazilian cuisine by day and transforms into a popular nightclub after hours. A sexy South American crowd flocks to the sushi-ceviche bar to sip sake and sambatinis.
While the Lincoln Road sidewalks just off Washington Avenue are strictly Starbucks by day, nighttime is the right time to hit this red-hot nightspot.
For a night that moves to a Miami beat, Yuca Restaurant has long attracted diners seeking a modern approach to Cuban cuisine. While the downstairs dining room twinkles with candlelight and crystal, the second floor lounge is a Friday night favorite for new and improving salsa dancers. The friendly hosts at salsamia.com teach traditional Cuban dance moves and then open the floor for a high energy Salsa Party Fridays and Sundays. After hours, dancers flock to nearby D'Vine Hookah Lounge to enjoy Mediterranean tapas and sample the fragrant water pipes circulated by the capable wait staff.
See you there …
Lincoln Road pulses with all of the energy of South Beach. Whether you're up early and need a jolt of coffee and a hearty morning meal or you're looking for a romantic place to while away a hot Miami night, there is something for everyone on this busy pedestrian mall. While hot summer days often seem overwhelming, these breezy cafes welcome thirsty travelers and busy locals around the clock. Check theater, symphony and gallery listings to help you plan a great night out on Miami Beach's Main Street. You're sure to feel like a part of the scene once you experience the great shopping, friendly bars and delicious ethnic restaurants all along Lincoln Road Mall.