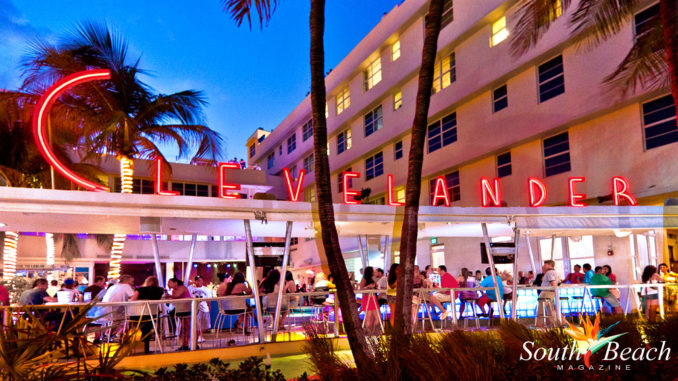 When sunrise hits the Art Deco historic district, those lucky enough to remain awake after a night of club hopping experience a moment when everything seems new again on Ocean Drive in Miami. Sunsets may be better in Key West, but Miami Beach owns the dawn with pastel colored hotels that sparkle in the sun.
Savvy tourists make certain their reservations specify a high floor facing east if a sunrise breakfast in bed is on the agenda. Some Ocean Drive hotels offer roof top pool decks with a bird's eye view of the sunrise and surf below.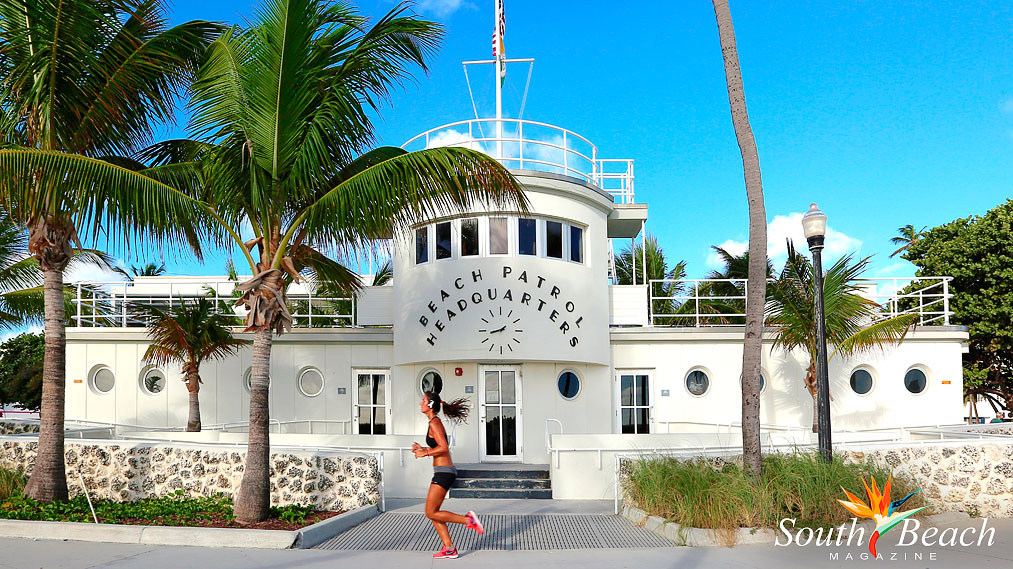 After years of neglect during the 1970s and early 80s, Ocean Drive came roaring back on the scene when a few brave restaurateurs opened cafes and patiently waited for the buzz to energize an area that had gained a reputation for low rent housing and petty street crime.
One of the first entrepreneurs, Mark Soyka, opened the News Cafe at 8th and Ocean in 1988 offering comfort food and international newspapers 24 hours a day. While most folks thought an upscale diner on a street with little traffic would quickly fail, the News Cafe and a few others can take credit for creating the energy that would soon power all of the neon that quickly followed.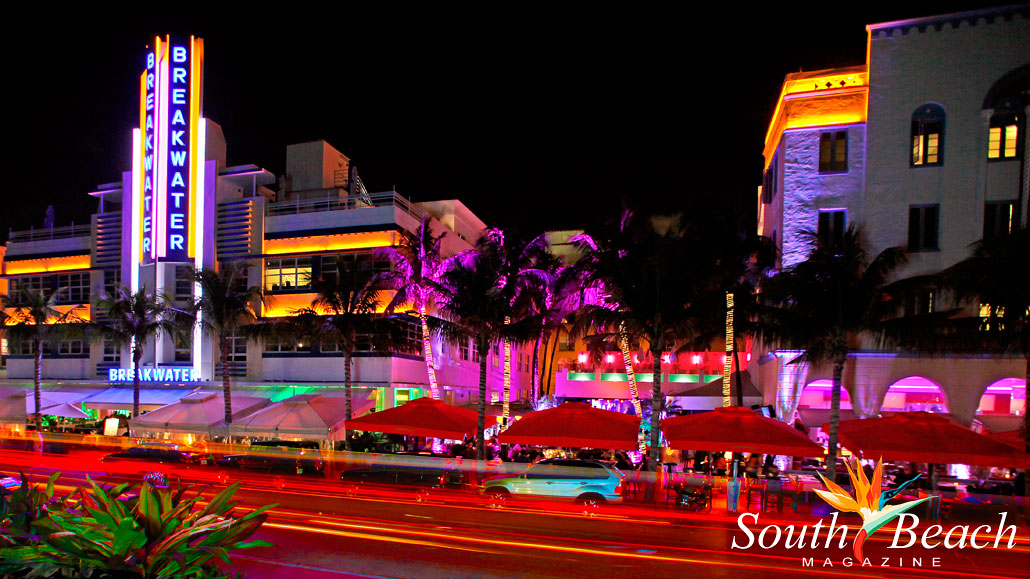 Gloria Estefan soon invested in the Cardozo Hotel at 13th and Ocean Drive, bringing a touch of celebrity to the emerging scene. Restaurants and bars, boutique hotels and shopping districts gradually replaced shuttered storefronts, and while naysayers enjoy telling travel publications that Miami was over, season after season brought new life to the city as celebrities flocked to Ocean Drive to pout for the paparazzi.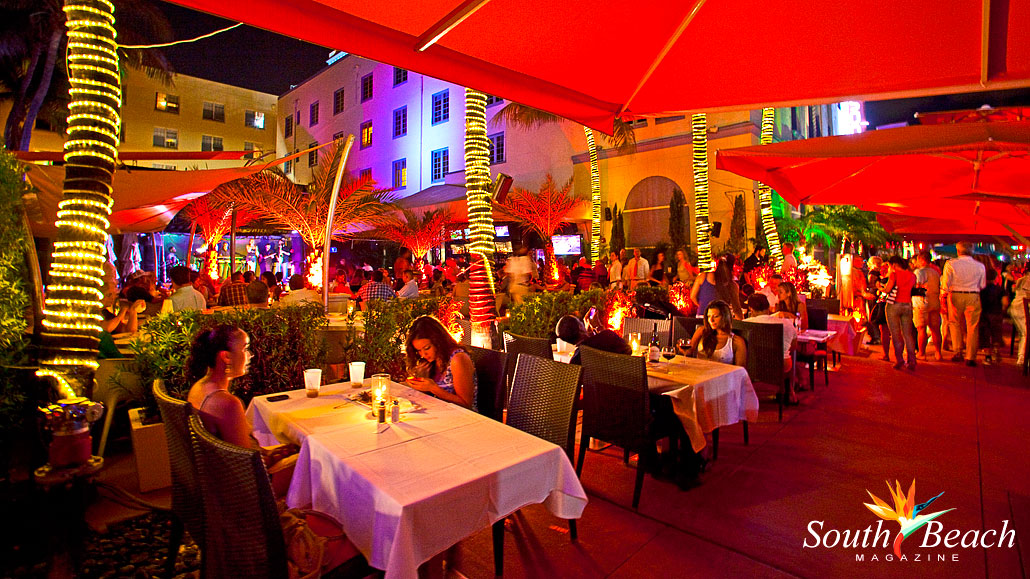 Planning Your Visit
Some visitors, especially those coming from overseas, aren't really sure what area is best to start their hotel search. Keep in mind that Ocean Drive is located in Miami Beach, not Miami, so a hotel in Miami Beach will be far more convenient. Ocean Drive is a $32 flat-fee taxi ride from the MIA airport. The restored hotels along Ocean Drive offer a range of accommodations from absolute luxury to simple convenience. Miami Beach has accommodations for everyone from humble backpackers to international jet-setters and the hotels along the strip suit every level of taste and budget. It's also possible to reserve a privately owned condo if your party needs room to groove.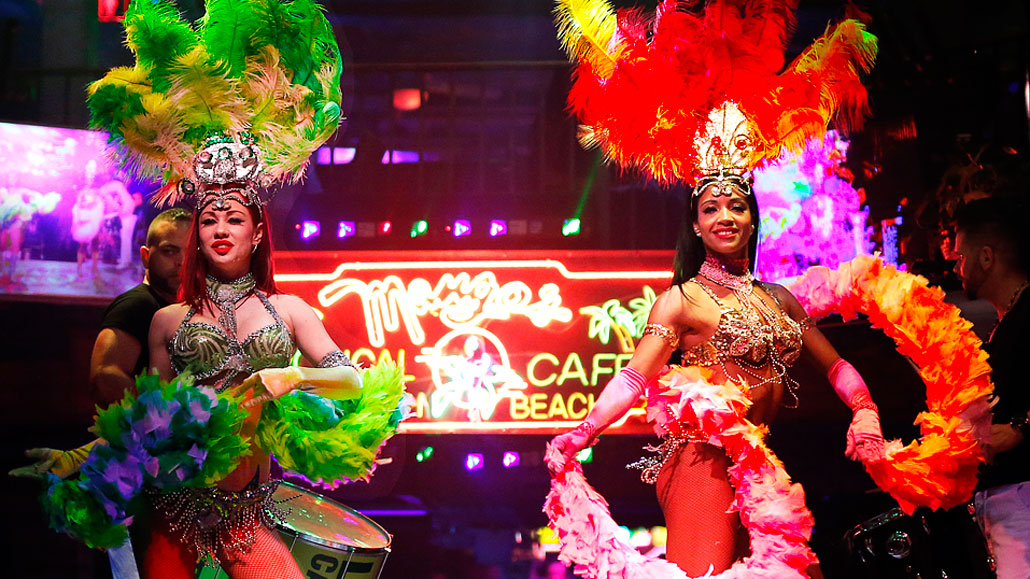 For families on a budget, consider a converted suite with kitchen facilities roomy enough for the entire brood. For travelers seeking romance, book a room with a king sized bed and a delightful Jacuzzi tub included. And for determined Spring Breakers, the rooms facing the Clevelander Pool Bar are thumping 'til 5am.
The upper reaches of Ocean Drive, from 12th through 15th Streets and the "SoFi District" (South of Fifth) are less active after hours and tend to be quieter at night. There are no hotels built directly on the sand from 5th to 14th Streets, so hotels in this zone face a public park and offer a direct view of the beach across Ocean Drive.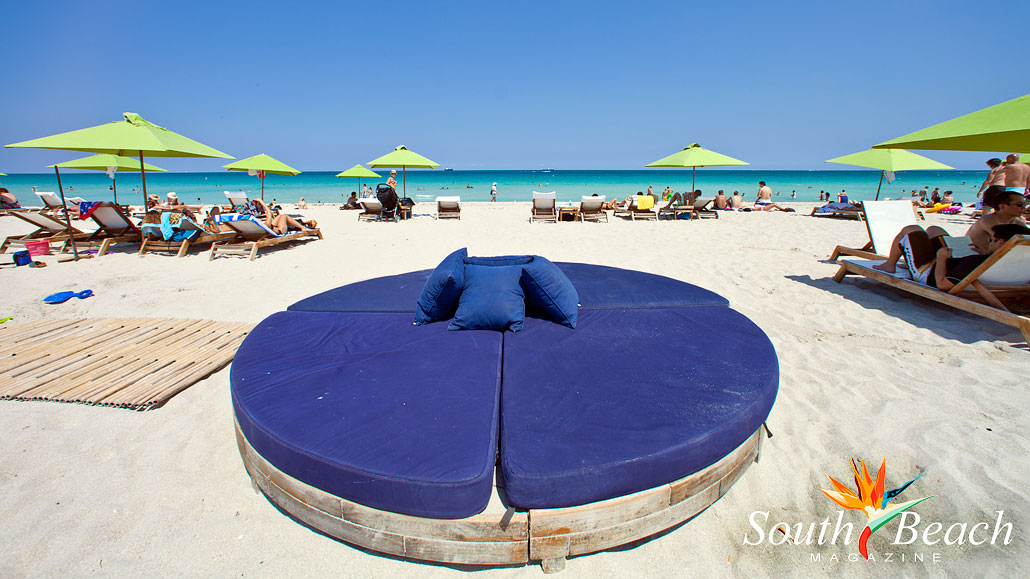 Ocean Drive Hotels
Visitors using their frequent flyer/travel points have two corporate options. Both Marriott and Hilton have hotels on Ocean Drive perfect for leisurely vacationing. The Hilton Grand Vacations Club offers one and two bedroom suites large enough for 6 people – so long as some of those people might not mind sleeping on a pull out couch. If your family spent the year watching you and your suitcase head out the door, the Hilton makes it possible to bring the whole gang along for some rest and relaxation on the rooftop jacuzzi sun deck.
The South Beach Marriott sits at the quiet "SoFi" end of the busy strip and features a Starbucks in the lower lobby. For some visitors, access to Starbucks makes the Marriott an ideal hotel. The rest of the property exceeds expectations with a wonderful pool area, 8 family sized one-bedroom suites with 32-inch flat panel televisions and high-speed internet access. Local surfers, volleyball players and followers of "futevole," the Brazilian fusion soccer-volleyball game, favor the beaches south of the Marriott.
Lower Ocean Drive is a hot destination for club hoppers who flock to Nikki Beach Club by day and Story by night. Visiting celebrities dine on giant lobsters and decadent truffle mac n' cheese at Prime 112, the hottest restaurant on Ocean Drive, or its newest twin, Prime Italian.
Nearby and definitely delicious, Fifty offers diners Nuevo-Latino lunch and dinner options including plantain wrapped crab cakes and tres leches Boston Cream Pie. While the menu features so many bold choices, be certain to leave room for the most deliciously original desserts in town.
Boutique Hotels
If you spend most of your business travel time in corporate hotel rooms, you might opt for a boutique hotel for your South Beach vacation. The low-rise buildings on central Ocean Drive have been renovated and retrofitted with modern conveniences without disturbing the original floor plans. In some cases, the rooms remain smaller and the scale of the property more intimate. Some South Beach visitors want a clean, simply appointed room with a sense of independent travel. To escape the confines of a more generic hotel experience, Ocean Drive offers lots of boutique hotel choices.
Top of the line is the Hotel Victor which recently opened under the stewardship of Hyatt. While many travelers are familiar with the Hyatt brand, most are quick to report that there is little similarity to a traditional Hyatt hotel at the Victor. The hotel staff are personable and attentive, the rooms and in-house spa slick and well appointed, and the atmosphere often set to the beat of a poolside DJ.
One block to the north, The Tides Hotel provides a more sedate atmosphere, larger rooms and unusually spacious bathrooms. The nearby French bistro Les Deux Fontaines offers diners an upscale retreat featuring deliciously fresh seafood and live music nightly. Cafe Cardozo has served as the unofficial headquarters for all things Art Deco since the district began. Toast to Miami's bygone era as you enjoy lunch or a sundown cocktail on the classic Art Moderne patio.
For visitors seeking a little tranquility in an Art Deco setting, an ocean front room at the Park Central offers simple luxury in a location that's central to everything. While the swimming pool is small and well shaded, the hotel provides free towels and beach chairs to sun worshippers on the shoreline. The 6th floor sun deck has great city and sea views by day and extremely romantic star gazing by night. The newly reopened restaurant Quinn's is a lovely spot for seafood and people watching right on Ocean Drive.
The Hilton Bentley South Beach Hotel provides spectacular views, and an added benefit for guests of the Bentley is complimentary access to the Bentley Beach Club including use of the gym, pool, hot and cold spa tubs and access to the very sexy club, Nikki Beach.
Suite Hotels
Reserving a suite on Ocean Drive can make South Beach feel like a home away from home. Travelers seeking something more luxurious should set their sights upon the newest addition to the Ocean Drive skyline, the Z Ocean Hotel. This 80-suite luxury condominium hotel features extra large balconies, private penthouses with access to the roof garden, 5-star in-room spa service, and a glass bottom pool. And in case you're concerned about the security of your brand new Bentley, the hotel employs private valets who will spend the night coddling your car inside a secured parking facility. Now that's sweet!
Just south of the Z Ocean hotel, the suites at the Casa Grande Suites are grand indeed. While some renovated Ocean Drive hotels suffer from a dearth of space, the Casa Grande enjoys repeat visits from guests who need a little extra room to stretch out during their stay. Currently updating their facilities, the hotel offers both private and public bookings of their 34 spacious suites including a number of pet-friendly options.
Having the luxury of a fully appointed kitchen with full sized steel appliances, granite countertops and tropical Indonesian décor makes it possible to prepare a lavish breakfast or happy hour on your own during longer visits.
Most importantly, the 8th Street location places guests squarely in the heart of the local nightlife.
No visit to Ocean Drive would be complete without a night of sexy Latin dancing girls and icy mojitos at Mango's Tropical Cafe.
Best bets for dining near by include a casual brunch at the Pelican Cafe, 24-hour people watching at the News Cafe and Cuban style comfort food at Lario's.
For frozen drinks that help quell the midday heat, try Fat Tuesdays or a topside seat overlooking the scene at Wet Willies.
Time-share members book the Crescent Resort season after season to enjoy the romantic Jacuzzi suites, the concierge service and the easy access to great shopping on the pedestrian mall, Lincoln Road. The quiet upper reaches of Ocean Drive are a little more relaxed and increasingly popular with return visitors. The Betsy Hotel has just been renovated and offers guests who aren't tempted to wander across the street to Starbucks a complimentary breakfast every morning.
For an alfresco brunch overlooking Lummus Park, try the hearty banana pancakes at the Front Porch Cafe, a spot offering wholesome food at a good value all day long. In the afternoon, the live music at Finnegan's Way lures beach goers to happy hour at this Irish style sports bar. While the food is standard pub fare, the atmosphere is always lively and the drinks two for one from 4-7pm.
The Congress Hotel is an all-suite hotel in the very center of the action. Some visitors find the 10th Street area too lively late at night while others bring along earplugs to help them catch a few hours sleep between parties. To experience the best of both worlds, 58 soundproofed luxury suites ranging in size from 475-950 sq. ft. offer every modern convenience, plus a rooftop pool deck overlooking Ocean Drive. On New Year's Eve and the 4th of July, the Strand rooftop is by far the best seat in town for fireworks displays over the Ocean.
Closer to the ground, the heart of the district beats until 5 a.m. pool side at the Clevelander Pool Bar. The Clevelander Hotel has renovated their guest rooms and the party at the pool bar continues until the last Spring Break visitor calls it quits. This landmark legend features five poolside bars, flat panel TVs inside and out, live musical performances, two for one happy hours, and Saturday bikini contests. There is always a party on Ocean Drive just as long as you're sipping a frozen rum runner served up by the friendly bartenders at the Clevelander Hotel.
Fun & Funky
If your interests are somewhat more sophisticated than tequila shots and string bikinis, the Miami Design Preservation League has it's administrative offices at the Art Deco Welcome Center just across the street from the Clevelander hotel. The MDPL offers free public programs to explore the influences of 20th century design in Miami Beach including Deco era movies, architecture seminars and walking tours of the historic district.
Wednesdays through Sundays, join members of the MDPL staff for a 90-minute walk around the hotels, restaurants and commercial structures that make up the Art Deco Historic District.
Each year in January, the MDPL hosts Art Deco Weekend and closes Ocean Drive to traffic for a 3 day block party with food, fun, antique cars and craft sales. Visitors enjoy live musical performances, dancing in the streets, lectures about Art Deco, a classic car parade and much more. Hotel guests are advised that it's a little tougher to navigate into and out of the area during special events, so try to be patient during festival weekends. Memorial Day Weekend, the 4th of July, and New Year's Eve also bring street closures and heavy traffic to the area.
Design plays an integral part of the guest experience at the funky Pelican Hotel, which is owned by the high concept creative minds at Diesel Jeans. If you're looking for a quirky theme hotel experience, log onto the hotel website and search through photos of rooms decked out in vintage finds to create Retro, Deco, Tarzan, Cowboy and Whorehouse motifs. While everything about the Pelican is "tongue in chic," the service staff is friendly, the Pelican Cafe serves a great mojito and the beach chairs are free to hotel guests.
Sophisticated travelers looking for a unique hotel experience in a minimalist style stay at the Century Hotel, where the rooms are simple, the bathrooms spare and the vibe quiet and friendly. This small property caters to budget-minded guests who focus on exploring the city rather than lavishly appointed hotel rooms. The selection and price range of accommodations available on Ocean Drive make this an ideal destination for visitors seeking a classic South Beach experience. Options from luxurious to simple, from quiet to raucous, from central to remote make it possible to customize the kind of vacation you choose to experience at this seaside destination. In the end, it's all about location.
Past Presence
Ocean Drive provides a rare opportunity to glimpse a landmark Art Deco area saved by preservationists who ultimately saved South Beach from destruction. Historic Preservation in the 1980s provided the backdrop for an emerging trend in fashion photography which re-introduced the raw beauty of Miami Beach to the world. Sometimes holding onto the past makes the future possible.