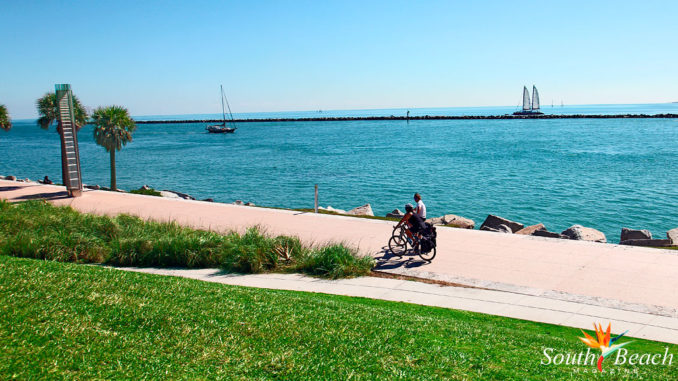 Miami Beach development continues at a fast pace, but while the heart of South Beach is preserved in all of its Art Deco charm, other distinct areas are evolving that are quite a world apart from the pastel landscape of Ocean Drive.
"SoFi" – the enclave South of Fifth Street – was once considered a bit of a dead zone for tourists, but these days it's a vibrant destination in it's own right. Some locals who have discovered SoFi actually gave up their landlocked houses to purchase condos in the clouds along Government Cut, and there are multi-million dollar high rises all along the southern shore of Miami Beach that are first- and second-homes for wealthy business people and more than a few big-name celebrities.

If you are unfamiliar with the area and want to explore the southernmost part of the city, book a room at the Hilton Bentley Miami/South Beach on the Ocean, the less expensive Ocean Drive boutique hotel called Century or the hip, British-inspired hideout Lord Balfour Hotel. Some folks prefer to splurge on their hotel room, others keep their cash on hand for gourmet dining or a grand shopping spree. The southern tip of South Beach makes both options possible.
Once you have picked a room, head out for a great big breakfast at Big Pink, a high energy, family-style restaurant with portions large enough to share and prices that will not break the bank. Opened early and also quite late, Big Pink is a popular option for locals and visitors who follow the crowds to this busy corner. Just down the street, Starbucks is brewing in the ground floor of the Marriott Stanton South Beach on Ocean Drive. If you'd rather grab a joe and go – this is the place to start your day.
If you've come to South Beach to explore the club scene, why not start early with brunch at Nikki Beach Club. The only draw back to the sumptuous spread the chefs prepare is the sight of all the toned and tan bodies making their way to the canopied sun beds out back. How can you ask for another breakfast pastry when the perky girls at the next table weigh next to nothing? Be brave – have seconds!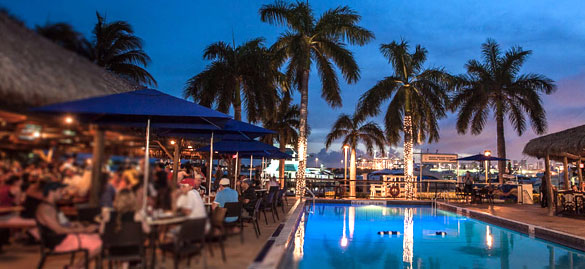 After a day at the beach or a stroll through South Pointe Park, you're certain to need an afternoon pick me up. A great spot for happy hour is the tiki hut bar at the Miami Beach Marina called Monty's Sunset. Because this popular spot is located on the west side of town, you're sure to meet plenty of boaters who've spent the day working up a mighty thirst. If you're tempted to join them on the water, Club Nautico will rent you a speedboat right in front of the bar. Relax and enjoy drink specials and peel-and-eat shrimp while a band plays under the thatched-roof stage. You might be tempted to stay for dinner, but there are more stops on this SoFi bar crawl so point your flip-flops due east and head for the shore.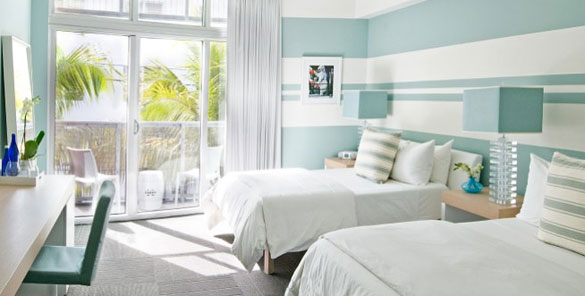 Smith & Wollensky is a popular steakhouse chain with a great location at the edge of the island behind South Pointe Park. There are a few choice tables out back facing Government Cut and the spectacular cruise ships steaming out to sea. This is where you want to be for a late lunch or an early afternoon cocktail. Juicy burgers and a belly-busting club sandwich are the hidden treasures on the lunch menu so don't be afraid to ask. Steaks are a very popular option in SoFi and the best of them are available nearby at Prime 112 or RED, the Steakhouse. Make S&W an afternoon stop or happy hour at the breezy beach house restaurant at the Sense South Beach Hotel called The Local House for 2-4-1 drinks or bottomless mimosas.

If you want to try something a bit more exotic, Tap Tap Restaurant is like a trip to a tropical Caribbean Island right on South Beach. The walls are brightly painted, the cuisine features fresh seafood prepared with a tropical flair and on weekends there's live music to complete the journey. No other restaurant in town makes you feel like you're on vacation quite like Tap Tap. After your dinner, explore some of the quiet lounges South of Fifth Street to party with the locals.
Your first stop for a quiet cocktail should always be Ted's Hideaway, a decidedly "regular guy" bar that seems to attract a who's-who of South Beach hipsters. A great spot to watch sports by day or shoot a quick game of pool on your way back from the beach, Ted's is an attitude-free Cheers-type bar where everyone might just know your name before you leave… Around the corner, a little bar called Room has a loyal and devoted following. Dark, mellow and definitely "chill," Room is the place you'll brag about discovering weeks after you get back home. To watch your favorite team, a cult movie or sip specialty bourbon in South Beach style, stop into Radio Bar on First Street.
If we've convinced you to explore the SoFi district, there are a few coming attractions to sweeten the deal. Siena Tavern, the Italian restaurant that makes visiting Chicago so much fun, is opening an outpost in SoFi soon. Likewise check out Texas De Brazil Churrascaria Steakhouse which serves all the meat you care to eat just above Monty's Sunset at the Miami Beach Marina. And finally, the best incentive of all – Joe's Stone Crabs serves great local seafood October through April (and some nights in the summertime too). If you can't endure the endless wait at the bar to have dinner, enjoy lunch like a local and enjoy the chowder, the claws and the key lime pie with all of the trimmings and none of the hassle.
SoFi is So Good!