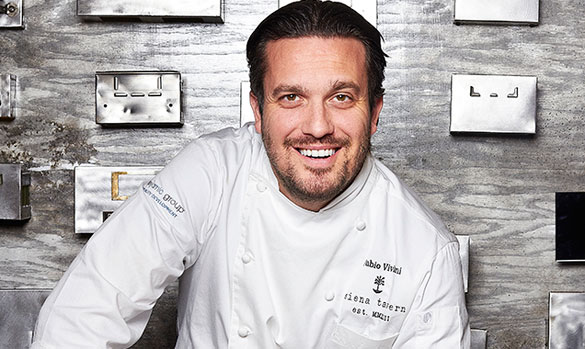 Exciting news for South Beach diners looking for an authentic taste of Italy, Top Chef Fabio Viviani will be taking over the former China Grill restaurant space on Washington Avenue to open a second location of his Chicago powerhouse Siena Tavern. Rated Best New Restaurant by Chicago Magazine last year, this rustic trattoria combines the chef's love of regional cuisine with his partners' exuberant sports bar background. Scheduled to open in the Fall of 2014, Siena Tavern hopes to be comfortable, vibrant and social. Says Viviani, "we want to open a neighborhood restaurant… something that gives people the feeling they're welcome."
A passionate cook who grew up in Florence Italy, Viviani helped out at a local bakery as a child and spent his teen years behind the scenes at several restaurants. After working with star chefs Simone Mugnaini, Alessandro Panzani and Saverio Carmagini, the chef went on to own and operate five different restaurants in Florence before his 27th birthday. Appearing on Bravo-TV's Top Chef Season Five in 2008 gave Viviani celebrity status when he was voted Fan Favorite and asked to return to compete as a Top Chef All-Star in 2010. A charming host and enthusiastic guest, the chef appeared on several morning chat shows doing cooking segments alongside the anchors of Good Morning America, The Talk, The Chew, Ellen and Access Hollywood.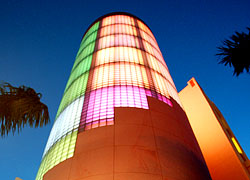 During a trip to Siena with his partners Lucas Stoioff and David Rekhson of Chicago's DineAmic Group, the team formulated plans for the first Siena Tavern in the River North section of Chicago. Housed in a 10,000 square foot space, the restaurant is known for the herbs that grow behind the bar, the mozzarella crafted in-house and the crowds of happy diners who make the giant space feel like a party nearly every night of the week. The fact that China Grill restaurant is also remarkably large by South Beach standards doesn't seem to phase the new owners. Guests will have the option to dine alfresco in the shade of an olive tree, in an Art Deco rotunda or under an Italian pergola wrapped in tiny Tivoli lights.
Menu options will include some of the most popular dishes from the Chicago location as well as recipes inspired by South Florida's abundant produce. Says DineAmic partner Lucas Stoioff, "we want to create an Italian restaurant that combines the rustic and casual attitude of Italian culture with a level of refinement and quality that both Miami locals and visitors will appreciate." The South Beach location will feature a Crudo Bar and also an open pizza oven where the chef's thin crust Truffle Mushroom, Burrata and Margerita pizzas can be crisped to perfection.
South Beach Magazine spent some time with Chef Viviani during a recent visit to the city while he worked on the plans for his new dining room.
We are so excited to learn you're opening Siena Tavern in Florida. What made you decide to bring your talents to South Beach?
South Beach is a great city for a true restaurateur. Although ten years ago it was a place where it was very seasonal and a bit scary to own and operate a business (because you know six months out of the year you don't have the same amount of people that you find during high season), now with all the new development and all the people that are actually living and working and staying here twelve months out of the year, it makes perfect sense to open a neighborhood restaurant. We want to open something that gives people the feeling that they're welcome even if they're not able to pay to stay in an expensive South Beach hotel.
When you have visited our city in the past, where do you like to dine in South Florida?
You know, in South Beach I have a lot of friends. I like Michelle Bernstein's restaurants and also Scott Conant's Scarpetta, Zuma and even Puerto Sagua – a nice little place for Cuban food. You know you also have Prime 112 to see and be seen. I have the guys at Lure Fishbar (Josh Pickard & Josh Capon), they're good friends of mine. There are a lot of destinations and it's kind of hard to name them all.
When you are cooking at home for friends and family, what is your go-to dish?
When I stay home my go-to dish is pasta. Fresh pasta is very easy to make, it's super filling and a little bit goes a long way.
What are the dishes you remember from your childhood or your experiences as a young chef and how do these flavors influence your menu today?
Simplicity influences my menus today. Back to basics. Everyone has had enough with molecular gastronomy, new trends, new techniques. Who gives a crap anymore? Back to basics! Everyone wants to go back to basics. Well the good news is I never left. I'm back to basics and basics is the new black when it comes to food.
Some chefs try to bring elements of Florida into their interior design or in the ingredients on their menu. Perhaps they try to make the dining room feel more tropical or include more local seafood or produce in their recipes. When planning your new restaurant, are you incorporating local influences in the design of the space or the crafting of the menu?
Yes, the local influences are a big part of the scene, they're a big part of the entertainment, they're a big part of the local selection for my menu items. At the end of the day, people in Miami have different expectations than people in Chicago, New York, or LA. It's a different crowd with different needs, different climates, and that will be reflected in our décor at Siena Tavern – the entertainment, the menu, the wine list – without taking too much away from what we do.
Finally, tell us something you want diners to know about the menu at Siena Tavern – perhaps your favorite recipe, an unexpected entree, or the inspiration behind one of the dishes you hope to include?
So, the one thing most people don't know is how extensive our process is to select the menu items. We start dining with 30 people and from there we choose. You know there may be 100 dishes to pin down the 30 that everyone is absolutely in love with. And from that we build upon. We like to call our dishes "cravers," which are those dishes that please most of the people and not just the ego of a chef. We don't care about ego, that is checked at the door. What we try to do is really create those palate pleasers that everyone will just go berserk for.
Siena Tavern will open in Fall 2014 at 404 Washington Avenue, Miami Beach, FL.