The constant drumbeat of Euro-glamour hype in Miami Beach can sometimes wear a little thin, and every now and then one needs a down-to-earth night on the town to keep things in perspective. The problem is there really are very few down-to-earth places left in this high-dollar celebrity-driven town of South Beach. However, on this particular Thursday night, the back room of Tap-Tap Restaurant with a live Haitian band playing looks to be the perfect destination.
Every inch of walls, table-tops and even chairs in this back room of Tap-Tap are covered with vibrant murals by resident artist Rara Kuyu that vividly depict Haitian culture and history. Kuyu, who lives upstairs above Tap-Tap, was born in Port-au-Prince in 1963 with the given name of "Edouard Yves Jean Gerard." Must remember to ask him why he changed it on my next visit.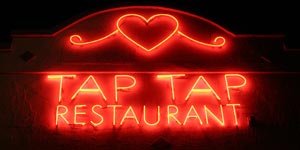 A couple of cocktails go down and the soft Caribbean sounds from this four-piece band really begin to ring. The rhythm guitar player is singer-songwriter Manno Charlemagne, who not only was the mayor of Port-au-Prince some years ago, but who also possesses possibly the strongest baritone voice I've ever heard. His friend Jonathan Demme cast him in the 2002 movie, The Truth About Charlie, and that voice of his is strikingly reminiscent of Paul Robeson's character in Universal's 1936 Show Boat.
The beautiful girl sitting across from me is wearing a crimson doo-rag and huge hoop ear rings. "Nneka" is her name. Turns out she's hooked up with the lead guitar player.
The waitress, Milawna is an Air Force brat from North Dakota. She's working her way through college studying interior design and says she probably won't stay in Miami after graduation … "Miami is too much to take year-round." Pretty girl with a great smile.
Either the band is getting better or the Gin & Tonics are getting stronger …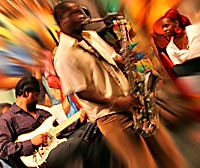 The sax player's skin glistens under the lights as he hits a string of soft arpeggios and lilting harmonies. The guy has definitely mastered the art of soft yet forceful soloing, which is not an easy task. The table of yuppies next to me don't even notice the guy's great solo. Other groups toward the back of the room do … strong applause.
The bass and guitar players swap instruments and the band plays one of the jumpingest tunes of the night … kind of a tribal chant thing. This one even the yuppies get. Should've asked Nneka to translate the Haitian lyrics for me. I'm not sure what the song said, but it sounded cool.
The music at Tap-Tap has a spontaneous, almost "thrown together" quality that arises from no apparent initiation to create a beautifully breezy tropical mood. If you're looking for a sophisticated musical production, you won't find it at Tap-Tap. What you will find is a group of four guys playing authentic Caribbean music in a setting that's as real as it gets here in the land of flash and glam.
Taxi …