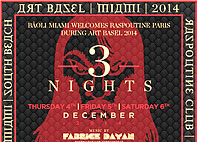 As Miami's most fabulous Art Basel week approaches, we offer you our exclusive Art Basel Insider's Nightlife Guide; a strategic search for the best nightlife offerings during the wild week of Art Fairs and public events on South Beach.
Tuesday, December 2
North Beach Bandshell / 7200 Collins Avenue, Miami Beach
Newlywed Recording Artist Solange Knowles (Beyonce's little sister) hosts nightly performances at the North Beach Bandshell as part of the SELECT Art Fair with surprise artists (including Usher!) from 7pm – 10pm weeknights and 7pm -11pm weekends through December 7. All performances are free and open to the first 1,400 guests.
Wednesday, December 3
The Regent Cocktail Club / 1690 Collins Avenue, South Beach
Explore the Evolution of Street Art at the Regent Cocktail Club starting at 7pm with featured artists Louis Carreon, Angela China and David Lavernia plus music all night with Artoficial, Angela Laino plus Brendan O'Hara & the Rescue.
Trade / 1439 Washington Avenue, South Beach
UK DJ Pete Tong takes over Trade for a very special tribute to Martin Buttrich hosted by Link & the Miami Rebels. Ms Mada and Danyelino open.
Chrome Hearts / 4025 NE Second Avenue, Design District
Gather with the fashionistas in the Design District for the launch of the brand new Chrome Hearts Boutique featuring a live performance by Lenny Kravitz's daughter Zoe and her band Lolawolf starting at 7:30pm. The party continues until 11:30pm with a DJ set by Atlanta de Cadenet.
Thursday, December 4
National YoungArts Campus / 2100 Biscayne Boulevard, Miami
FKA Twigs is officially a member of Young Hollywood now that she's nabbed herself that glittery vampire Rob Pattinson, so expect a celebrity showing at tonight's performance at the YoungArts Campus where Ms. Twigs appears alongside Clams Casino starting at 7:30pm.
PAMM Perez Art Museum Miami / 1103 Biscayne Boulevard, Downtown Miami
Join the Glitteratti for a special alfresco live performance overlooking Biscayne Bay as PAMM welcomes Future Brown and Lelela who appear as part of the WAVES season of art + music collaborations that will take place throughout the year to celebrate film, video, sound, movement and performance art.
Friday, December 5
Mansion / 1235 Washington Avenue, South Beach
The SCOPE Art Fair takes place in a tent on the sunny sands of South Beach, but tonight's event moves indoors to Mansion where Scope & VH1 present Nabiha, Swiss Beatz, and Zen Freeman.
Miami Ironside MarketSpace / 7610 NE Fourth Court, Miami
Indy darlings TV on the Radio perform live at Miami Ironside MarketSpace tonight from 6-9pm for a free and all ages show.
Sandbar / 6752 Collins Avenue, Miami Beach
December 4, 5, 6
The hipsters head uptown to a seedy dive bar called Sandbar that features actual sand on the floors (stiletto wearing is strongly discouraged) for three magical nights of #NADAWAVE; performances of music and comedy in celebration of the NADA Art Fair AfterParty. Tonight's show features Syrian internet sensation Omar Souleyman alongside Diamond Terrifier and friends starting at 9:30pm.
Bâoli Miami / 1906 Collins Avenue, South Beach
December 4, 5, 6
Experience Bâoli X Raspoutine Paris for three magical nights! The notorious Parisian nightclub embraces Bâoli's dark architectural details, deep red velvets and accents of mahogany for a three-day popup on December 4 to 6. Expect plenty of hedonistic European cabaret lovers grooving to the electric sounds of Fabrice Dayan around midnight.